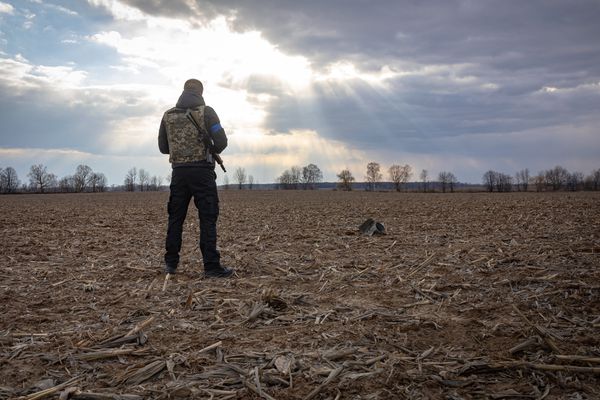 Ivan Volodymyrovych has only had a few peaceful nights' sleep since Russian forces fled, taking with them the artillery and rocket launchers that for weeks had brought the din of war to this rural area east of kyiv, in a failed attempt by the invading soldiers attacking their way to the capital.
But here, as elsewhere, the sudden calm has only shed new light on the toll of a Russian invasion that has left tortured bodies and death camps. Shortly after the departure of the Russian forces, a Ukrainian artillery team identified 17 munitions in a single square kilometer of fields operated by the Agro-Region company, where Mr. Volodymyrovych works as a farm manager.
Artillery experts removed most of the ammunition on the Agro-Region lands, allowing tractors to quickly get to work. A week ago, the idea of ​​growing crops here seemed laughable, with conflict raging that has killed thousands and raised anxiety about looming food shortages. The rapid tillage and fertilization of fields east of kyiv is a testament to the strength of Ukraine's continued resolve, even as the Russian withdrawal has revealed new atrocities, particularly against civilians living in the western suburbs of kyiv, where dead women have been found naked and men have been discovered with their hands tied and their heads shot from behind.
On Monday, US President Joe Biden called Russia's Vladimir Putin a "war criminal" and vowed to collect evidence for a trial as the US continues to arm Ukraine. French President Emmanuel Macron said the gruesome images that emerged from around kyiv, including the town of Bucha, showed "very clear signs of war crimes". Lithuania said it would expel the Russian ambassador and bring home its envoy to Moscow. Germany expelled 40 Russian diplomats, and Foreign Minister Annalena Baerbock said what happened in Bucha revealed the "incredible brutality of the Russian leadership and those who follow its propaganda."
Canada promised new sanctions against 10 people it called close associates of the Russian and Belarusian regimes for facilitating and enabling the violation of Ukraine's sovereignty. Ottawa did not name the people.
However, Ukraine called for even more punitive international action against Russia, with Foreign Minister Dmytro Kuleba saying "half measures are no longer enough."
The country has tried to use the horrors on display in kyiv to spur action. Officials on Monday visited foreign journalists in Motyzhyn, a town southwest of Bucha, where the mayor lay partially buried in a well with her husband and son.
Russia has denied any responsibility for the civilian deaths, claiming against evidence to the contrary that the bodies were staged in the streets.
President Volodymyr Zelensky visited Bucha on Monday to see for himself.
"It is important to show the whole world what the Russian Federation and the Russian military did here," he said, calling it "simply unimaginable."
"Children were killed, women were raped," he said, vowing to hold Russia accountable "for the acts they perpetrated."
Meanwhile, Ukraine's defense minister warned that the worst was yet to come, pointing to Russian troop and weapons movements that suggested readiness for a new bid to conquer Kharkiv, the country's second-largest city. Kyiv Mayor Vitali Klitschko has warned against an immediate return to the capital, saying much of the unexploded ordnance has yet to be cleared and there is still a chance of more missile strikes.
How to dispose of unexploded ordnance has become one of the central questions for Ukrainian farmers.
After Russian soldiers abandoned positions they had used to fire rockets and shells on land Volodymyrovych administers, he called in an explosive ordnance disposal team. He used drones and metal detection equipment to identify unexploded ordnance, including a 500-kilogram bomb. Once the experts deactivated the rockets, Mr. Volodymyrovych's men used farm machinery to rip them out by the tail.
"The tractor was in the field minutes later," said Volodymyrovych, whom The Globe and Mail identifies by his patronymic because he fears Russia's return and revenge. As the tractor ran, the smoke of battle continued to rise from the horizon as the Ukrainian army chased the fleeing Russian forces. Five or 10 days later and it would have been too late to plant crops like sunflowers.
"We were very fortunate that our armed forces drove out the enemy, giving us the opportunity to continue these camps," said Mr. Volodymyrovych, who was wearing a military vest and carrying a rifle. Like other farmers here, he belongs to a local militia group of the Territorial Defense Forces.
But three unexploded missiles remain in the fields of the Agro-Region, embedded deep in the earth, their locations marked with empty water bottles. They were left behind when the demining team was called in to address more urgent urban needs in Bucha and other satellite towns west of kyiv.
Ukraine said its State Emergency Service has about 500 specialists trained to defuse surplus ammunition. But it is impossible to estimate how much ammunition remains, he said in a statement Monday.
And Agro-Region's success in resuming work sheds light on the immensity of the effort Ukraine faces even in places free of fighting. The demining team took six hours to check 136 hectares, Volodymyrovych said. Only Agro-Region cultivates 12,000 hectares in the area. Most of that land was spared by the fighting, but Volodymyrovych pointed to a line of trees that marks the edge of an area that was until recently occupied by Russia. It is a large land mass that extends to the borders of Russia and Belarus. Landmines could be hidden anywhere, terrorizing farmers.
"There is a risk that the planting season will not start in any of the territories that were occupied," Volodymyrovych said.
Perhaps worse are the naval mines that have been detected in the Black Sea. Their presence has helped ensure that shipping cannot resume at ports vital to Ukraine's agricultural exports, which supply large percentages of the world's needs for wheat, corn and sunflower oil. Millions of tons of the 2021 crop remain in warehouses and barns, unable to find an outlet (efforts to export by rail have proven slow and costly).
Even if farmers are able to plant this year, they have little guarantee that they will be able to sell what they harvest.
"We will plant as much as possible, hoping that the world will come together and finally put pressure on Russia to unblock exports," Agro-Region executive director Kateryna Rybachenko said. "Otherwise, the world will face many more problems, such as food shortages when inflation is at record highs."
Our Morning Update and Evening Update newsletters are written by Globe editors and give you a concise summary of the day's biggest headlines. sign up today.


Reference-www.theglobeandmail.com