Khrystyna Syvolap arrived in Canada with her eight-year-old daughter, Alisa, in early April.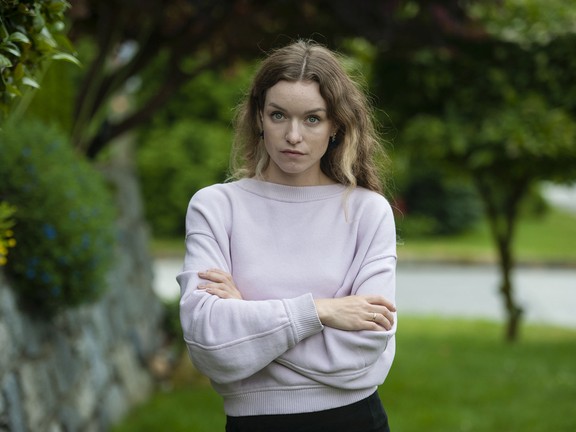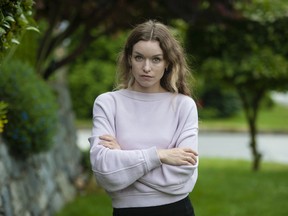 Reviews and recommendations are unbiased and products are independently selected. Postmedia may earn an affiliate commission for purchases made through links on this page.
.
Fleeing the Russian invasion of Ukraine, film and television director Khrystyna Syvolap she arrived in Canada with her eight-year-old daughter Alisa in early April.
.
left behind in Kyiv was her husband and Alisa's father (men from 18 to 60 years old are prohibited from leaving Ukraine) and Syvolap's parents who are in Rivne.
"Here, Alisa can go to school. There we would stay in bomb shelters for four months or even longer. She is crazy. I don't think kids should experience that," he said. Syvolapwho, together with Alisa, spent March in Warsaw waiting for the papers that would allow him to enter Canada.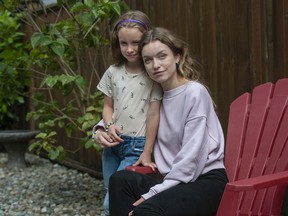 Syvolap chose Vancouver as its destination for two reasons.
"The first reason is that I have a childhood friend here and she helped me with accommodation, because it is very difficult," Syvolap said by phone. "The second reason was the film industry, obviously. I thought I might find a job here. I'm still looking for it."
.
A member of the Ukrainian Film Academy, Syvolap got a job right out of film school. A short film, Not Today, that she made hit the festival circuit and, at the age of 24, she was hired to direct a full season of a television series, Step Dan. That led to more television work and then her own 2020 award-winning feature film Viddana.
Now 30 and almost 9,000 kilometers from her home and her established career, she is looking for a job as a director in British Columbia's bustling, nearly $4 billion film and television industry.
So far, he has been unable to book work.
"It seems like it's not that easy because sometimes people think that our film industry in Ukraine is much worse than yours, but it's not true," Syvolap said, adding that the industry in his country really flourished in the last decade. .
.
As the world now knows, the President of Ukraine, Volodymyr Zelenskyy, is a former TV star.
"Everyone knows the story about him. The TV series made him president, so yeah, that's ironic," Syvolap said.
The TV and movie industry has also had its fair share of red tape ready to bog down and slow down someone like Syvolap.
"For the film industry it's not great because I need to have a residence to join the union. If I don't join the union, I can't work on union shows," Syvolap said. "That's why it's more complicated."
There are permit options, but mostly for entry-level jobs, work Syvolap is overqualified for, and she says she has no idea how to do it.
"Maybe assistant director is an option, but I have the skills to direct myself," Syvolap said. "I'm trying to figure out how to get there."
.
The Directors Guild of Canada BC District Council, which will not comment on individual cases, explained in an email that if a non-member, non-Canadian can be hired, the organization will grant them a permit.
"Getting a director's permit is a theoretical option because the next thing productions ask me is if I'm eligible for tax credits, and I'm not, because of my Ukrainian passport. And then they tell me they're not interested in me because it's all about taxes and money," said Syvolap, who had two feature film scripts in development before having to flee his country.
Also delaying the process is a resume without English productions.
"They say you don't have a filmography in English or that you don't know how our industry is built. Yes, there are some differences, but I was starting. I saw the set and it's the same. Even the people dress the same. It's funny how similar it is…" Syvolap said. "I think people have never seen Ukrainian movies before, probably. But they watched French movies or German movies because their industries are stronger, bigger, they've been around longer.
.
"I feel very sad when people don't understand what Ukraine is. You know, it's a modern European country even though it's not in the European Union… and we're the same people. We have the same industry," Syvolap said, adding that in recent years Ukrainian films have been recognized at Cannes and the Berlin Film Festival.
While Syvolap figures out how to break into Hollywood North, her husband, screenwriter Oleksii, is in the Ukraine fighting the Russians to the best of his abilities.
"His weapon is writing," Syvolap said. "He works for the Ministry of Culture to make videos about the war. The information fight is also very important for us because Russia has a lot of propaganda and we also have to fight against it. So this is what you are doing now. He's not a soldier, but they need all the men there, just in case. His brother is in the army on the front line."
.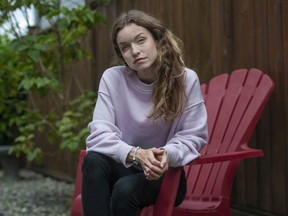 Right now, Syvolap and her daughter live off the money her husband sends home (not much, as one Canadian dollar is equivalent to about 23 Ukrainian hryvnias), along with aid funds from the Canadian government. So far, Syvolap has received the $3,000 adult allowance from the Canadian government, but she is still awaiting a $1,500 child payment. A generous North Vancouver family has given the mother and daughter a place to live since they arrived.
"But I don't want to live like this for a long time, obviously. I would like to contribute, and I need a job for myself. I love to work. I have my profession. I would love to have a job, for many reasons," said Syvolap.
At the time of this writing, Syvolap was still "meeting and talking" with people in the film industry in Vancouver.
"I'm still looking up. Even this interview is also one of the steps because I want people to know about me. Hearing about Ukrainian refugees and they're just not looking for cleaning jobs, you know," Syvolap said. "A lot of qualified people came here.
"I did a great, great job in my country. I can't do that anymore because the Russian bombs are in the air there."