Five federal party leaders contested Quebec's health and child care, environment, and identity politics in the first of two official election debates Wednesday night as they sought to influence French-speaking voters ahead of Wednesday night. elections on September 20.
With less than two weeks to go, millions of voters were expected to tune in to the two-hour debate in French and then the debate in English on Thursday night.
They come when opinion polls suggest that Liberals and Conservatives are locked in a tight two-way race, with the NDP and the Bloc poised to determine which of the two major parties is victorious.
Liberal leader Justin Trudeau, Conservative leader Erin O'Toole, NDP leader Jagmeet Singh, Québécois Bloc leader Yves-François Blanchet and Green Party leader Annamie Paul participated in Wednesday's debate and will meet again on Thursday. in the evening at 9 pm ET.
The leader of the People's Party of Canada, Maxime Bernier, did not meet the criteria set by the independent Leaders' Debate Commission to participate.
Organized by consortiums of broadcasters, both debates take place at the Canadian Museum of History, its great hall transformed into a television studio, in Gatineau, Que., Across the river from Parliament Hill.
What people are reading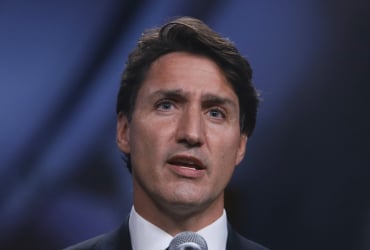 Topics discussed on Wednesday included climate change, the COVID-19 pandemic, and indigenous peoples and cultural identity.
The spiciest exchange, however, concerned questions of Quebec identity and representation when a spirited Trudeau turned on Blanchet at the end of the debate.
"You keep forgetting: I am Québécois, I am a proud Québécois, I have always been Québécois, I will always be Québécois," said Trudeau, blushing, as a small smile slid across Blanchet's.
"You don't have a monopoly on Quebec … You take the record of the Quebec government as your own," Trudeau continued. "You have no right to consider me not a Quebecer."
Blanchet admitted to English-language reporters after the debate that it was "probably true" that Trudeau was just as Quebecois as he.
Trudeau and Blanchet clash as leaders discuss health care and the environment at the #French Debate. #ItsOurVote #CdnPoli # Elxn44
"But in terms of institutions, this is the Assemblée nationale du Québec that speaks for Québec," he said, referring to the French name for the provincial legislature.
Trudeau also challenged that point, saying that the notion that believing in federalism rather than independence means that one is not Québec is "irresponsible" and "false."
Quebecers are "obviously not" a monolithic bloc, Blanchet added in French.
Much of Wednesday's round trip revolved around health care and how to pay for it. Moderator Patrice Roy lobbied politicians to specify how much money they would give to the provinces and whether they would deliver the additional $ 28 billion in annual funding requested by prime ministers.
Trudeau promised an additional $ 25 billion, but "not unconditionally," while O'Toole reiterated his plan to boost health transfers to the provinces by $ 60 billion over 10 years, "without conditions because it is a matter of respect." , a word he used. repeatedly when referring to Quebec.
"I trust the government of Quebec. Why does Mr. Trudeau always interfere with the provincial jurisdiction?" O'Toole asked.
However, the recently released cost for the conservative platform states that only $ 3.6 billion of that would come in the first five years.
"I will increase health transfers in a stable and predictable way," O'Toole said.
Trudeau rejected that the Conservative leader "does not face a two-tier system."
When asked whether vaccination against COVID-19 should be mandatory, Trudeau called the discussion a "bogus debate" and tried to drive a wedge between his position and O'Toole's. The conservative leader's position suggests that vaccination and rapid tests are equivalent, Trudeau said.
"This is not the time to divide people. We need to work together, "O'Toole refuted, emphasizing that vaccination is" essential "but that rapid tests, masks and physical distancing also play a role.
The leaders also made their respective pitches for a greener Canada at the end of a summer that has seen heat waves and fatal wildfires.
Pressed on the fate of the Trans Mountain pipeline, which Ottawa bought from Kinder Morgan in 2018, under a possible NDP rule, Singh insisted that he opposed the project, but did not give a definitive answer on what he would do with it as prime minister: "We will take stock of the situation."
Trudeau said indigenous communities hope to buy the pipeline and could continue to operate it until "we don't need it."
O'Toole emphasized that families in Western Canada have the right to economic recovery, while Paul said it should be canceled. Blanchet, in line with his belief in greater provincial independence, favors the delivery of money from the crude oil pipeline to Alberta to help finance its energy transition.
As the debate progressed, a few dozen protesters, some with PPC posters, continued to mingle on the sidewalk, but were blocked from approaching the museum entrance.
The Conservatives released the cost of their electoral platform just hours before leaders began arriving at the debate site Wednesday night, amid mounting criticism from Trudeau of O'Toole's failure to produce the balance sheet. your plan.
The conservative platform's pledges would add $ 30 billion to this fiscal year's projected budget deficit of $ 138.2 billion, according to the document, which is based on the parliamentary budget officer's electoral platform cost baseline. . The deficit would shrink substantially each year thereafter, reaching $ 24.7 billion in 2025-26.
Blanchet launched a pre-debate coup, telling reporters an hour before game time that the billions in child care funds promised to Quebec by the liberal government do not appear in the Conservatives' five-year plan.
Conservative officials said Wednesday that an O'Toole administration would honor funding agreements with the provinces for the first year. But after that, the liberal child care plan, including $ 6 billion earmarked for Quebec, would be superseded by the Conservatives' promise to turn the existing child care expense deduction into a refundable tax credit that would cover up to 75 percent. percent of child care expenses. costs of care for low-income families.
"Mr. O'Toole doesn't even understand the daycare system in Quebec," Trudeau said, noting that the most vulnerable Quebecers do not pay fees and therefore would not benefit from credit.
"The conservative plan … is $ 6 billion less in the pockets of the Quebec government," Blanchet added.
O'Toole reiterated that "he will always respect provincial jurisdiction … We will help all families immediately."
Paul said after the debate that daycare has languished under the radar in part because it is framed as a women's issue, further increasing the need to attract more women and other underrepresented groups to leadership positions.
"When I talk about bringing more diversity to politics, this is exactly what I mean," he said.
This Canadian Press report was first published on September 8, 2021.
– With files from Paola Loriggio and Stephanie Taylor
Reference-www.nationalobserver.com