Seventy-three contemporary two-bedroom/den and three-bedroom townhouses situated in the historic enclave, to be complemented by an adjacent market town overlooking Howe Sound.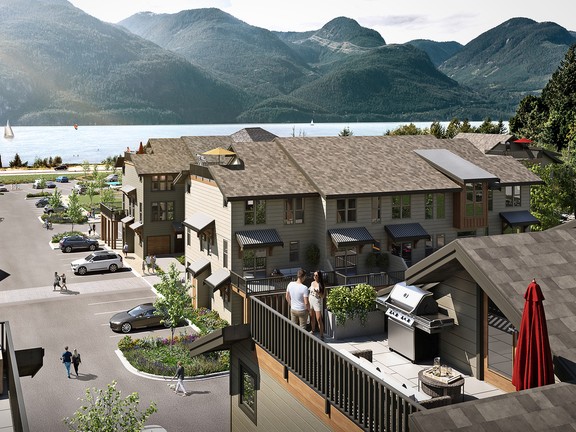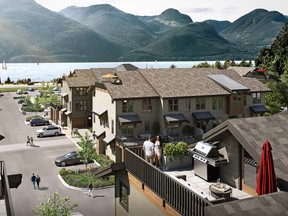 Reviews and recommendations are unbiased and products are independently selected. Postmedia may earn an affiliate commission for purchases made through links on this page.
.
Nestled beneath majestic mountains, overlooking the sweeping vista of Howe Sound, is the site of a new community that is steeped in British Columbia history. Long a place for First Nations residents and later an economic hotspot as the largest copper mine in the British Empire, Britannia Beach is experiencing a renaissance in the 21st century.
.
In a plan that blends the past with the present, developers Adera and Macdonald Communities have teamed up to create a residential and commercial project that will celebrate the location's history and welcome the future.
"Britannia Beach was an old mining town…it's been a place that has had people at one time or another," says Eric Andreasen, Adera's senior vice president of marketing and sales. "They came along with the copper mine. It used to be the largest copper mine in the world. Anyway, this area could only be reached by boat. So, they had to build a village to manage the copper mine."
That town had everything necessary to serve the miners and their families, from schools, shops, sports fields and places of entertainment. Many of the town's buildings have survived and will be restored by Macdonald Communities and integrated with the commercial portion of the project that will support the residents of the new 73-town waterfront development.
.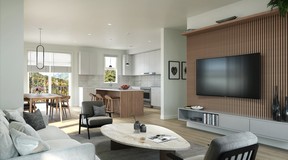 "We have a partnership with Macdonald Communities, and Macdonald Communities has been working on this project for about 20 years trying to get through the remediation and environmental aspects of restoring the site to its natural state," explains Andreasen. "We have known Macdonald for a long, long time. Macdonald's forte is more large master planned communities. They're not true townhouse types, so they partnered with Adera because that's what we specialize in."
Given the location, it's no surprise that most homes have great views of Howe Sound or the mountains. Andreasen estimates that about 70 percent of the homes have rooftop terraces unique to Adera, in addition to lower private outdoor spaces that all units have. He adds that there are open green areas for residents to use, including a playground, a Creekside trail, a community garden and, of course, the beach.
.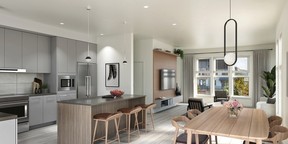 "Your backyard is the desert. It's everywhere," says Andreasen.
From their alpine-inspired exteriors to their open airy interiors, the townhomes offer all the modern conveniences for today's families. They're wired for connectivity, maximize storage in sleek kitchens and bathrooms, have EV charging capabilities, a built-in vacuum system (an optional upgrade), and pre-wired for AC.
Andreasen says that the layout of the two-bedroom/studio and three-bedroom floor plans optimizes efficient use of space and the only way they're not as trendy is that "they're a little bigger than your townhouse modern, these days."
Designers at Portico Design Group took inspiration from nature to select the color palettes of the Fjord and Forest homes to create a calm, neutral backdrop for the homeowners' personal style. Homebuyers can customize their new home in advance with Adera's iD by Me Program that allows them to see what the color palettes will look like on their chosen unit and select the one they prefer.
.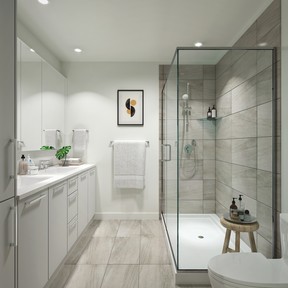 Other ways to personalize homes are the upgrades Adera offers, including frameless showers in private baths, closet organizers, garage organizers, roller shades, and a select home automation and audio visual package.
Although the Britannia Beach location has a get-away-from-it-all vibe, it's conveniently located just off the Sea-to-Sky Expressway for travel into Vancouver, either by car or public transportation. Andreasen says that, barring bridge traffic, you can drive from downtown Bentall Center to Britannia in 35 minutes. He also envisions that the market town itself will be a draw for visitors on their way to Whistler when the grocery store, cafes, restaurants and other conveniences are in place, much like Whistler Village.
.
He adds that in all his more than 30 years of development work, Britannia Beach is the most special project he has worked on for numerous reasons, including history, location and existing community.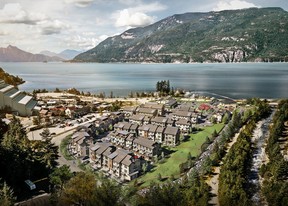 "This is the new door to open nature," he says. "It is a unique opportunity. Something that is very special for all of us who are participating in it. It's as much a community effort for the entire Britannia area as it is a chance to have something you just can't get anywhere else. I always compare it to Hawaii. There's not a lot of waterfront property in the world, and these row houses are basically on Howe Sound."
Britannia Beach Townhomes
Project management: 60 Copper Drive, Britannia Beach
.
Project scope: Seventy-three contemporary two-bedroom/den and three-bedroom townhomes located in the historic enclave of Britannia Beach, to be complemented by an adjacent market town overlooking Howe Sound. The project includes eight units of work and life.
Developers: Joint venture of Adera Development and Macdonald Communities
Architects: RLA Architects Inc.
Prices: Starting at $1.1 million
Sales center: 101 Copper Drive, Britannia Beach
Sales Center Hours: Open every day from noon to 5 pm
Sales phone: 604-980-0016
Website: britanniabeachliving.com
Occupation date: Estimated completion of Phase 1 is July 2023
Allison Weldon, founder of Sangre de Fruta, finds refuge on Bowen Island

A touch of light: an old-fashioned vacation property on Savary Island becomes a bright and dreamy family retreat