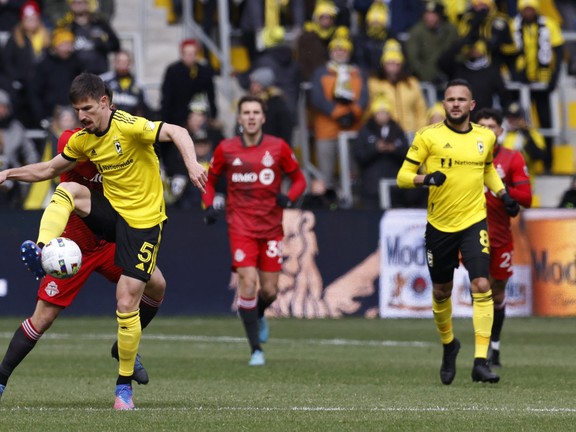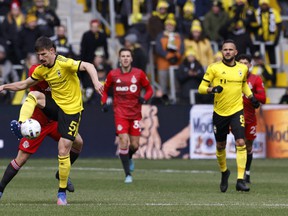 Article content
A depleted Toronto FC side gave it the old college try on Saturday afternoon against the Columbus Crew, but ultimately picked up a failing grade in a 2-1 loss at Lower.com Field.
Article content
The Reds have two losses and a draw in three games this MLS season under new coach Bob Bradley.
"I totally believe we're going to be a really good team but I knew that with this group — given a lot of different factors — it's going to be hard work to get it there," said Bradley. "The idea that the season has started in a rough way, yeah, that part is disappointing, but it doesn't change the ideas and the approach."
Jesus Jimenez, who signed with TFC in February from Polish side Górnik Zabrze, gave the visiting side a 1-0 lead after an impressive first half for Toronto. It was the Spaniard's second goal of the year. But then the Crew's leading scorer Lucas Zelarayán scored early in the second half to tie it before Derrick Etienne put Columbus ahead as the Reds, without several of key players, appeared to run out of gas.
Article content
The winning goal by Etienne came via a free kick following a questionable call against TFC forward Jayden Nelson by referee Ismail Elfath.
TFC was up against it defensively right from the start against a high-scoring Columbus side. Bradley was forced to start a patchwork lineup. The coach was without his top center back Carlos Salcedo, who was on a one-game suspension after getting nailed for a hard tackle last Saturday against the New York Red Bulls. As well, veteran CB Chris Mavinga suffered a slight knee strain in training, sliding to block a shot, and did not dress.
And, of course, TFC is still without Ayo Akinola, the leading scorer from 2020, who is just getting back from a knee injury. As a result of this depleted lineup, Bradley had to move players around, starting with midfielder Michael Bradley moving to the center of a three-man backline beside Lukas MacNaughton. Noble Okello, 21, played in Bradley's usual spot. In place of the injured full back Jacob Shaffelburg, Bradley started rookie Kadin Chung. MacNaughton and Chung both played in the lower-tier CPL last season but stepped up to the challenge in their first MLS starts. MacNaughton, particularly, played well. He suffered a mouse under his right eye after getting an elbow in the face following a mid-air challenge in the first half, though there was no yellow card issued.
Article content
"We're obviously disappointed," said MacNaughton. "You go into halftime up 1-0, you expect to win the game, especially when you're playing well and you're creating chances. And we had one or two chances at least to go 2-0 up. If we do that, it makes the game quite easy. (But) it's not like we're playing horrible football, it's not like we're not creating chances, or getting dominated. We're disappointed, but we're not de-motivated."
Making matters even tougher for TFC in the match, the Reds lost talented young right back Jahkeele Marshall-Rutty in the eighth minute, who went down with an apparent knee injury. Bradley said after the game that he had no update on Marshall-Rutty's injury.
TFC hosts DC United next Saturday at BMO Field — the last chance for the Reds to puck up their first win of the season before the international break. For Bradley, it's still about "the process" — the players learning his system from him and learning to play as a unit.
Article content
"Along the way, yeah, you need points. You need points for confidence, you need points to keep fans happy," said the coach. "Everybody has got to understand that the work is going to continue. That's just the way we're going to become good."
For the third time in three games this season, TFC couldn't take advantage of an edge in possession (52%-48%). Columbus fired 13 shots towards the Toronto goal while the Reds replied with eight.
TFC jumped ahead 1-0 when Jimenez scored on a corner kick. The ball ended up at the left side of the goal with Alejandro Pozuelo left-footing a cross into the box which Jimenez headed home from close range in the 14th minute. Pozuelo picked up the assist. TFC almost picked up another goal midway through the first half on a brilliant give-and-go between Luca Petrasso and Jimenez, ending with Crew 'keeper Eloy Room making a good save on Petrasso. In the 41st minute, TFC' keeper Alex Bono made a good save on an Etienne header.
Article content
TFC started the second half on the front foot when Pozuelo sent Achara in for a good chance, but Room made a good diving save on the right-foot shot.
Then the momentum shifted and Zelarayán, who has four goals in three games this season, scored in the 56th minute via a hammer blow right-foot blast from just outside the center of the box that beat Bono low and to the right.
Columbus' second goal came via a ridiculous call by Elfath on Nelson, who appeared to win the ball cleanly in the Toronto end while Columbus winger Pedro Santos went down on the play like he was shot. On the subsequent free kick, Etienne scored on a right-footed shot from the centre.