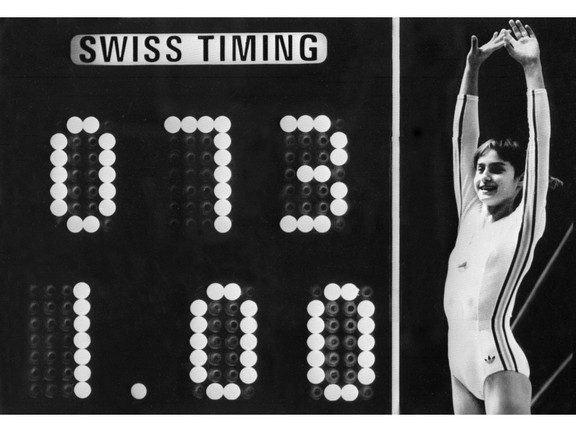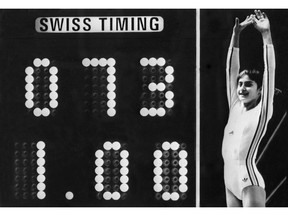 Article content
On this date, July 18, in history:
Article content
In A.D. 64, the Great Fire of Rome began.
In 1536, the English Parliament passed an act declaring the authority of the pope void in England.
In 1739, a census put Canada's population at 42,701. Canada has the distinction of completing the first modern-day head-count in an area larger than a city. That occurred in 1666, when the population of New France was recorded at 3,215.
In 1812, the use of the secret ballot was introduced in Britain.
In 1817, English novelist Jane Austen died at age 41.
In 1853, the Ontario, Simcoe and Huron Union Railroad began operating between Toronto and Brantford, Ont.
In 1870, the Vatican I Ecumenical Council issued the proclamation "Pastor Aeternus," declaring the pope's primacy and infallibility in deciding faith and moral matters. Few Protestants agree with this doctrine.
Article content
In 1905, the Dominion Act created the provinces of Alberta and Saskatchewan effective Sept. 1.
In 1921, the United Farmers of Alberta won the provincial election. They remained in power until 1935, at which time the organization decided to avoid direct political involvement. In 1948, the organization changed its name to the United Farmers of Alberta Co-operative Ltd.
In 1926, author Margaret Laurence was born in Neepawa, Man. Her first fiction was published while she and her husband lived in Somaliland and Ghana in the 1950s. Laurence's first major novel in a Canadian setting was 1964's The Stone Angel, considered a landmark in Canadian literature. It set the town of Manawaka firmly in Canada's imaginative landscape, and was also the setting for A Jest of God and The Diviners. She committed suicide in Lakefield, Ont., on Jan. 5, 1987.
Article content
In 1932, Canada and the U.S. signed a treaty laying the groundwork for what eventually became the St. Lawrence Seaway. Considered by some to be the largest work of engineering ever, it would be years before the seaway was first used. That didn't happen until April 25, 1959. The seaway was officially opened on June 26, 1959 by the Queen and U.S. president Dwight D. Eisenhower.
In 1936, the Spanish Civil War began.
In 1937, journalist Hunter S. Thompson, the acerbic counterculture writer who popularized a new form of journalism in books such as Fear and Loathing, was born in Louisville, Ky. He shot and killed himself at his Woody Creek, Colo., home on Feb. 20, 2005, following health problems.
In 1940, the Democratic national convention in Chicago nominated U.S. President Roosevelt for an unprecedented third term in office.
Article content
In 1945, an ammunition barge blew up at Bedford Basin in Halifax, causing one death and forcing half the city's population to be evacuated. Damage totalled nearly $4 million.
In 1968, a Canada-wide postal strike involving 24,000 workers began. It ended Aug. 9.
In 1969, John Fairfax rowed his 7.3-metre boat up on a Florida beach, becoming the first man to row across the Atlantic alone. The 6,400-km journey took 180 days.
In 1969, secretary Mary Jo Kopechne died when a car driven by U.S. Senator Ted Kennedy plunged off a bridge on Chappaquiddick Island, Mass.
In 1973, Mississauga, Ont., model Christine Demeter was discovered bludgeoned to death in her home. Her husband Peter was convicted of hiring an assailant to kill her in an attempt to collect $1 million in insurance.
Article content
In 1976, Romanian Nadia Comaneci, performing on the uneven bars at the Montreal Olympics, scored the first perfect 10 in Olympic gymnastic history.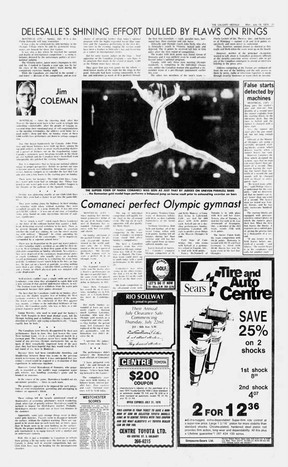 In 1984, 21 people were killed by a gunman at a McDonald's restaurant in San Ysidro, Calif.
In 1986, the world got its first look at the remains of the Titanic as videotapes of the British luxury liner were released by researchers from Woods Hole Oceanographic Institution. The Titanic sank April 14, 1912, with the loss of 1,513 lives after the ship struck an iceberg about 600 kilometres off the coast of Newfoundland.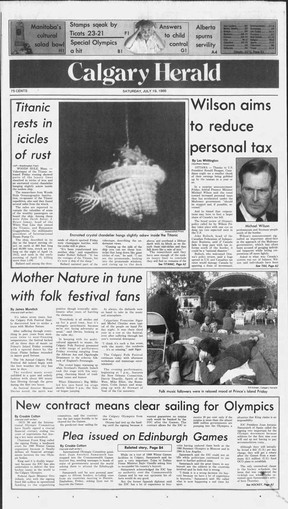 In 1990, Alphonsus Penney, Newfoundland's Catholic archbishop, offered his resignation after a church-sponsored report accused church officials of ignoring and covering up sexual abuse by priests in the province.
Article content
In 1993, Paul Tracey, 24, of West Hill, Ont., won the Molson Indy in Toronto, the first Canadian to win this race.
In 1995, the Saskatchewan Court of Appeal upheld the conviction of Robert Latimer for killing his disabled daughter.
In 1997, DNA tests cleared David Milgaard of the 1969 sexual assault and fatal stabbing of Saskatoon nursing aide Gail Miller. Milgaard served 23 years in prison for the crime. The Saskatchewan government apologized to Milgaard and compensated him, and ordered a public inquiry.
In 1998, South African President Nelson Mandela married longtime companion Graca Machel, 52, on his 80th birthday.
In 2003, David Kelly, a British government scientist and former United Nations weapons inspector, was found dead near his home in Oxfordshire, in an apparent suicide. He was the anonymous source behind BBC reports that accused the British government of "sexing up" an intelligence report on Iraqi weapons capability that was used as major justification for the Iraq invasion.
Article content
In 2004, a judge declared a mistrial in the second trial of Kelly Ellard, accused of killing 14-year-old Reena Virk of Victoria, B.C. in 1997 after the jury said it was deadlocked. In 2005, her third trial found her guilty of second-degree murder, but in 2008, a B.C. Court of Appeal overturned the conviction. In June 2009, the Supreme Court of Canada restored the guilty verdict.
In 2010, Annie Welsh, who as a toddler survived the Dec. 6, 1917 Halifax Explosion and came to be known as Ashpan Annie, died at a Halifax seniors residence. She was 95. Her mother and brother died when the blast ripped through their Barrington Street home and she was thrown under the kitchen stove. Her father was a soldier overseas. Relief efforts were hampered by a major snowstorm, but she survived because the ashes in the ashpan kept her warm for 26 hours until soldiers rescued her.
Article content
In 2013, Detroit, the once-mighty symbol of the U.S.'s manufacturing strength, became the biggest U.S. city ever to file for bankruptcy — the result of a long, slow decline in population and auto manufacturing. (In December, a judge ruled the city was eligible to shed its $18 billion in long-term liabilities.)
In 2014, an Italian appeals court acquitted former premier Silvio Berlusconi in a sex-for-hire case, reversing a lower court conviction that had carried a seven-year prison sentence and a lifetime ban on holding political office.
In 2014, the CFL returned to Ottawa for the first time since November 2005, and the Redblacks defeated the Toronto Argonauts in their home opener, 18-17 on a last minute field goal.
Article content
In 2018, the European Commission fined U.S. tech giant Google a record US$5 billion for forcing cellphone makers that use the company's Android operating system to install Google's search and browser apps, thus restricting competition and reducing choices for consumers.
In 2018, the Toronto Raptors dealt all-star guard DeMar DeRozan, the franchise's leader in points, to the San Antonio Spurs for superstar forward Kawhi Leonard.
In 2019, the federal government announced a $900-million settlement to end multiple class-action lawsuits lodged in cases of sexual harassment, gender discrimination and sexual assault in the military. The legal team representing the plaintiffs in the suit called it "historic," adding it hoped it would provide closure and a healing process for survivors. The federal government also promised to create a way for victims to share their experiences with senior military leaders in a "restorative engagement" program. The settlement also called for an external review of existing anti-harassment programs.
Article content
In 2019, a man screaming "You die!" burst into an animation studio in Kyoto, doused it with a flammable liquid and set it on fire — killing 33 people in an attack that shocked the country and brought an outpouring of grief from anime fans. Thirty-six others were injured, some of them critically, in a blaze that sent people scrambling up the stairs toward the roof in a desperate — and futile — attempt to escape. It was Japan's deadliest fire in nearly two decades. The 41-year-old suspect was injured and taken to hospital. He did not work for the studio.
In 2019, offensive lineman Mitch Petrus, a walk-on at Arkansas who went on to a three-year NFL career that included a Super Bowl win with the New York Giants died at 32. The coroner said Petrus died of heat stroke at a North Little Rock hospital after working outside at his family's shop near his hometown of Carlisle. Arkansas was in the grip of an intense heat wave at the time, with temperatures the day Petrus died hitting 38 Celsius.
Article content
In 2019, David Hedison, who starred in the original sci-fi classic The Fly and appeared in two James Bond films, died at 92. Hedison portrayed Capt. Lee Crane in the long-running sci-fi television series Voyage to the Bottom of the Sea and Spencer Harrison on the daytime series Another World. Hedison played scientist Andre Delambre who turned into an insect in the 1958 film The Fly. He played CIA agent Felix Leiter in Bond films To Live and Let Die and License to Kill.
In 2020, the Blue Jays were denied approval to play in Toronto amid the COVID-19 pandemic. The Trudeau government turned down the request citing danger to Canada because of all the cross-border travel involved. Major League Baseball needed an exemption to a requirement that anyone entering Canada for non-essential reasons must self-isolate for 14 days.
In 2020, Quebec became the first province in Canada to require mask-wearing in all indoor public places due to the COVID-19 pandemic.