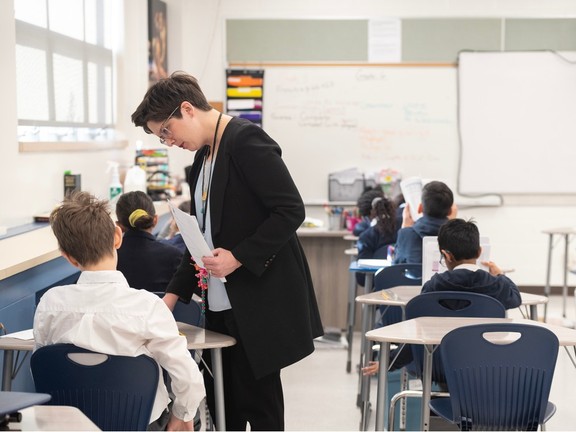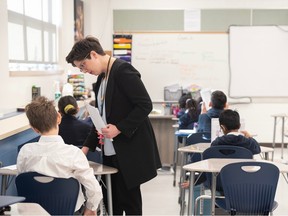 Article content
At a time when the K-12 school system is still struggling with the fallout of the pandemic — from learning loss to limited resources — a tight provincial election has politicians playing it safe on hot-button education issues.
Article content
In fact, election platforms for education are nearly identical among the UCP, NDP, and other parties vying for votes May 29, with promises of more funding, more schools and thousands more teachers.
Article content
But for fear of offending undecided voters, political pundits say controversial topics like curriculum change, charter school expansion, or rising complexities in classrooms are being strategically avoided.
"Both parties know that most voters have essentially made up their mind. There's only a small group whose decisions are not yet firm," said Lisa Young, a political science professor at the University of Calgary.
"So the last thing they want to do is push those voters away by taking a strong stance on education, and strongly opposing one thing or another.
"The safest thing to do is just say, 'we will build schools, there will be money.'"
The UCP campaign is saying just that, touting an education platform that piggy backs onto a series of spring budget announcements.
As an extension of Budget 2023's commitment to increase education funding by 5.2 per cent this year, the UCP's election website boasts an increase in overall K-12 education spending from $8.2 billion in 2019 to $8.8 billion this year, as well as commitments to 106 new schools and modernizations since 2019.
Article content
Yet between 2020 and 2022, school boards and teachers complained of flat funding, saying marginal increases in education dollars did not keep up with growth, and class sizes continued to expand.
But the UCP is also promising to invest $1.7 billion to hire 3,000 new teachers and support staff province-wide to address this past fall's unprecedented enrolment spikes, the first school year without pandemic restrictions since 2019.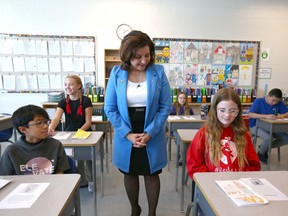 In a very similar vein, the Alberta NDP is also promising to hire more educators, nearly doubling the UCP's numbers, hiring 4,000 new teachers and 3,000 new educational assistants and support staff for schools.
The NDP has blamed government for laying off 20,000 support staff during the first months of COVID lockdowns, and not providing enough funding to school boards to replace them when schools re-opened.
The NDP also vows to build 125 schools and commits to funding enrolment growth across Alberta, without putting a specific dollar amount to it.
But at a rally last week, NDP leader Rachel Notley announced $1.2 billion in major infrastructure projects in Calgary — where pundits say the election will be won or lost — including 40 new Calgary schools.
Article content
"There is definitely a lot of overlap in terms of what we're hearing from both sides, because they know they have to appeal to the broadest range of voters," said Lori Williams, political scientist with Mount Royal University.
"I mean we've seen a budget from the UCP that looks like it could have come from the NDP."
Public education advocates want a return to class-size reporting

Teachers demand UCP, NDP make classroom sizes an election issue

Parents devastated, scrambling as daycare set to close at new charter school hub site

New charter school hub will house multiple schools, open 2,000 student spaces, Alberta announces
And as the election gets closer, Williams said the leaders are starting to see the end result may be more about who is seen as the most trusted premier, as opposed to who has the best platform.
"Rather than looking at the details of a vision, it's coming down to who has the stability and the right judgment to achieve a vision."
Even minor election players are making similar promises of schools and money.
The Alberta Party, with only 19 candidates in a province of 87 ridings, promises to advocate for up to $190 million in education funding every year over the next four years, enough for 15,000 new student spaces and building or modernizing 25 schools annually.
Article content
And the Alberta Liberal Party, running only 13 candidates, recently issued a press release with its education platform, demanding class-size caps and $1.2 billion for classrooms.
But no party seems willing to stick its neck out on issues that could be considered controversial or divisive, experts say.
For example, much of the angst over the UCP's curriculum overhaul has seemingly quieted down in recent weeks.
The UCP briefly mentions it in their platform, saying they've rolled out new math, English and physical education for K-6 students.
But they haven't campaigned on it, possibly because the overhaul had critics saying parts of the new curriculum were age-inappropriate, lacking Indigenous perspectives, and too content heavy or focused on rote memorization.
Among those critics had been the Opposition NDP, but since the campaign has started, they've been essentially mum on the topic, Young said, again for fear of offending.
"There was a time, in the midst of the pandemic, there was so much criticism of the new curriculum. But that seems to have fallen off the table somewhat," Young said.
Article content
It's possibly because polls have shown suburban women make up much of the undecided vote, Young added. And the NDP may want to ensure they appear more centrist in their approach.
"It might be speculation, but it also might be a situation where they know the suburban mom is wavering, so they don't want to push her away."
Medeana Moussa, spokeswoman for Support Our Students, agreed, adding that the effort to remain centrist has resulted in watered-down education platforms from both the UCP and NDP.
"The election platforms are vague. There is an offer of money, or teachers, but there is no real plan to address the complexities.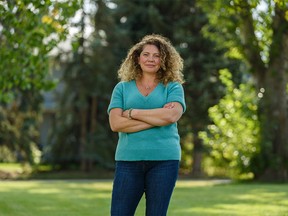 "The signs of underfunding are all around us, they were highlighted during the pandemic. Yet no one is talking about the enrolment growth we've seen, the huge class sizes, and what teachers are dealing with."
Charter school expansion is another hot-button issue that both parties are avoiding, Moussa added, saying that charters erode the public system by funneling tax dollars into schools that limit access with long waiting lists.
Last month, the UCP quietly committed $118 million to purchase and renovate the SMART Technologies building near the University of Calgary to create a Charter School Hub incorporating several charter programs.
Article content
No official press release was ever issued detailing the project. And when one of the charter hub programs pulled out of the project this week, officials with the UCP and Alberta Education would not comment.
But even the NDP will not wade into the debate.
When asked by Postmedia whether they would consider capping charter school expansion if they form government, they would only say that they will continue to support enrolment growth at all schools.
"We will fund enrolment increases in all Alberta schools, including public, separate, charter, francophone and independent," said NDP campaign spokesperson Malissa Dunphy.
But Moussa said with the majority of Alberta students attending public schools, it's frustrating that no party is willing to prioritize public education.
"It's disappointing. We know that more than 90 per cent of Alberta kids attend public schools, yet we are not seeing either party advocating boldly enough for public education," said Moussa.
"I fear that no matter who wins this election, public education will still be facing the same status quo of larger classes and underfunding, and it will be our kids who pay the price."