Rosa Isela Guzmán, daughter of Chapo 'breaks the silence' and defends Emma Coronel
The daughter of the drug trafficker 'jumps' to defend the wife of Chapo Guzmán
He also assured that his father already knows 'everything' about the arrest of Colonel
Following the arrest of Joaquín "El Chapo" Guzmán's wife, his daughter, Rosa Isela Guzmán breaks the silence about Emma Coronel and launches a petition to the media.
Recently, Coronel, a 31-year-old former beauty queen, appeared by videoconference before a Washington city judge. The drug lord's wife faces charges of conspiring to distribute cocaine, heroin, methamphetamine and marijuana in the United States.
Defend Emma Coronel
In the interview, made by the program Despierta América, Rosa Isela Guzmán began by assuring that her father, Joaquín "El Chapo" Guzmán Loera "knows everything" about the arrest of his wife.
When asked about how he thinks the boss of the Sinaloa Cartel is, he said that he is calm since "there is nothing to fear." Later, Chapo's daughter launched a petition. "Do not judge people without knowing yet," asked Rosa Isela Guzmán. He also urged people to "limit themselves" to commenting on "rude things" on social media.
Chapo's wife Will she defend herself?
"They still don't know if she, the girl (Emma Coronel) is going to defend herself," said Guzmán. "Because she has the right to defend herself like everyone else."
After Rosa Isela Guzmán's request, he stressed that even Emma Coronel's family has been "involved" in the controversy of her arrest in the United States.
Later, the reporter in charge of the interview asked him about the possible reason for Coronel's arrest. "The government investigates, investigates and investigates … until it has something," Guzmán said. TO WATCH THE VIDEO CLICK HERE.
Revealed his own 'experience' with authorities
Later, the daughter of "Chapo" Guzmán related her 'own experience' when being investigated. "They have taken photos of me cutting hair so that they can see that I am cutting hair, that I am working, that I am doing things well," he said.
"They did not believe me," said Rosa Isela Guzmán before urging them "to continue investigating," as a challenge for the authorities and to demonstrate that he does not commit illegal activities.
Will you ask the government for help?
Guzmán was also questioned about the controversial letter that the mother of Joaquín Guzmán Loera had allegedly delivered to the president of Mexico, Andrés Manuel López Obrador, who also 'broke the silence' about the arrest of Emma Coronel.
However, he clarified that he read it but did not pay attention to the content. Already entering the issue of the government, Chapo's daughter said she had tried to process permits for her aunts and grandmother with the "previous" government so that they could see Guzmán.
In addition, he announced that he will try again with the 'new' government of the United States.
Filed Under: Daughter Chapo Emma Coronel
How are Emma Coronel's twins?
When asked about the status of the daughters of Chapo Guzmán. "I am not going to comment on that … they are some babies who have nothing to do with it," said Isela Guzmán.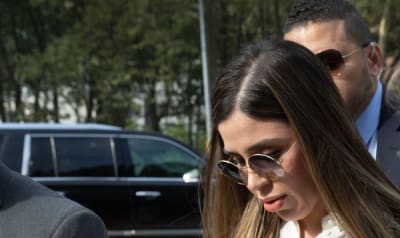 He only pointed out that the minors could be between seven and eight years old. Next, she was asked about the coronavirus pandemic and its various concerns.
"With ups and downs," she said, before revealing that she is concerned about the health of her father, grandmother and mother. When asked about Emma Coronel's health, she stated that "she is very young and very strong."
He sent his best wishes to the wife of "Chapo"
Towards the end of the interview he sent his 'wishes' for what is his 'stepmother'. Guzmán said that he hopes that Emma will fix the situation and that he understands it since she already "knows what it feels like", and reported that the US Drug Enforcement Administration (DEA, in English) "harassed" her.
"Hopefully it goes well," concluded the daughter of Joaquín "El Chapo" Guzmán.
Subscribe to our weekly newsletter and participate for a $ 100 gift card each month. Receive your favorite news in your inbox from today.
Filed Under: Daughter Chapo Emma Coronel
To watch news videos like this subscribe to our channel: https://www.youtube.com/user/MundoHispanico


mundohispanico.com
The Canadian News
Canada's largets news curation site with over 20+ agency partners