El Salvador lived this Wednesday the bicentennial of the independence of Central America with protests in its streets.
Thousands of people came out to demonstrate in the capital of the country in rejection of the measures taken by the Executive of Nayib Bukele, among them the adoption of bitcoin or the "authoritarian" drift of the president, according to various sectors.
The protest, which was called by social networks, was, "by far, the demonstration biggest against the president"Since he came to power in 2019, highlighted the Salvadoran newspaper El Faro.
The local press estimated between 5,000 and up to 15,000 those attending the march, which generally took place in a peaceful manner, except for some incidents such as the burning of a bitcoin ATM.
"No to presidential re-election, no to bitcoin, no to militarization, no to dictatorship!" and "without judicial independence there are no guarantees for the defense of human rights," were the messages on some of the banners carried by the protesters.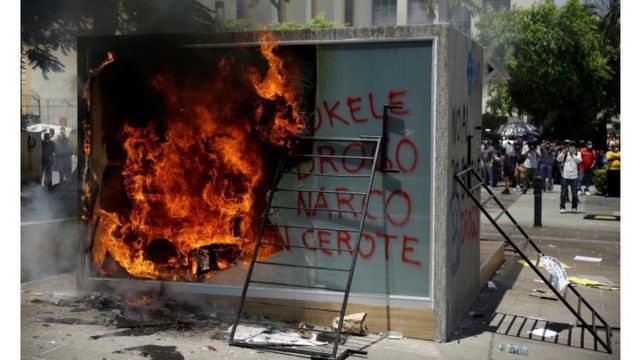 The protests were not ignored by Bukele, who, in full celebration of the bicentennial of independence, included in his speech a reaction to what happened.
Before starting with the speech, I want to refer to the events of this morning, where a group of people took to the streets to supposedly fight for freedom", said.
"Unfortunately they are protected by some friends of the international community, I say some because they are not all"; "The sad thing is that they are financing a perverse opposition," he told the accredited ambassadors in the country.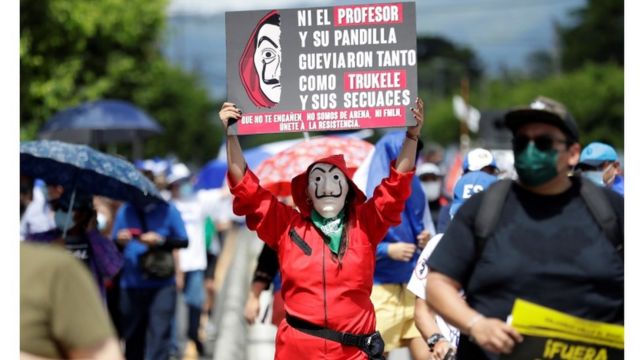 The president accused the protesters of "vandalizing private property" and defended that his government does not repress the demonstrations as if it happens "in others where there are dictatorships."
"There were no police. Today they went to fight against a dictatorship that does not exist and yet there is a lot in the international community that continue to sell it, "insisted Bukele, 40.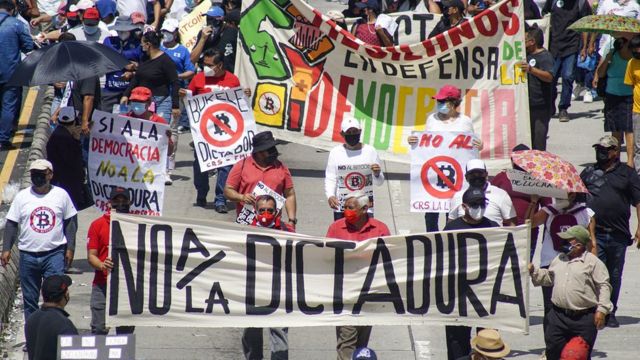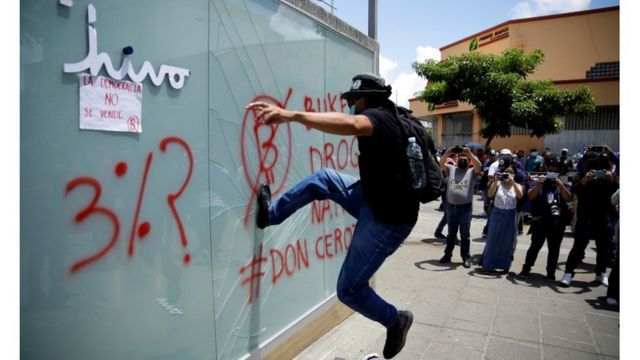 The implementation of bitcóin As the official currency in the Central American country, it was one of the triggers for the protests, but not only.
The protesters also protested against the dismissal of judges over 60 years of age, the departure of the attorney general, the replacement of the magistrates of the Constitutional Chamber and the subsequent ruling that allowed Bukele to stand for reelection in 2024 (rectifying thus the criterion in force until then) or a constitutional reform, among others.
However, Bukele continues to maintain high levels of popularity in the country, of more than 80%.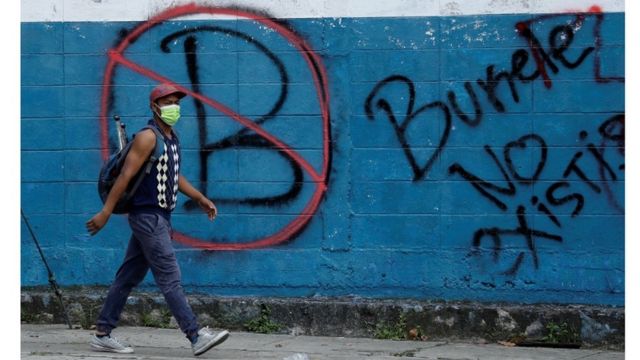 Now you can receive notifications from BBC News Mundo. Download our app and activate them so you don't miss out on our best content.


eltiempolatino.com