The Mexican Darío Castro recovered from a discomfort in his right thigh to win on Sunday the Mexico City Marathon with a time of 2:14:51 hours, just one second ahead of his compatriot Eloy Sánchez.
Kenyan Rodgers Ondati finished in third place with a time of 2:17:31.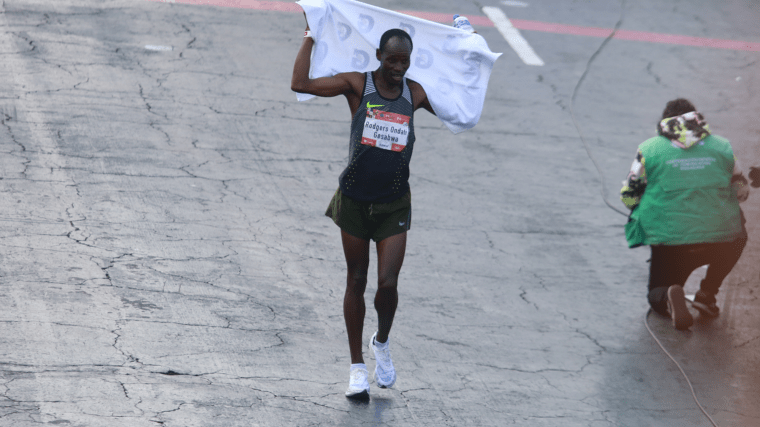 "At kilometer 35 I had a problem with a jerk, I was focused and suddenly I felt the jerk, but I did not lose faith and kept running until I got there, thank God we finished. I have worked to achieve many things and winning at home makes me very happy, "said Castro.
The Mexican athletes took the lead from the beginning of the test, but at kilometer 35 Castro lost his step when he felt a discomfort in his right thigh and lagged behind in second place.
However, he recovered and a kilometer later he was paired with Sánchez. Both traveled together the rest of the competition until the end where they intended to cross the finish line at the same time.
But Castro's right foot crossed the finish line first and stepped on the electronic mat, for which he emerged as the winner of the test.
"Plan new goals with my coach and look for a faster marathon, which is what he is going to give us for international events. The goal and dream of each athlete is to reach the Olympic Games," added Castro, 32 years old.
Since 2009 a local athlete did not win the Mexico City Marathon when Edilberto Mendez he succeeded.
Meanwhile, the women's event was largely dominated by the Kenyan Lucy Cheruiyon, who took the lead from the start and finished with a record time of 2:27:22 hours, surpassing the mark set in 2019 by his compatriot Vivian Kiplagat of 2:33:28 hours.
Ethiopia Amare Shewarge, who won the test in 2014 and 2015, was second with a time of 2:37:03 hours, while the Kenyan Leah Jebiwot finished in third place (2:40:34).
The edition of 2020 Mexico City Marathon it was canceled due to the Covid-19 pandemic.
kg


Reference-www.eleconomista.com.mx