The Ledgeview trail network in Abbotsford includes 115 trails stretching 63 kilometers. But they are on private land.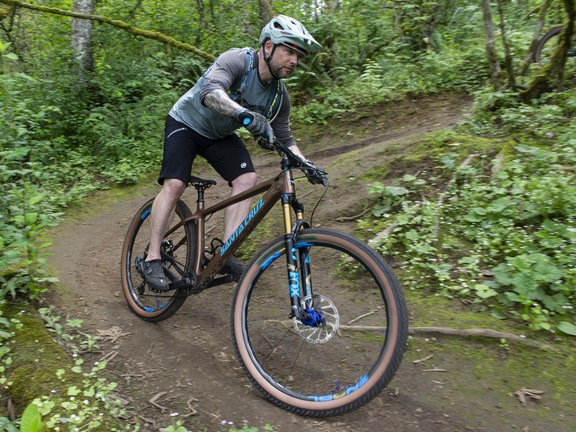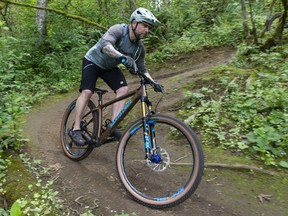 article content
Trail app data shows that a mountain in the heart of Abbotsford is the site of about 30 percent of recorded mountain bike trips in the Fraser Valley.
article content
But the area is earmarked for development.
As the city of Abbotsford prepares to consider a neighborhood plan that could bring up to 24,000 more people to the slopes of McKee Peak, trail users are scrambling to ensure the popular recreation area isn't lost to a forest of homes.
"These trails are as good as it gets," said Yoshia Burton, an avid mountain biker and owner of several Innovative Fitness gyms.
Data collected from the Trail Forks and Strava apps show that the so-called Ledgeview trails, named for their proximity to the city-owned Ledgeview Golf Course, see about 55,000 riders each year. The number is likely to be low, given that not everyone logs their bike rides, walks, and runs on an app.
Trail Forks ride records also show that 28 percent of all mountain bike rides in the Fraser Valley, from Maple Ridge to Hope, take place in Ledgeview. There are about 115 trails on the mountain, stretching for 63 kilometers.
article content
"They're thinking about developing the most heavily used trail network in the Fraser Valley," Burton said. "This is the gem of Abbotsford."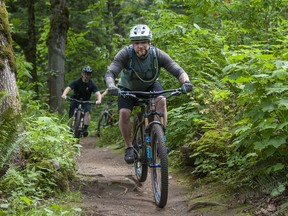 But saving the trails will be an uphill battle. The area has long been designated for housing and was included within the Abbotsford urban development limits over three decades ago. Trail users are technically encroaching on private property, although landowners tolerate their use.
A neighborhood plan, intended to guide future development of the urban forest, will be the subject of a public hearing on July 25.
Mayor Henry Braun said the city recognizes the value of the trail network and the neighborhood plan takes into account years of work and feedback from multiple user groups as well as First Nations.
article content
"This plan is geared toward recreation," he said.
About 50 percent of the 1,900-acre area will remain undeveloped green space. Trail runners will protect some trails while others might move.
But the mayor said the plan must "balance the needs of different groups." While trail users want natural spaces away from the crowds, the additional population will require more traditional parks, playgrounds and ball fields, as well as shopping and other amenities.
"We couldn't stop development even if we wanted to," he said, later adding: "Well, we could, but the result would be a class action lawsuit by the people who bought the land with the understanding that it could be developed."
The land is owned by several different owners and developers. The council is not currently considering development requests as the neighborhood plan is still under consideration.
article content
Burton, who is president of the Abbotsford Trail Development Society, said trail users understand that Ledgeview is private land, but they want more assurance from the city that the trails will be preserved. Some of the green space is designated on the assumption that it will be too steep to develop.
"But if house prices are high enough, developers will find a way to build on them," he said.
He estimated that the plan saves about 10 percent of existing trails. Trail groups want to see "zero net loss" by relocating or replacing lost trails elsewhere.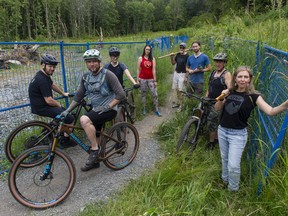 "There are good intentions, but not many guarantees," said Mark Sawatzky, treasurer of the Fraser Valley Mountain Bike Association. "We need to be strategic to save these spaces."
article content
Trail runner Paul Enns, also a member of the trail development society, emphasized the mountain's proximity to where people already live and the positive impacts it has on residents' mental and physical health.
"After a stressful day, I can run a loop and then I'm ready to go back to work. If I have to drive 40 minutes to get to the mountain, I'm much less likely to make it," he said.
On a recent night, there were multiple people on the Ledgeview Trail, including families and people walking dogs. Across the street, golfers teed off on the city-owned golf course.
Jenny Quilty, a top ultramarathon runner and running coach, said Ledgeview lured her back to Abbotsford after several years away.
"Year-round access is really valuable," he said, recalling a training run on McKee Peak during a winter snowstorm. "It would be very sad for Abbotsford to lose this legacy."
article content
Unhappy trails, crowded parks, crowded campgrounds: Lower Mainland parks are being invaded

'The Entire Landscape Has Changed': Parks, Trails and Recreation Sites Severely Damaged by British Columbia Storms

Hikers harassed by Buntzen Lake's new parking reservation system
---
More news, less ads: Our in-depth journalism is possible thanks to the support of our subscribers. For just $3.50 a week, you can get unlimited, ad-lite access to The Vancouver Sun, The Province, National Post, and 13 other Canadian news sites. Support us by subscribing today: The Vancouver Sun | The province.