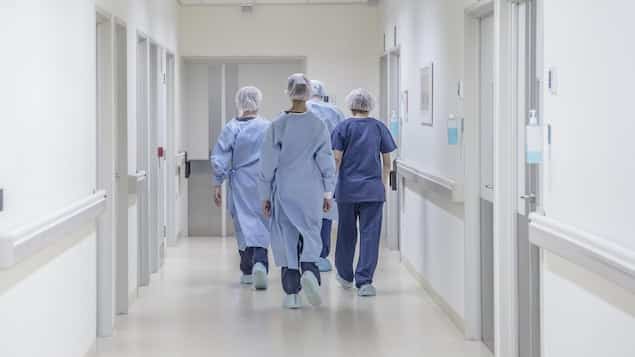 The decline in service in the health sector is frequent during the summer season. the CISSS readjusts, every summer, certain services in order to avoid complete disruptions.
Every summer, because of the holidays, we always have to adjust our service offer. At the same time, activity also decreases in hospitals in the summer because there are fewer infections and fewer needs.explains the Deputy Chairman and CEO of the CISSS of Bas-Saint-Laurent, Jean-Christophe Carvalho.
This year, however, the phenomenon is more significant due to the lack of personnel which has been exacerbated since the pandemic.
" What is happening this summer is a little bit more particular. »
We are coming out of the context of a pandemic, but of course there are labor shortage issues and that means that we have to adjust to maintain services to the population as much as possible. on the whole territoryadds Mr. Carvalho.
One of the levers that the CISSS he recourse to provide care to the population, in this context of lack of personnel, is independent labour.
A raise significant of the use of this type of labor is also observed compared to other years. Currently, 4.5% of positions are filled by staff from independent agencies, while before the pandemic, this figure was 1%, according to Jean-Christophe Carvalho.
Reduction in the number of acute care beds
Another difference compared to other years: the number of short-term care beds available in hospitals will be even smaller than before.
" These are not short-lived bed levels that one is accustomed to operating with. »
Normally, we started with a higher number of beds, then we reduced them for the summer period. Now, with the challenges that the pandemic has brought, […] we are already operating at the CISSS du Bas-Saint-Laurent with fewer beds for several monthshe says.
Mr. Carvalho maintains that it is very likely that ruptures will occur in sectors such as obstetrics. Of the service corridors will therefore be planned to quickly transfer users to other facilities.
Which establishments will be affected by these cuts?
The emergency opening hours of the Center hospitalier de La Mitis, in Mont-Joli, will be reduced as of June 25.
A temporary closure of certain beds in short-term or intensive care units is also to be expected in the health establishments of Matane, Amqui and Rimouski.
Activities will also be slowed down in the operating theaters of Rimouski and Rivière-du-Loup.
The hospitals of Témiscouata and Kamouraska are, for their part, more at risk of other ruptures of services in obstetrics.
Various adjustments in hospitals in the region:
Mont-Joli emergency unit: closing from 4 p.m., instead of 8 p.m., on Saturdays and Sundays
Amqui intensive care unit: 2 beds instead of 3
Matane intensive care unit: 2 beds instead of 3
Rimouski intensive care unit: 6 beds instead of 8
Source : Union of Nursing and Cardiorespiratory Care Professionals of Bas-Saint-Laurent
The general unit of the Rimouski hospital will have 91 hospital beds, in addition to 11 overflow beds, this summer.
There is a drop in activity everywhere. Of course, in large centers like Rivière-du-Loup, Rimouski and Matane, it's more obvious because often the small facilities send their patients to them when they are unable to provide care.says the president of the union of nursing and cardiorespiratory care professionals of Bas-Saint-Laurent, Alexandre Pelletier.
He recalls that this reduction in the number of beds in hospitals could result in hospitalized patients being transferred to the emergency room, which would clog this sector.
The union of nursing professionals concerned
Alexandre Pelletier is concerned about this drop in services. According to him, this is the most important readjustment of the CISSS for 20 years.
" This is the biggest drop in activity I have seen. It's like epidemic, there are in all facilities. Before, there were installations spared, but this summer, it is major. »
The summer period will be difficult for all members of the Syndicat du Bas-Saint-Laurenthe says.
All these service reductions are going to be from June 23 to September 5, that's what they're planning for the summer. It will prevent service breakdowns, but it involves a member of staff falling ill… I find that worrying for the care of the populationcontinues Mr. Pelletier.
However, he confides that the morale of the employees is good for the moment.
With information from Perrine bubbling


Reference-ici.radio-canada.ca