In the Old School, an old gymnasium in San Blas-Canillejas, a man attacks a sack. He trains for his next match, an evening of boxing against an unknown fighter, and he's angry. Years ago he lost his best physique and youth factor, but he refuses to retire. He has a shaved head, a frown and a tattoo that crosses his chest: a Celtic cross, two pistols and, in the middle, the word 'Skinheads', with capital s.
It's July 2013. It's called Alberto Ayala de Cantalicio, weighs 68 kg and will win on points but with difficulties. He is at the end of his discreet career, but violence will not cease to be a common trend. Three months after the fight, he will join Antonio Menéndez, alias 'El Niño', and will give a coup (and fists) to the leaders of Ultras Sur, the ultra-supporter group of Real Madrid. Years later it will remain the same.
When he takes off his gloves, you may have guessed, Ayala is anything but an amateur fighter. By then, he was leading the now extinct Combat Spain, considered in those years the most violent and dangerous neo-Nazi group in Madrid. His record outside the ring was worth him as a resume: eight arrests for attacks, injuries, damages, crimes against persons and fundamental rights, hate crimes, attacks on law enforcement officials, attacks with a knife, xenophobia, racism and carrying tools and fascines of neo-Nazi ideology.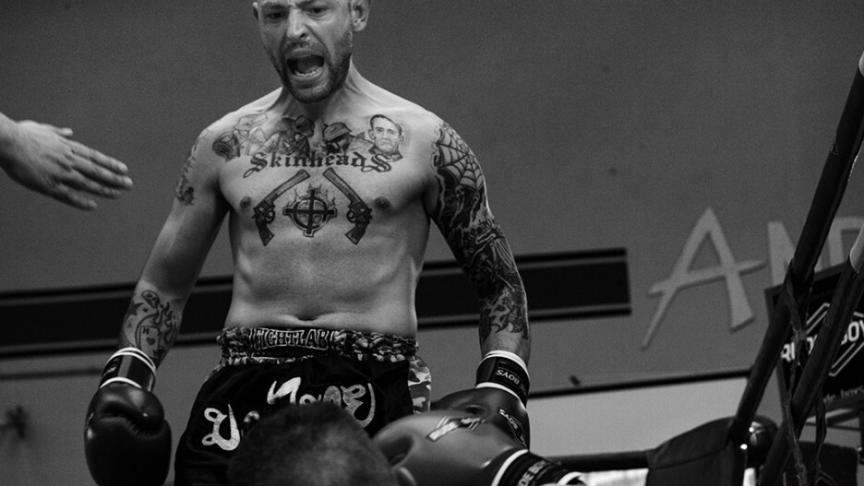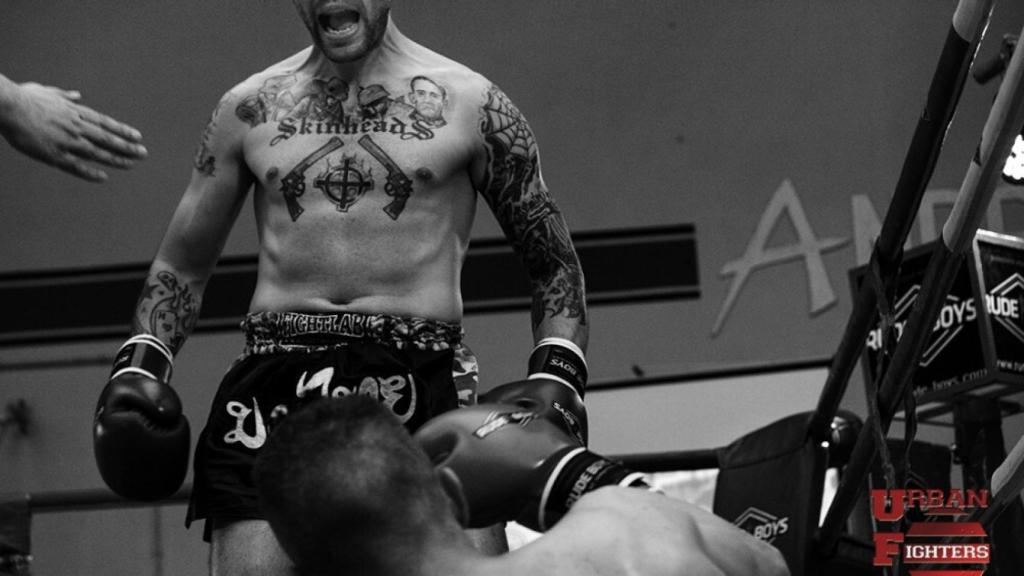 Politically, more of the same. He tried to resurrect the Autonomous Bases, an organization that starred in numerous altercations in the 1980s; He was head of the Falange list and led for years Canillejas Youth, a neo-Nazi group that he recruited from his own gym. It seemed like it had disappeared. At the very least, that he had learned to let others fight their battles. This week, already 48 years old, he has risen.
His name has reappeared in the reports of the Government Delegation as the visible face of Madrid Seguro (MS), the far-right group that promoted the homophobic and xenophobic march last Saturday in Chueca. According to them, the only slogan was the official one, 'Against the 2030 and 2050 agendas', but the reality of what happened was quite different. Skinhead politics.
MS: "The usual ones"
In reality, the neighborhood groups that make up Madrid Seguro have little of the Madrid neighborhood and much of the Third Reich, or at least this is demonstrated by the network of contacts that Ayala has nurtured. Friendly parties, like-minded associations, new adherents and historical comrades, all gathered together under the cry of "queer out of our neighborhoods."
"It was created to hold demonstrations against Latino gangs and menas, but not for this Saturday," sources close to the group explain to EL ESPAÑOL. With a few years behind it, Madrid Seguro tries to pretend that it has nothing on the extreme right, but its speech makes it clear which side it is on: it rejects the immigrant, calls for priority attention to the Spanish and questions the current administration.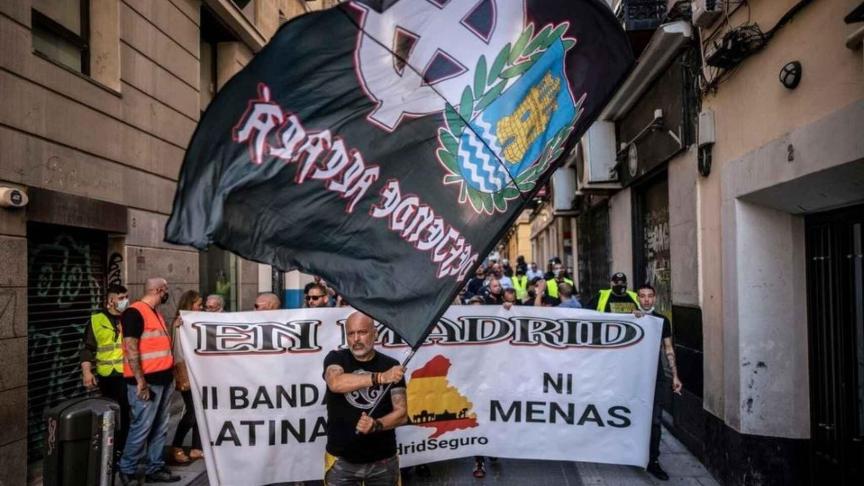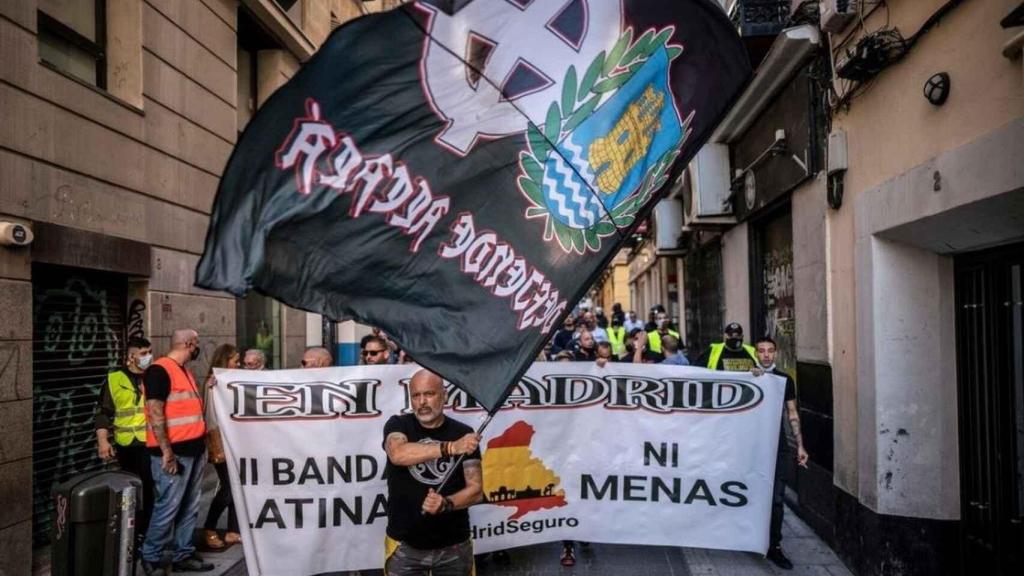 Immigrants, refugees and homosexuals are rejected on the street. On paper, it is a humble grouping of recently created neighborhood associations such as that of San Blas-Canillejas, led by Ayala himself, or that of Pinar de Chamartín and Hortaleza "Carlomagno", twinned with the previous one. Under this apparently harmless identity, they obtained authorization from the Government Delegation to organize the demonstration.
"Many neo-Nazis and ultras camouflage their organizations as neighborhood associations so as not to raise suspicions in bureaucratic paperwork and facilitate the recruitment of people who do not know where they are getting," Joan Caballero, an expert researcher on violent groups, explains to this newspaper. "These, in particular, look new, but most are The usual with another name ".
Masters and apprentices
It is not difficult to draw a time line between the different neo-Nazi demonstrations and find that, after all, the names repeat themselves. One, of course, is that of Ayala, either as a convener or as "head of security" for the protesters, a responsibility that he has assumed on other occasions such as Plaza de España in 2016, when Hogar Social Madrid shouted against the protesters. refugees.
Another old acquaintance is Jose Luis Roberto, known as 'El Cojo'. His trajectory is also well known in the lies of the extreme right, either for planting bombs against the independentistas in the Transition as for being the visible head and president of Spain 2000, the extreme right party supported by the National Front of Marine Le Pen. He has been accused of founding and financing the groups Acción Radical (active between 1990 and 1995) and Frente Antisistema (FAS), although he has not been tried or convicted for doing so.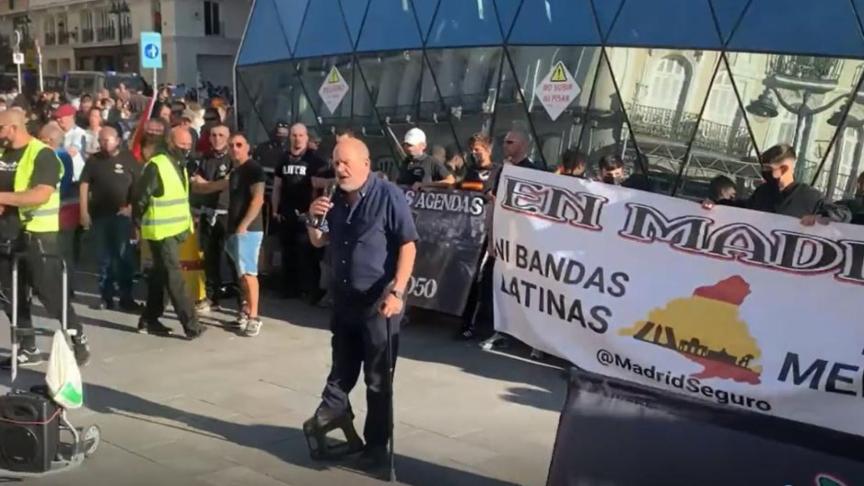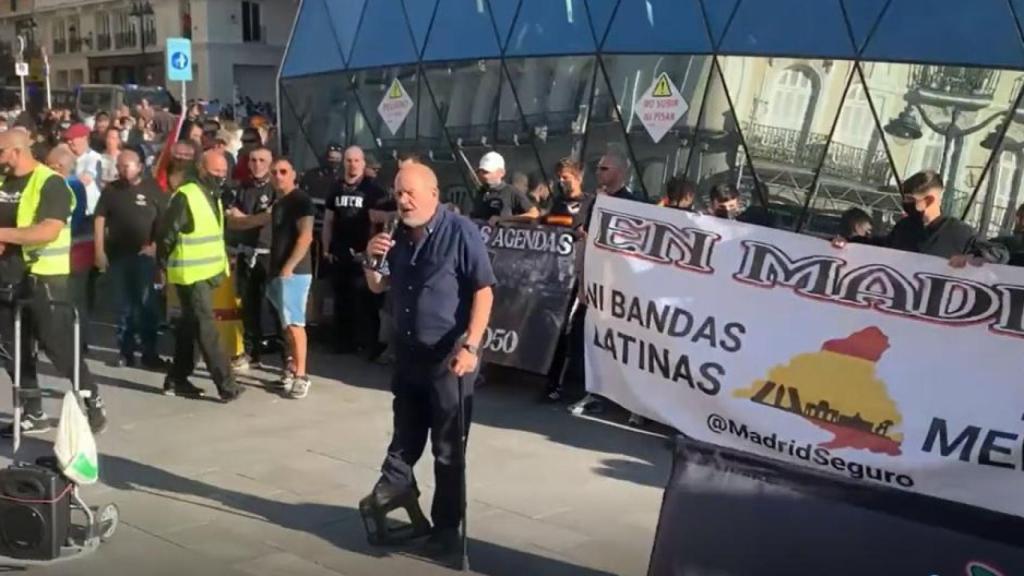 From him, the structure goes down and branches into different groups: its particular SS. In the neighborhood area, Madrid Seguro and Ayala; in football, Suburbios Firm. This group, formerly related to the Athletic Front, was expelled from the group for its affinities with Antonio 'The Child' and Ayala himself, both Real Madrid fans. Its leader is 'El Ratilla', a young man with a violent character close to biker groups who, according to ultras circles suspect, was "the snitch" who precipitated the stabbing among the ultras of the Duratón bar, in December 2013.
In addition, among the leaders of Madrid Seguro organized and coordinated by Ayala there are also former members of Hammerskin, the most dangerous Nazi faction in Spain that was outlawed in 2009 after being dismantled by the Police. Many of its leaders were jailed. Those who did not went to Chueca last Saturday.
"Everyone knows each other from the world of football and the world of fighting," recalls Caballero. "They recruit troubled youth, who hold their pace and are not afraid of being detained or having personal and family problems due to their extremist condition ", he points out.
One of these recruits is Fran Suarez, the Juventudes Canillejas boxer who broke his hand for hitting Pablo Iglesias' guard. Suárez, an old acquaintance from the neighborhood, was one of Ayala's disciples, who can be seen in a promotional video encouraging his most gifted student. Teacher and apprentice. In the ring and out of it.
The passage from one to the other is governed, after all, by the same law that has guided neo-Nazi groups since the arrival of the Transition. It is the same one that Caballero recites, which are always the same but with different masks, and something similar happens with Ayala. Today we see him there, still, years later, something thinner, something more gray, with the tattoo of 'Skinheads' something more covered, but with the same ideas as always. For now, it seems, fascism is neither created nor destroyed, it only transforms.
Follow the topics that interest you


Reference-www.elespanol.com