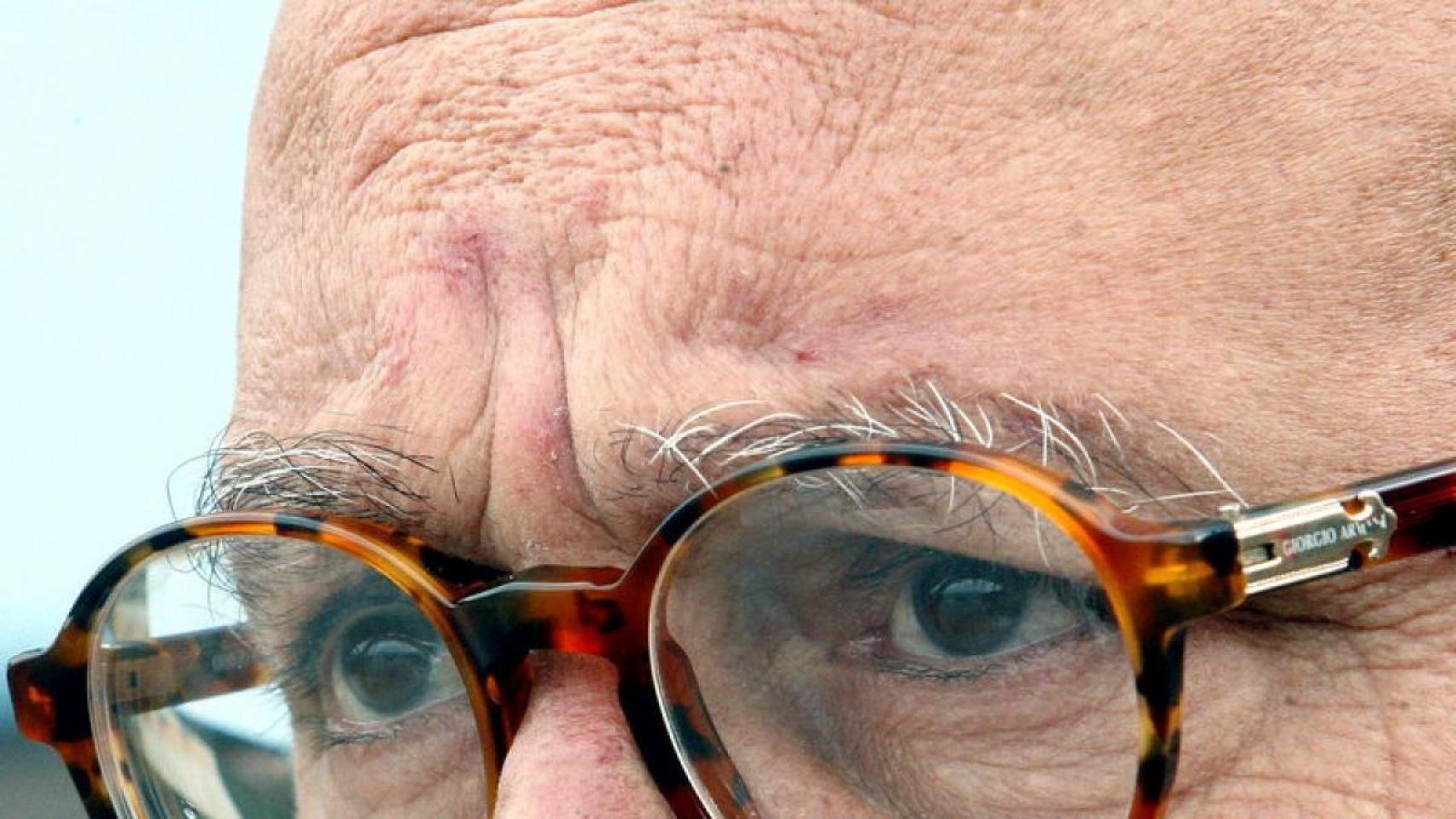 "I wait calm the day of the farewell. I'll let you know ". Mario camus He said these words to me at the end of a long conversation that we had before a large audience during a Complutense course that I dedicated to him, three years ago, in San Lorenzo del Escorial. But he didn't warn me, of course. Or yes: our recent phone conversations indicated, in a way, that he was moving away from life.
Warm, close (except with the pelmas and the inopportune), passionate about the conversation, excellent oral teller of stories and anecdotes (as he was of movies and stories), Camus, paraphrasing Threshold, became a "being from afar", except for friends, when he returned, many years ago, to live in Cantabria (Ruiloba, Santander), in what was, however, a rapprochement and a reunion with his wife, Concha Bergareche, and with his native land, with that north that was inscribed in its austerity, its natural elegance and its melancholy.
Camus was very apprehensive, despite (let's say) his height, his athletic build, his fondness for sports (basketball and cycling, above all), the long youthful air that his inalienable jeans and his seductive skills gave him.
In 1984, I went to do an extensive interview at his house in Chamartín weeks before the participation of The holy innocents in Cannes. Aware that I, as a critic of Diary 16, I was going to travel by train to the festival due to my insurmountable aversion to flying, he immediately joined me: his phobia of the plane was, apparently, higher than mine.
I warned him: the journey is pleasant, of course, but also heavy. It was necessary to take three trains, make two transfers and invest about 22 hours. A nonsense. The Madrid-Nice flight lasted less than two hours… No way, the train!
Madrid-Barcelona night journey by sleeping-car, having dinner, smoking, drinking and chatting superbly in the restaurant-car before going to sleep. Talgo Barcelona-Geneva, eating on a tray in your own seat and enjoying La Camargue and its horses. Transfer in Nimes (with views of its colosseum) to take an express to Ventimiglia (Italy), with a tour of Provence and the Côte d'Azur and stop in Cannes. Perfect.
His cinema was a leisurely cinema, which so often lingered on the landscape and on the people in order, from the outside, to be able to delve into the interior.
The train has a very long lateral travelin over land and people. The train is the most cinematic means of transport that exists, which is why there are so many films that take place on trains. It is the one that best collects and solves, metaphorically if you will, the characteristics of cinema and the cinematographic story: movement; the relationship between space and time; the long journey, with possible incidents and transformations, towards an outcome, towards a destination; the enhancement of the gaze towards the world of the traveler-spectator; some form of slowness when compared to the vertiginous flight of the plane …
Mario Camus's cinema was a leisurely cinema, which so often lingered on the landscape and on the people in order, from the outside, to be able to delve into the interior, into the soul of its characters who, so often, were losers, defeated (or in the process of being), aspiring to final failure and continued pain, always bearers of a basic dignity corresponding to the best of what is human.
That dignity was what Camus's films had in their intention and in their result, founded as they were on a humanistic gaze that tried to show, understand and sympathize with men and women in their effort to survive adversity and suffering.
His cinema (his best cinema) was a humanist cinema, yes, always socially contextualized, and I remember another train trip with him – shorter – in which he recognized it and in which we were reviewing and constructing an ideal filmography of the greats. humanistic films and directors of the classical period, your favorite: Ford, Lean, Wyler, From Sica, Renoir, Ozu, Kurosawa, Kazan, Rossellini, Mankiewicz… Camus lamented, even breathing from his own scars, that it was becoming increasingly difficult to make and that, consequently, fewer good films were made about people and personal relationships.
Camus, a great reader and writer himself of his scripts and of beautiful realistic stories with a special touch – look for his book 29 stories (Valnera, 2010) – has been tagged, for his many excellent adaptations of literary texts (Galdós, Barea , Cela, Delibes, Mendoza, Lorca, Calderón, Aldecoa, Sueiro…), as a literary filmmaker, and we are not going to say that he was not.
But Camus, who loved all the cinematographic trades and who on his teams performed them with the care of craftsmen, loved actors above all else. Why? Because, among other obvious and foreseeable reasons, he looked at them. The filmmaker looks, but films look at us from the face of the actors, and that look of the actors – as much or more than their words and actions – is essential to understand their characters and to understand ourselves.
If the reader of these lines refreshed on Saturday night in La1 The holy innocentsYou will agree that this masterful film is told from the faces and glances of the actors, of the characters: the submissive and suffering gaze of Paco El Bajo; the happy or sad look, of unhappy, of Azarías; the arrogant look of Señorito Iván; the haughty gaze of the Countess; the obedient look, but with a point of rebellion from Regula; the unforgiving look and, at the same time, the administrator's wound …
The look is one of the essences of cinema. The cinema is a mirror: we look at the screen, we look at ourselves on the screen and from the screen they look at us. And the best films of Mario Camus were a mirror of the Spanish and of the Spanish society of different strata and eras: The phonies (1963), With the east wind (1967), The days of the past (1978), Beehive (1982), The holy innocents (1984), Bernarda Alba's house (1987), After the dream (1992), Shadows in a battle (1992), The color of the clouds (1997) and The meadow of stars (2007). Those are, for my taste, his ten best films within a filmography (television series apart) of twenty-nine titles that spanned more than forty years.
We all know that our last train awaits us, and Mario Camus has taken his
The mirror of the cinema … One of the most beautiful stories of Mario Camus, Unknown territories —Published in his book Those things remained (Valnera, 2015) – is based, like others of his, on a personal experience. A television director shoots a documentary about everyday life in a cloistered nunnery. Working on the final assembly, the superior of the convent asked to see all the material to give her approval. After asking permission from the Vatican itself, he appeared in a projection room prepared for this purpose in the company of another nun, Sister Belén. At the end of the pass, the superior hardly objected. Everything's fine. But the director has seen that Sister Belén cried during the projection. Intrigued, he approaches her and gently asks why she is crying. The nun stammered: "It's just that … I have met myself …, I have looked older …, I hardly recognized myself …, excuse me …".
And the thing is that Sister Belén had entered the cloister when she was fourteen years old and, in the following thirty years, she had never seen her face again. There were no mirrors in the convent. The film was his mirror.
Some stories by Camus, as with other authors, are led by quotes from his favorite writers and also from friends, as was the case with the poet Claudio Rodriguez. There are quotes from Stevenson, Neruda, Dickinson… Also from Jorge Luis Borges.
Shadows in a battle, one of the two films that he dedicated to reflecting on the terror of terrorist violence and ETA — the other was Greyhound beach (2002) -, closes with a quote printed on the screen of JLB (Borges), a quote with many corners and a lot of crumb. It is something to think about: "I am not talking about revenge or forgiveness; oblivion is the only revenge and the only forgiveness ".
A Luis Garcia Berlanga liked it a lot The holy innocents, but he was totally wrong in his prognosis: he told Camus that he would be a failure. Miguel Delibes, author of the novel and later personal friend, once dedicated a book to him with this dedication: "To Mario, who triumphed and triumphed me".
The holy innocents it triumphed resoundingly at the 1984 Cannes Film Festival, both in the morning press show and in the evening gala for guests. We all expected a very important award. But it was the year of Wim Wenders and of Paris, Texas. British actor Dirk Bogarde, President of the Jury (which also included the Spanish writer and screenwriter Jorge Semprún) was enthusiastic about the interpretation of Alfredo Landa, and the male performance award was expanded to Paco Rabal.
They were bizarre hours, as the winners were warned to return to Cannes and it was mandatory to preserve the secret, since the awards should not be known until their proclamation and delivery live at the closing gala. Diego Galán told very well those funny, tense and hazardous hours, which saw Alfredo Landa arriving in Cannes disguised and, later, hidden in a closet in the bedroom of Pilar Miró, then general director of Cinematography, before the irruption of an indiscreet journalist.
Everything was narrated by Galán in his biography Pilar Miró. Nobody taught me to live (Plaza and Janés, 2006). There he also reproduced some precious statements to the press by Mario Camus in those days: "Cinema is like love. Love is like a bird. If you squeeze it too hard, it drowns. If you open your hands too wide, it escapes you ".
Camus later recounted an anecdote that happened to him in Paris weeks after the festival. In a restaurant room he met Dirk Bogarde, sitting in company at a distant table. Shy and polite, Camus did not dare to upset him, but sent him a note thanking him for the award. The holy innocents and signed his name. Bogarde read it and, from a distance, nodded to her. A while later, Bogarde and his companions left the restaurant without the actor looking or speaking to Camus. But a waiter sent the director a note from the actor. In just two words: "Pretty Milana."
We all know that our last train awaits us. Mario Camus has taken his. Have a good trip, friend!
*** Manuel Hidalgo is a writer and journalist.
Follow the topics that interest you
Reference-www.elespanol.com