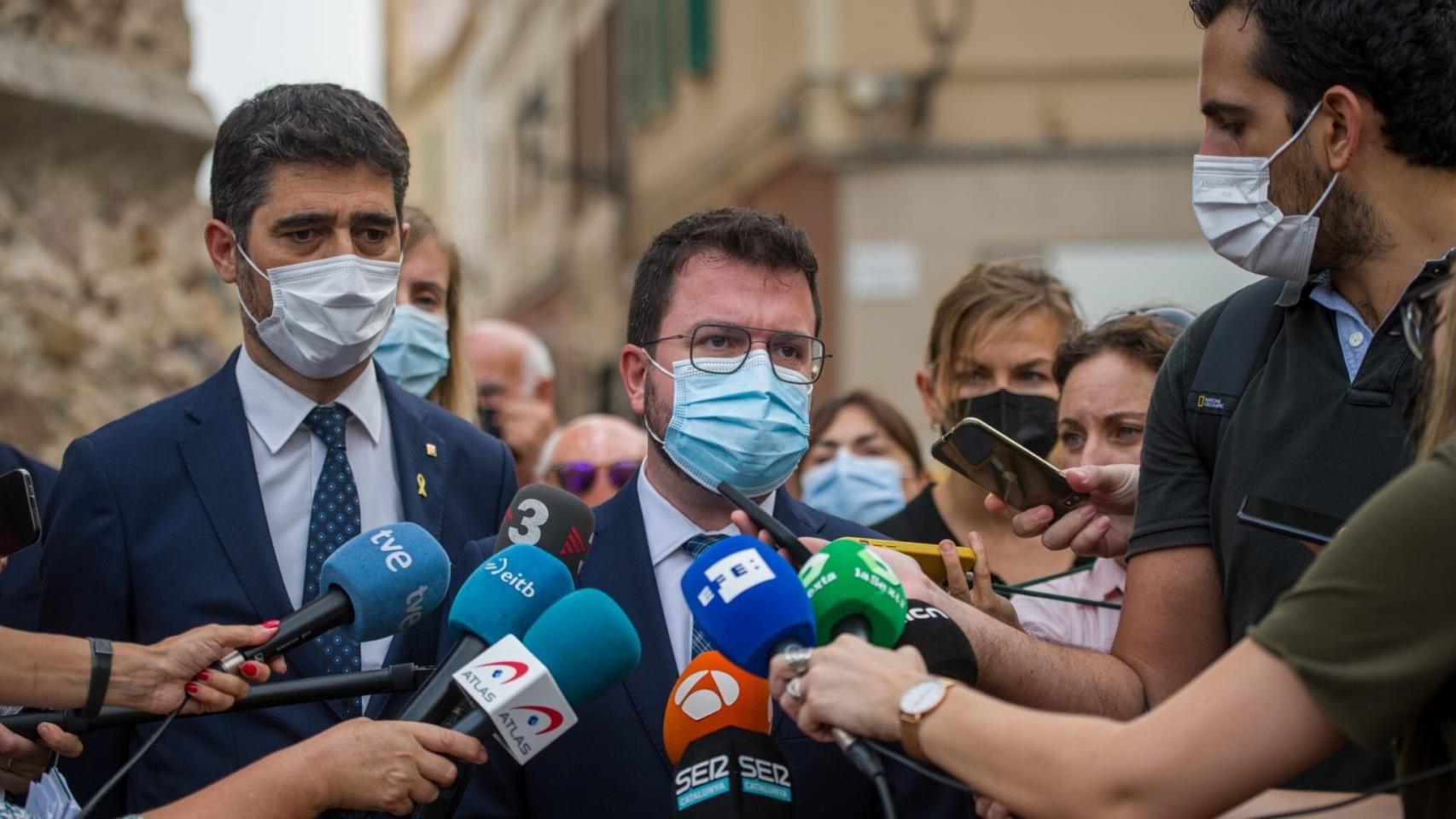 The President of the Generalitat, Pere Aragonès, has expressed this Saturday its solidarity with the former Catalan president Carles Puigdemont, arrested on Thursday and released on Friday in Italy, and has celebrated his freedom although he has warned that it "is not complete." The Government has been direct, sending a forceful message to the dialogue table of the government of President Pedro Sánchez: "It is very difficult to dialogue with repression."
They have said it in statements to the media together with the vice president of the Government, Jordi Puigneró, from Alguer (Italy), where they have both traveled this Saturday to accompany the former president of the Generalitat and leader of the Junts.
The Government assured today that "the repression of the Spanish State continues" and that "the only solution is amnesty", after meeting in Alghero (Sardinia) with former president Carles Puigdemont, detained on Thursday in that Italian town by an order of the Supreme Court Spanish, although he got out of jail on Friday.
The vice president of the Generalitat, Jordi Puignero, called for "the withdrawal of all arrest warrants, the end of the repression against the independence movement and the demand for a political solution, which should be amnesty and recognition of the exercise of the right to self-determination ".
Aragonès has warned that "complete freedom, for him and for all the exiles, will be when all the judicial cases are withdrawn," and has demanded that the arrest warrants for Puigdemont be lifted.
News in update
We are working on expanding this information. Shortly, the editorial staff of EL ESPAÑOL will offer you the update of all the data on this news.
To receive the latest news on your mobile phone, you can download the application of our newspaper to iOS devices and Android, as well as subscribing to access all exclusive content, receive our Newsletters and enjoy the Ñ Zone, only for subscribers.
Follow the topics that interest you
Reference-www.elespanol.com