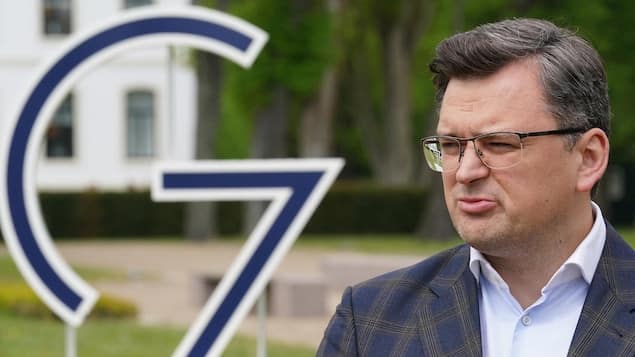 We will continue to support Ukraine's fight for its sovereignty over time until Ukraine winslaunched the head of French diplomacy Jean-Yves Le Drian, on the sidelines of a meeting with his G7 counterparts in Wangels in northern Germany.
We are not at war with Russia, it is Russia that is at war with Ukraine: there is an aggressor and an attacked and we support the attackedhe pointed out.
The head of British diplomacy, Liz Truss, for her part pleaded in favor of an increase in military aid for Ukraine and new sanctions against Russia.
She also announced that the United Kingdom would apply new sanctions against 12 relatives and financiers of Russian President Vladimir Putin. Those targeted include his ex-wife, Lyudmila Ocheretnaya, and Alina Kabaeva, a former Olympic gymnast who is rumored to be Putin's current girlfriendsays a press release.
We expose and target the occult network supporting Putin's lavish lifestyle and tighten the noose on his inner circleBritish Foreign Secretary Liz Truss said in the statement.
We will continue to apply sanctions on all those who aid and abet Putin's aggression until Ukraine prevails.she added.
EU promises 500 million, kyiv wants oil embargo
The ministers of the richest countries of the G7 (Germany, France, Italy, United States, Canada, Japan and the United Kingdom) are meeting until Saturday in Germany to determine their support for kyiv. They are joined by their Ukrainian counterparts, Dmytro Kuleba, and Moldovan, Nicu Popescu. The head of diplomacy of the European Union, Josep Borrell, is also on site.
The latter announced additional military aid of 500 million euros to Ukraine, bringing to 2 billion EU funding to support the Ukrainian military effort since the start of the Russian offensive on February 24.
Borrell also said he was hopeful that the 27-member European bloc would come to an agreement on a Russian oil embargo in the coming days.
According to Ukrainian Foreign Minister Dmytro Kuleba, the absence of an oil embargo in the next set of sanctions against Moscow would constitute a break in European unity in its support for kyiv.
" If this package is adopted without an oil embargo, I believe that President Putin will be able to celebrate because it will be the first time that the unity of the European Union will be broken because of the position of one country , Hungary. »
Hungary, highly dependent on Russia for its energy supply, recently blocked a proposed European embargo on Russian oil. Its Prime Minister, Viktor Orban, described any attempt in this direction as Red line not to cross.
Dmytro Kouleba also asked the industrialized countries of the G7 to confiscate Russian assets which will be used for the reconstruction of Ukraine.
Today, I called on the G7 States to adopt legislation and put in place all the necessary procedures in order to seize Russian assets and give them to Ukraine for the reconstruction of the country..
EU

warlike

according to Russia
The head of Russian diplomacy denounced this new European support for Ukraine.
The EU has gone from a constructive economic platform, as it was created, to an aggressive and belligerent player which already displays its ambitions far beyond the European continent.Sergei Lavrov told a news conference from Dushanbe, Tajikistan.
He accused the Europeans of rushing exactly on the path that NATO [Organisation du traité de l'Atlantique Nord] has already traced, thus confirming the trend towards fusion with the North Atlantic Alliance and will, in fact, serve as an appendix to NATO, Mr. Lavrov added.
As such, he held that kyiv's desire to become a member of the European Union is not trivial.


Reference-ici.radio-canada.ca