"Some of my neighbors consider this a traumatic event, and the neighborhood as a whole is going into this weekend with a lot of unease, anxiety and fear."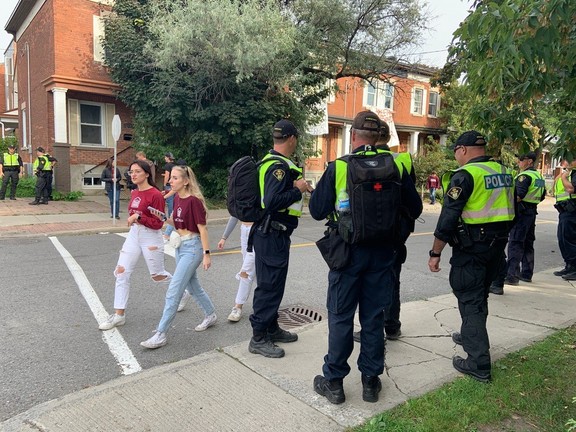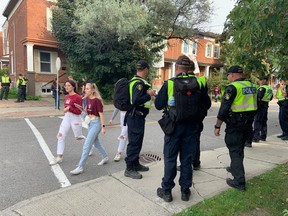 .
As the red, black and white clad fans of the Carleton Ravens entered the westernmost gates of TD Place on Saturday and the maroon and gray fans of the uOttawa Gee Gees high-fived and hollered through the eastern entrances, there was the kind of collegiate partisanship one might expect from a rivalry as storied as Panda Game.
.
But the tension surrounding the annual event was less evident in the stands as it was a couple of miles away on Russell Avenue in Sandy Hill, where neighbors were enduring a quiet tense afternoon, not knowing what kind of storm might brew. develop with the expected arrival of post-game revelers.
.
Steve Higham, who lives on the block between Somerset Street East and Templeton Avenue, the eye of last year's riots, where riotous party-goers overturned a car and ran over residents after police demobilized around the time of the dinner, erected a temporary construction fence in front. of his house and that of two neighbors. Others on the same block hoped the yellow caution tape would be enough to deter the house climbers and defecators who harassed them a year ago.
.
"Some of my neighbors consider this a traumatic event, and the neighborhood as a whole is going into this weekend with a lot of unease, anxiety and fear," Higham said.
Why that particular block? Higham said that a frat house that existed there a decade ago and received free beer from a brewery, setting a precedent.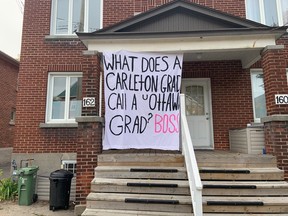 While the fraternity house is no more, the tradition is. "The only thing easier than the boys from Carleton is their football team," said a sign painted on a sheet and displayed for all to see. Another asked, "What do you call a Carleton graduate a uOttawa graduate?" ("Boss" was the provided answer.)
However, Higham added there was reason for "cautious optimism" following criticism of police responses to last year's post-Panda activities and last winter's occupation of parts of downtown Ottawa by the "Freedom Convoy." ".
.
"Those are going to be very motivating for the police to get a win," Higham predicted. "No one wants to see police in riot gear. We just want them to be out there and visible so people know they can't be out carrying alcohol and spilling alcohol on the street. Something has to happen before it gets out of control.
"Police didn't have a plan (for Panda Game) last year beyond 6pm, but we know a lot has been planned this year."
On Saturday afternoon, police tweeted that they had issued tickets for noise and alcohol offences. The excessive noise tickets cost $1,000 each, plus a $130 surcharge per victim.
A convenience store worker, who asked not to be identified, said the post-Panda scene last year was "terrible."
.
"Students would come here and just take things and then leave, and I couldn't do anything to stop them."
This year, he said, more police were available in the morning when many students made their way through the neighborhood to attend a pregame party at Sandy Hill Arena.
"The police came in and talked to me and gave me a number to call if there is a problem."
A 79-year-old woman stood outside her property, shooing away uOttawa fans who got out of a car in front of her. "Go away," she told them. There are no parties. The woman said she expected the police presence to be higher this year and she expected officers to stay until one or two in the morning.
"And I haven't had people peeing in the back this year, so that's good. The police have been good," added the woman.
.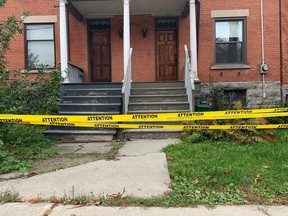 Another Russell Avenue resident hung yellow caution tape in front of his home to try to remind students to be respectful.
"My partner and I were outside for seven hours last year," Meagan LaRose recalled. "Eggs were thrown at me and people were yelling in my face. It was not a fun night.
"And this is not new," he added. "It was in the news last year because they flipped a car, but in 2018 they were climbing on people's porch roofs and urinating in people's yards. And we don't find that the university is taking it seriously."
This year, he added, residents set up a group chat where they could communicate with others if they felt unsafe. "But there's really nothing more we can do. And we don't want to antagonize anyone."
The party blitz in the area, LaRose added, "is one of the main things that drives people to move out of the neighborhood."
.
Higham wasn't going anywhere, at least not on Saturday night, as he, his family and a guest stayed home and waited to see what would happen.
"It was like a zombie apocalypse last year," he said, "and I'd be a lot more anxious if I wasn't here tonight."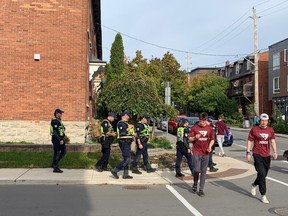 When those who appeared to be uOttawa students returned to Sandy Hill from the game at Lansdowne Park (the Gee-Gees defeated the Ravens 37-7), they were met by a large first responder presence, including Ontario Provincial Police officers.
It was impossible to know for sure if the police presence had caused some sort of de-escalation, but the streets seemed fairly quiet despite the increased foot traffic.