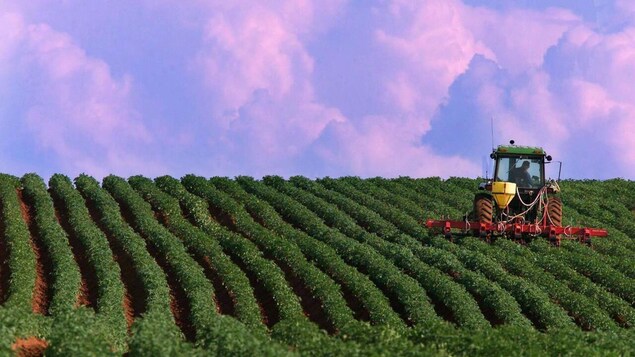 The inflation rate in Prince Edward Island reached 11.1% last May, according to Statistics Canada.
In particular, fuel prices have increased by 120% in Canada's smallest province.
Robert Arsenault, a potato producer in the Evangeline region, saw his diesel bill more than double last May.
" That's a big bill! Our bill was over $100,000 just for a month's worth of diesel. I thought to myself, wow! »
Rising fuel prices are driving up bills for agriculture, the province's largest industry, said Donald Killorn, executive director of the island's Federation of Agriculture, in an interview with Radio-Canada.
" Farmers need diesel. They have to burn it to grow food. »
The cost of a liter of diesel is approaching $2.40 on the island on Thursday.
When the price of diesel increases drastically, the consumer must unfortunately expect an increase in the cost of foodhe explains.
The director of the federation draws attention to the damage that inflation could cause in the sector by creating a snowball effect on food prices.
It is a risk for our economy in the agricultural sector, and it is also a risk for the economy of the province. It is for this reason that I am concerned, adds Donald Killorn.
other expenses
The price of fertilizers, maintenance of equipment, labor to work in the fields also cost more, recalls Robert Arsenault.
A tractor that doesn't work or a piece of equipment that's missing, the prices for parts have gone up a lot, probably 30% for us on the farmsays Robert Arsenault.
He tries to cut costs by buying new and more efficient equipment.
Nevertheless, it is very difficult to save, because the production and the machines cannot stop, explains the farmer.
Politics reacts
In a written statement, the island's official opposition stressed that island residents are in dire need of assistance, given the rising rate of inflation in the province.
Green Party Leader Peter Bevan-Baker called on the government to act and explain what the government can do in the short term to help island residents.
A spokesperson for the provincial finance ministry said the province will continue to assess the situation in order to take steps to mitigate the effects of inflation.
Any new support should target sectors most affected by inflationsaid the spokesperson in a written statement.
The province says it is working to ensure that the rise in prices does not drag on on the island.
The government also recalled that 45 million dollars have been released for aid programs created following the rise in the inflation rate, including the payment of a one-time amount of 150 dollars to low-income people.
About 90,000 Prince Edward Islanders will need to receive this payment in July, the province estimates.
With information from CBC


Reference-ici.radio-canada.ca