The reports were made as part of a public consultation on priorities for a new Montreal police chief.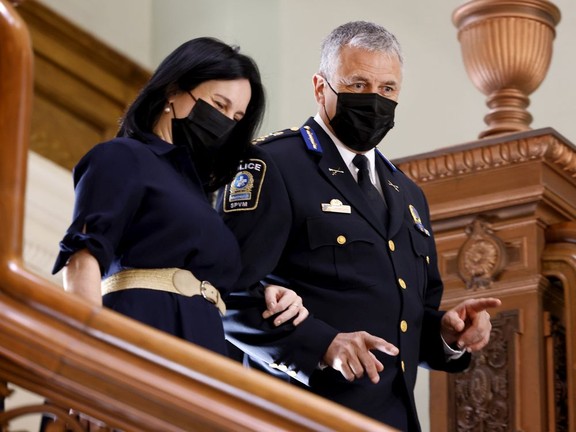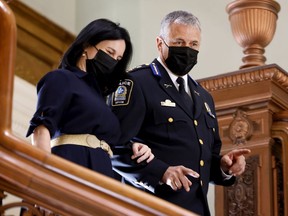 .
Montreal's next police chief should be ready and able to "institute major reforms to fight systemic racism, discrimination, and racial and social discrimination in the SPVM," according to a report summarizing the focus group talks. organized by the Institut du nouveau monde for the city. from Montreal.
.
A new survey commissioned by the city revealed similar results, with a "sustained commitment to combating systemic racism and discrimination" considered "very important" by 72 percent of respondents, "fairly important" by 22 percent. of those surveyed and gaining a cumulative score of 8.7 out of 10, in terms of importance.
.
The new chief must also work to counter police disengagement and attract a greater diversity of new officers as part of a general openness to change, according to focus groups.
"Cultural intelligence and engagement with marginalized or discriminated populations" were listed as assets by the groups. Those consulted were inclined to select someone who, "because of their ethnic origin, age or gender, brings a change to the organization and is representative of Montreal's diversity."
.
Seven focus groups were organized between July and September. The groups were made up of 70 people in total, including SPVM directors and officers, members of the police fraternity, and representatives of community organizations and indigenous groups.
Preferably, according to the groups, the new chief would come from within the police to facilitate his acceptance, but would have a professional background with links to community participation and a vision of public security with an emphasis on prevention.
The ideal candidate would have good communication skills, be bilingual or multilingual, and would advocate for the police force to the media when the police are doing good practice; and would also be committed to transparency, integrity, and accountability, have no conflicts of interest, be willing to work with outside actors tasked with investigating allegations against officers, and be "uncompromising and tough" on officer conduct violations. the employees.
.
Having a strategic vision and being a mobilizing force that brings people together are also essential, according to the focus group, as is the ability to "navigate political-administrative relations" with the city.
The new chief's priorities fell into four main areas: addressing the pressing issue of public safety; stabilize human resources; maximize department resources through discussions with partner organizations and internal reforms; and bolster public trust in the police force among Montreal's different communities by building bridges with communities that are victims of discrimination.
A survey of Montrealers revealed two key attributes of the new police chief: having good communication skills (considered important by 98 percent of those surveyed) and a commitment to transparency and accountability (97 percent).
.
Women, the elderly, Anglophones and allophones, people from communities representing diversity, and first- and second-generation immigrants generally rated many more important qualities and competencies.
In addition to fighting systemic racism and discrimination, having "a keen sense of social justice" received a cumulative score of 8.7 out of 10; having a "strategic vision" scored 8.7; and "being open to others" scored 8.6.
Other priorities include good management skills (8.4), engaging with different communities and having an inclusive vision (8.3), bringing people together (8.3), being able to initiate and oversee change (8.3), and leading courageously (8.3). . Leading by example was listed as an important quality by 64 percent of those surveyed.
.
The fight against armed violence was seen as the new chief's greatest challenge by those surveyed, followed by increasing the population's trust in the SPVM and instilling an "appreciation of diversity and inclusion" among police officers.
The study, conducted by BIP Research, surveyed 767 adult residents of the island of Montreal, of whom 250 responded by phone and 517 online, from August 15 to 30. It included quotas related to gender, age, language, place of residence, income, being a visible minority, and place of birth. Telephone surveys lasted an average of 12 minutes and online surveys five minutes. The margin of error is plus or minus 3.5 percent, 19 times out of 20.