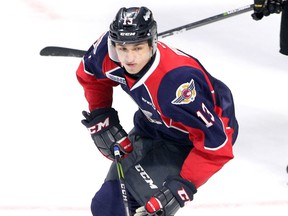 Article content
The Hockey Canada selection of Windsor Spitfires captain Will Cuylle for his world youth team camp was a well-earned reward for a player who never let disappointments affect his game.
Commercial
This ad has not been uploaded yet, but your article continues below.
Article content
Cuylle, 19, was among 35 players named to the camp's roster Wednesday along with Tilbury goalkeeper Brett Brochu, who plays for the London Knights.
"It's very exciting," Cuylle said. "Obviously, that was a big goal for me."
With a different mathematical formula, Cuylle may not even have returned with the Spitfires this season. He played in the American Hockey League last season due to the COVID-19 pandemic.
However, the New York Rangers prospect appeared in just 18 games for Hartford, which played the fewest AHL games last season at 24. That left him two fewer times from complying with a Canadian Hockey League deal. 20 games minimum to play in the AHL this season. Former teammate Jean-Luc Foudy was able to meet the mark on a Colorado team that played 34 games.
Commercial
This ad has not been uploaded yet, but your article continues below.
Article content
"Another year as a junior to sharpen my tools for the future," Cuylle said of his return to Windsor.
During the summer, the 6-foot-4, 210-pound Cuylle was also not among the 51 prospects given an invitation to Canada's world youth development camp.
"That was a bit disappointing," admits Cuylle. "I used it as motivation to train a little harder in the summer and raise my intensity level."
Even when the Spitfires were adding prospects in the draft, it was Cuylle who often made the first call to welcome them to the team and embraced their return to Windsor.
"He just kept his head down and kept working," said Spitfires head coach Marc Savard, who said Cuylle was the obvious choice as captain from day one of camp. "He's a great example for the other guys. Sometimes you don't get invites to venues and you play with a little chip on your shoulder.
Commercial
This ad has not been uploaded yet, but your article continues below.
Article content
"He's got off to a great start for us on the ice and he's been a great captain off the ice. Cool's has earned it and played well and I think it will help the Canadian team. "
Cuylle has 12 goals in the last 12 games for the Spitfires. His 15 goals in 19 games lead the team and have him on track to become the club's first 50-goal scorer since Steve Ott in 2000-01. Of course, that math changes if Cuylle gets a spot on Canada's roster, which could keep him away from the Spitfires for 10 games.
"I think that regardless of how they decide to shape the team, I can bring a physical role," Cuylle said. "I think I have a lot to contribute to the team and I just want to show what I can contribute and it depends on them."
Cuylle played for Canada in the World Under-17 Hockey Challenge in his rookie season and won a silver medal at the Hlinka Gretzky Cup the following year. He knows that playing for Canada is not just about scoring goals.
Commercial
This ad has not been uploaded yet, but your article continues below.
Article content
"Show that you are a leader," Cuylle said. "They want guys with good character. I think that can influence. Most of the guys will be in the same position as me. They are kind of the best in their team and they play with power, they kill penalties and they have a lot of time on the ice. "
While Cuylle got the call, Spitfire lineman Wyatt Johnston didn't do as well as Lakeshore's Ty Tullio. They both attended Hockey Canada summer camp.
"Johnny is a really good player and I love playing with him," Cuylle said. "I was a bit surprised (he did not receive an invitation), but it is what it is and it has one more year of opportunity. I see him as a big part of the team next year ".
Team Canada's first practice is scheduled for December 9 in Calgary and the camp runs through December 12, when the final roster will be shortened from 35 to 25.
One of only three goalkeepers on the list, Brochu, who was cut a year ago, has already secured a spot. And while Cuylle was excited to receive the invitation, he was not celebrating anything Wednesday.
"It was a good start to the year to get the invitation, but you celebrate being part of the team," said Cuylle. "It's nice to be invited, but the end goal is to be part of the team."
Canada opens the tournament on December 26 in Edmonton and is looking to play for the gold medal on January 5.
twitter.com/winstarparker


Reference-windsorstar.com