Here they are home safe and sound. After three days in space, the four private passengers of SpaceX landed, Saturday evening, September 18, off the coast of Florida. A maneuver that marks the end of this first orbital mission to include no professional astronaut.
The landing took place on time, a little after 7 p.m., on the US East Coast, according to a video broadcast from Elon Musk's company. Four large parachutes slowed the descent of the capsule, which must be recovered quickly by a SpaceX ship.
Splashdown! Welcome back to planet Earth, @ Inspiration4x! https://t.co/94yLjMBqWt

– SpaceX (@SpaceX)
After traveling farther than the International Space Station (ISS), at an orbit about 575 km high, the altitude of the Dragon capsule had been reduced as early as Friday evening to 365 km / h, SpaceX announced.
A SpaceX ship had to retrieve the capsule, before the hatch was opened and passengers could finally exit. They should then be transported by helicopter to the Kennedy Space Center, from where they took off aboard a Falcon 9 rocket on Wednesday evening. "It was a hell of a trip for us, and it's only just beginning"billionaire Jared Isaacman captain said shortly after the landing.
Around the globe 15 times a day
This is the third time Elon Musk's company has brought humans back to Earth, after two astronauts on a demonstration mission in August 2020, then four more astronauts in May 2021 on a first regular mission for the account. from NASA, aboard the same vessel. All were returning from a stay in the ISS.
Unlike them, the passengers of the Inspiration4 mission did not go to the ISS, but remained in orbit around the Earth. Speeding at around 28,000 km / h, they circled the globe more than 15 times each day.
The mission was funded by billionaire Jared Isaacman. He offered three seats to strangers: Hayley Arceneaux, a 29-year-old medical assistant who became the youngest American to visit space, Sian Proctor, a 51-year-old professor, and Chris Sembroski, a former military man. 42-year-old American Air Force.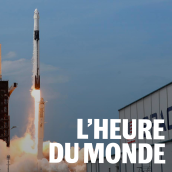 Also listen 2021, SpaceX's Odyssey
www.lemonde.fr