"," header ":" "," fullWindow ": false," fullBleed ": false," showFullBleedOnMobile ": false," headColor ":" "," type ":" html5mobile "," textColor ":" "," mobileImageUrl ":" "," bgColor ":" "," imageUrl ":" "," registrationOnly ": false," linkUrl ":" "," aodaTitle ":" Insert one "," internalScroll ": false," displayStyle ":" small-up "}, {" type ":" textBreakPoint "," insertAt ":" contentMiddleBreakPoint "}, {" text ":" "There could be a person who is just a natural saver and a person who is natural spender, "he said. "So, still have some independence for each person … that could be useful, beneficial for many couples." "," Type ":" text "," isParagraph ": true," isHeading ": false}, {" text ":" Calvert said couples should be transparent and discuss the mix of finances before making big decisions together financial, like buying a house. Personal financial information about income, assets and debt will be disclosed if you apply for a mortgage and it's best to avoid surprises, he said. "," Type ":" text "," isParagraph ": true," isHeading ": false}, {" header ":" "," pollid ":" 10995173 "," type ":" poll "}, {" text ":" Also recommends treating retirement savings as a joint expense. "," type ":" text "," isParagraph ": true," isHeading ": false}, {" text ":" "Imagine a spouse saving well and putting money into their RSP and increasing their retirement assets, while the other spouse is ignoring it and may have more expenses today, "he said." That might cause some friction. "," Type ":" text "," isParagraph ": true," isHeading ": false}, {"snippet": ""," header ":" "," fullWindow ": false," fullBleed ": false," showFullBleedOnMobile ": false," headColor ":" "," type ":" html5mobile "," textColor ":" "," mobileImageUrl ":" "," bgColor ":" "," imageUrl ":" "," registrationOnly ": false," linkUrl ":" "," aodaTitle ":" Embed 2 "," internalScroll ": false," displayStyle ":" small-up "}, {" type ":" ad "," header ":" ARTICLE CONTINUES BELOW "," name ":" ArticleSecondBigBox "," display ":" medium-down "," pos " : "2", "interstitial": true, "sizes":[[300,250]]}, {"text": "If one person makes significantly more money than the other, the couple may want to discuss how to fund that joint account on a pro rata basis, Calvert said.", "type": "text", " isParagraph ": true," isHeading ": false}, {" type ":" articleRelatedInlinePrimary "}, {" text ":" Having a joint account can also force couples to have frank conversations about their finances and their futures, he said . "," type ":" text "," isParagraph ": true," isHeading ": false}, {" type ":" textBreakPoint "," insertAt ":" contentEndBreakPoint "}, {" text ":" "Can kind of building that sense of equality ", said Calvert.", "type": "text", "isParagraph": true, "isHeading": false}, {"type": "stn-smart-player"}, {"type": "cta", "buttonText": "Register now", "buttonLink": "/ emails.html? nsrc = article-inline-business "," description ":" Read the most important morning business news and analysis, including the latest on what the coronavirus means to you, in our Star Business email newsletter. "," title ":" Get more business in your inbox "}, {" type ":" relatedStori es "," relatedStories ":[]}, {"type": "articleRelatedFooter"}, {"type": "shareBar"}, {"type": "trustbar"}, {"type": "conversations"}]"assetTags":["joint_account","nicrt2″,"ian_calvert","finances","mortgage","saba_rosa","arc_cov_economy","highview_financial_group","rrsp","saving","loans","retirement","algolock","budget","financial_plan","kmi1″,"smg_personal_finance","smg2_business","InHouseArticle_thestar","mortgage_loan"], "seoKeywords": "Arc cov economics, finance, financial plan, savings, budget, retirement, RRSP, joint account, mortgage, KMI1, NICRT2, smg_personal_finance, smg2_business, InHouseArticle_thestar, algolock", "excludeInRecommendations": false, "promo" :[], "tier": "tier1", "related": {"pubdays": 0, "strategy": 0}, "personalizationMetadata": {"subsection": "Personal Finance", "description": "Is it better for Do couples want to share all their costs or keep some money separate? We asked personal finance expert Ian Calvert. "," HasImage ": true," section ":" Business "," asset_id ":" deca079d-e815 -412e-9e47- 8062f1cb47cf "," title ":" Should couples combine their finances? "," Type ":" article "," thumbor_image ":" { "imageid ": "GH81DJKA3.3 " , "origImageSize ": "1200×891 ", "cropthumb ": "0,0,1200,800 ", "lastmodified ": 1640637929784, "fullWindowMainart ": false, "forceoriginal ": false, " caption ": " Personal finance expert Ian Calvert says that a \ u201quid, \ u201d model in which each partner contributes to a joint account for large expenses while maintaining separate bank accounts for other things, it can work for many couples. ", " source ": " Dreamstime ", " type ": " image ", " credit ": " Iakov Filimonov ", " mainartSize ": " medium ", " url ": " / content / dam / thestar / business / personal_finance / 2021/12/27 / couples-should-combine-their-finances / seriously_money_talk.jpg "}", "published_time" : "2021-12-27T11: 00: 00Z", "last_modified": "2021-12-27T02: 12: 36.183Z", "inHouseArticle": "true", "image": "https: //images.thestar .com /H7QbE5OzKKJPhQzsh-qCcsLX1Kc=/1280×1024/smart/filters:cb(1640637958333)/https://www.thestar.com/content/dam/thestar/business/personal_finance/2021/12/27/should-couples-combine -their -finances / seriously_money_talk.jpg "," enableLivechat ":" false "," images ":" https://www.thestar.com/assets/img/thestar-ribbon.png "," noShow ":" false "," enableConversations ":" true "," abstract ":" Is it better for couples to share all their costs or keep some money separate? We asked personal finance expert Ian Calvert . "," smg_tag ":" personal_finance "," url ":" https://www.thestar.com/business/personal_finance/2021/12/27/should-couples-combine-their-f inances.html ", "site_name": "thestar.com", "enableLivechatadmin": "false", "publisher": "https://www.facebook.com/torontostar", "author_names":["Rosa Saba"], "authors": "[{"author":"Rosa Saba","photo":{"origImageSize":"4133×3004″,"lastmodified":2700061000,"url":"/content/dam/thestar/columnist_logos/Saba_Rosa_logo2019.JPG"}}]"," smg2_tag ":" business "}," seoHead ":" Should couples combine their finances? "," chevronTextBGColor ":" 009988 "," headline ":" Should couples combine their finances? "," subheadline ":" Is it better for couples to share all their costs or to keep some money separate? We asked personal finance expert Ian Calvert. "," ShortSeoGoogleHead ":" Should Couples Combine Their Finances? "," CanonicalUrl ":" https://www.thestar.com/business/personal_finance/2021/12/27/should- couples-combine-their-finances.html "," seoDescription ":" Is it better for couples share all their costs or keep some money separate? We asked personal finance expert Ian Calvert. "," EnableConversations ": true," publishedepoch ": 1640602800000," lastmodifiedepoch ": 1640571156183," abstractVisible ": true," abstract ":" Is it better for couples to share all their costs or keep some money separately? We asked personal finance expert Ian Calvert. "," RelatedLinks ":[], "paywallMode": "blocked", "storyuuid": "deca079d-e815-412e-9e47-8062f1cb47cf", "republish": true, "slideshowid": "B881625392Z.1", "lastmodified": "12 26 2021" , "stnPlayer": {"type": "stnPlayer", "playerPosition": "secondaryMainart"}, "lastreplicated": "Monday, December 27, 2021", "readtime": 1, "breadcrumbs":[{"label":"Business","relurl":"/business","url":"https://www.thestar.com/content/thestar/business.html"},{"label":"Personal Finance","relurl":"/business/personal_finance","url":"https://www.thestar.com/content/thestar/business/personal_finance.html"}], "authors":[{"janrainUuid":"abae2a33-d6a5-4244-9fa9-fd2bddac8336″,"author":"Rosa Saba","photo":{"origImageSize":"4133×3004″,"lastmodified":2700061000,"url":"/content/dam/thestar/columnist_logos/Saba_Rosa_logo2019.JPG","sizes":{"1:1":{"small":"https://thecanadian.news/wp-content/uploads/2021/10/Saba_Rosa_logo2019.JPG"},"3:2″:{"small":"https://images.thestar.com/G_kGhQh2Cj-2SvIwS1G_v9OYxAQ=/114×76/smart/https://www.thestar.com/content/dam/thestar/columnist_logos/Saba_Rosa_logo2019.JPG","medium":"https://images.thestar.com/Ek7S1JY8IChLRnpfiwLud-Q2pZU=/330×220/smart/https://www.thestar.com/content/dam/thestar/columnist_logos/Saba_Rosa_logo2019.JPG","large":"https://images.thestar.com/EwuYkWjdBW8Jq5bnn4tE9u5ZMkE=/690×460/smart/https://www.thestar.com/content/dam/thestar/columnist_logos/Saba_Rosa_logo2019.JPG"},"21:9″:{"large":"https://images.thestar.com/cfJZGguj7Rr6bMUokuf0rzCjTK4=/1080×460/smart/https://www.thestar.com/content/dam/thestar/columnist_logos/Saba_Rosa_logo2019.JPG"}}},"location":"Toronto","tag":"saba_rosa","credit":"Business Reporter","twitterId":"RosaJSaba","email":"[email protected]"}], "paywall": true, "urlMetatag": "https://www.thestar.com/business/personal_finance/2021/12/27/should-couples-combine-their-finances.html", "numOfParagraphs": 10 , "liftigImage": {"captionPosition": "overlay", "fullWindowMainart": false, "type": "image", "imageid": "GH81DJKA3.3", "origImageSize": "1200×891", "cropthumb": "0,0,1200,800", "lastmodified": 1640637929784, "forceoriginal": false, "caption": "Personal finance expert Ian Calvert says a" hybrid model ", in which each partner contributes to an account joint for large expenses while keeping separate bank accounts for other things, can work for many couples. "," source ":" Dreamstime "," credit ":" Iakov Filimonov "," url ":" / content / dam / thestar / business / personal_finance /2021/12/27/should-couples-combine-their-finances/serious_money_talk.jpg","mainartSize":"medium","renditions ":[{"url":"https://images.thestar.com/tOYfvZ8xPgckPxbpb9CYenr9PKs=/0x0:1200×800/93×52/smart/filters:cb(1640637929784)/https://www.thestar.com/content/dam/thestar/business/personal_finance/2021/12/27/should-couples-combine-their-finances/serious_money_talk.jpg","width":93,"height":52,"scalefactor":8,"aspect":"wide"}]}, "seopublisheddate": "2021-12-27", "seomodifieddate": "2021-12-27T11: 00: 03.153Z", "primarylabel": {"label": "Personal finance", "relurl": " /business/personal_finance","url":"https://www.thestar.com/content/thestar/business/personal_finance.html"♡,"totalParas":0,"additionalEvents":",event29″,"sectionLevel1 ":" Business || / business "," sectionLevel2 ":" Personal Finance || / business / personal_finance "} // ->
COMMERCIAL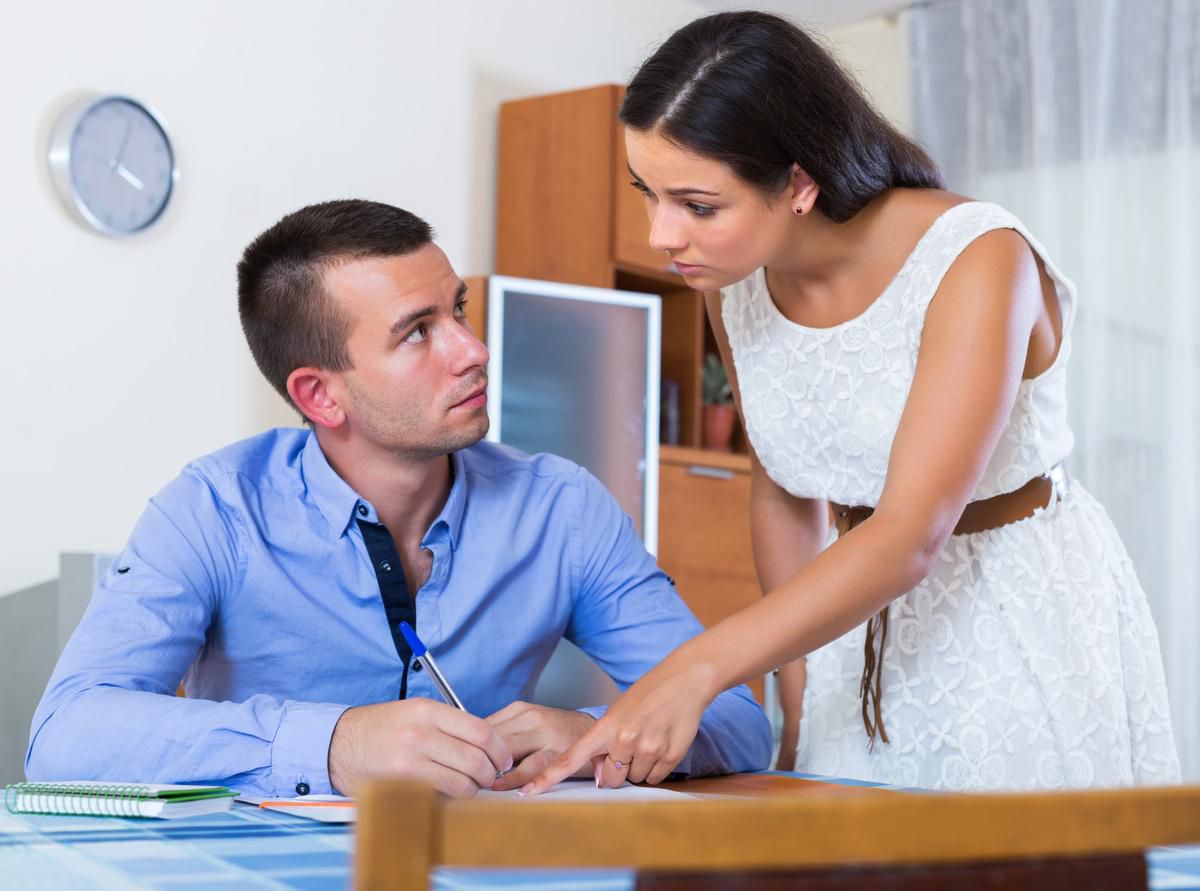 Is it better for couples to share all their costs or to keep some money separate? We asked personal finance expert Ian Calvert.
There comes a point in a relationship where so many costs are shared that it makes sense to combine your finances.
But it's not always a good idea to go all out, says Ian Calvert, vice president and director of HighView Financial Group. Instead, try to find a happy middle ground that makes life easier, not harder.
He recommends a "hybrid approach," in which couples make a joint account for shared expenses like the mortgage, groceries and bills, but maintain their own accounts for other purposes.
"There could be a person who is just a natural saver and a person who is a natural spender," he said. "So still having some independence for each person … that could be useful, beneficial for many couples."
Calvert said couples should be transparent and discuss their finances mix before making big financial decisions together, like buying a home. Personal financial information about income, assets and debt will be disclosed if you apply for a mortgage and it's best to avoid surprises, he said.
He also recommends treating retirement savings as a joint expense.
"Imagine one spouse saving well and putting money into their RSP and increasing their retirement assets, while the other spouse ignores it and perhaps has more expenses today," he said. "That could cause some friction."
If one person makes significantly more money than the other, the couple may want to discuss how to fund that joint account on a pro rata basis, Calvert said.
Having a joint account can also force couples to have frank conversations about their finances and their future, he said.
"You can build that sense of equality," Calvert said.
JOIN THE CONVERSATION
The conversations are the opinions of our readers and are subject to the Code of conduct. The Star does not endorse these views.
More of The star & Partners


Reference-www.thestar.com