The NHL team's all-time wins leader will become the eighth Canucks player recognized by the Vancouver franchise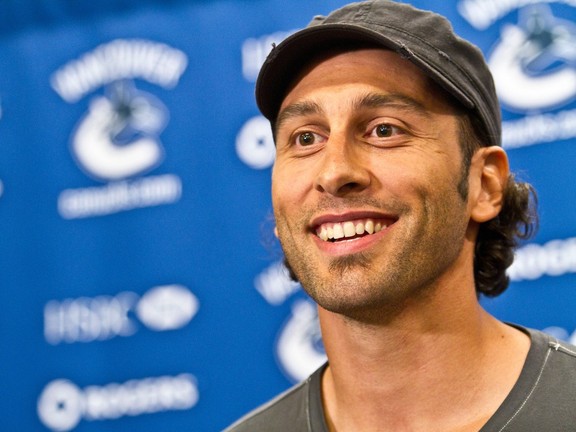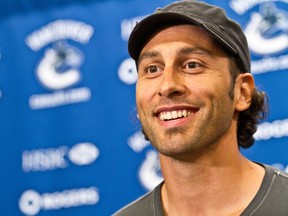 Article content
There was Lou-ing and not booing.
Article content
Roberto Luongo heard nothing but cheers — no jeers about a salary cap recapture penalty or his trade request — when the legendary goaltender was introduced as a guest during a lavish Rogers Arena ceremony where teammates Henrik and Daniel Sedins had their jerseys retired by the Vancouver Canucks on Feb. 12, 2020.
Article content
"It gives me chills every time," Luongo told Postmedia that night. "Great feelings and emotions to be recognized by the fans. We're so happy to be here for the twins. I knew they were talented players and getting to know them as people. What impressed me is they care so much about others and putting others before themselves. That's what I love most about them."
Which brought up the obvious question at the time: What would it mean to Luongo if he is recognized by the organization in some way some day?
Article content
"Of course, it's always an honour, he said. "Just being part of a night like tonight, I'm very grateful for it. Obviously, it (honour) is not in my hands but to hear the loud cheers, means a lot to me. Anything else would be great."
Well, anything is now something. It was announced Wednesday that Luongo will join the Ring of Honour next season.
Article content
The Sedins and Luongo officially entered the Hockey Hall of Fame on Nov. 14 in Toronto.
Luongo was a forward at age eight and switched to goalie three years later after being cut by a peewee team. And in his first game he posted a shutout. It would lay the foundation to becoming the greatest stopper in Canucks history and a two-time Olympic and world championship gold medallist.
Article content
The durable stopper had a pair of 40-win seasons, 72 saves in a legendary quadruple overtime victory in 2007 in his first post-season and backstopped Team Canada to 2010 Olympic gold in Vancouver. He was a Vezina Trophy finalist on three occasions and finished second to Sidney Crosby in voting for the 2007 Hart Trophy.
Upon his retirement in 2019, Luongo ranked third in career wins with 489, which has been bettered by Marc Andre-Fleury (525). He remains second in games played (1,044), shots faced (30,942) and saves (28,409).
However, there was also the inability to combine superiority on home ice by finding his game in Boston during the gut-punch, seven-game 2011 Stanley Cup Final series setback. There was also the infamous Heritage Classic snub at B.C. Place, being accommodated by a trade, and some regrets.
Article content
"Obviously, there are always regrets, but they helped me become the person I am today," stressed Luongo. "I'm grateful for my time in Vancouver and with the mental side, I was able to become a better person by not always taking things so personally and making sure I allowed things to roll off my back.
"And all that was because of my time there and I wouldn't want to change that."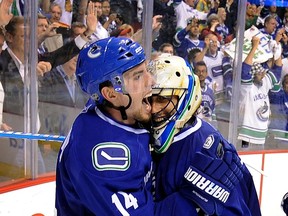 Luongo's Ring of Honour induction was unanimously voted on by a distinguished group of ex-players, broadcasters, and other members of the hockey club.
"We are proud to welcome Roberto to the prestigious list of Canucks Ring of Honour inductees," said Jim Rutherford, Vancouver Canucks President of Hockey Operations. "Roberto experienced many of his career highlights as a Vancouver Canuck and is deservingly viewed as one of the best goaltenders our game has ever seen thanks to those moments. He was a fierce competitor and a tremendous leader for this team, and we are honoured to be able to acknowledge his contributions to this organization and city."
Article content
Francesco Aquilini, Chairman of Canucks Sports and Entertainment, said the club is thrilled to officially congratulate "one of the greatest Canucks of all time."
"For eight years, he amazed and entertained us, brought us to our feet, and made us believe. He was a true professional who led by example, both on and off the ice, and we look forward to permanently recognizing him in the Ring of Honour alongside other Vancouver Canucks legends."
Luongo is set to become the eighth player to be inducted into the Ring of Honour and only the second goaltender, joining Kirk McLean. The Canucks Ring of Honour presently includes Orland Kurtenbach, Kirk McLean, Thomas Gradin, Harold Snepsts, Pat Quinn, Mattias Ohlund, and Alex Burrows.
Canucks Hockey Hall of Famers: Roberto Luongo always had a flair for the dramatic

Canucks Hockey Hall of Fame induction: Best quips, quotes from Sedins, Luongo
reference: theprovince.com