The next installment of the Latin Grammy Awards has generated intense controversy.
The Puerto Rican musician René Pérez, better known as Resident, harshly criticized the call for a boycott of such awards made by the Colombian singer J Balvin (José Osorio Balvin).
Although both have already deleted their messages, for several hours they generated a discussion about whether Latin urban music is well valued by the Latin Grammy.
The Latin Recording Academy has not commented on the matter.
"They don't value us"
On Tuesday the nominated for the 22nd Latin Grammy Awards, one of the most important awards for music in Spanish.
The list of candidates for 53 categories did not make J Balvin happy, who considers that the urban genre is not well represented in the nominations.
"The Grammys don't value us, but they need us. It is my opinion and nothing against the other genres because they deserve all the respect. But the trick is already boring. We give them ratings but they don't give us respect, "the Colombian wrote on Twitter.
"P.S. I am nominated, so that they do not come with the fact that I am hurt, "he continued.
The musician is candidate in the category of Song of the year for the theme "Water".
Even so, J Balvin called for a boycott: "Those who have power in the genre, none should go. That is, everyone, because we are a movement, "he wrote on Twitter.
His messages were deleted hours later.
Resident's tough response
Residente recorded a video that had more than a million views on Instagram before it disappeared.
"If the Grammys don't value us, then why I have 31 awards; I'm not urban, I don't rap or what genre are we talking about? "Says the former member of the band Calle 13.
He berated him for not making the same call for a boycott last year, when he had 13 Latin Grammy nominations.
"There you didn't ask for a boycott. You surely had a change of clothes for each award. But since you won only one Grammy out of the 13 nominations, now the boycott is back, "he said.
And he went further: "Your music is like a hot dog cart, which many people may like or almost everyone. But when these people want to eat well, they go to a restaurant and that restaurant is the one that earns Michelin stars ", he continues.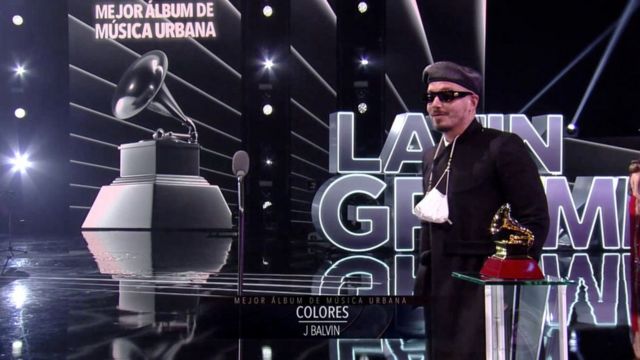 The video was removed from Residente's Instagram profile but shared by social media users who downloaded it.
"I respect your opinion," said J Balvin in a comment on Instagram.
Then he uploaded a photo of himself next to a hot dog cart that quickly racked up more than 1.5 million "likes".
"The genre didn't start when you arrived"
This crossing of words was also joined by the Cuban Yotuel.
The co-author of the song "Patria y vida", an anthem of many Cubans opposed to the island's government, responded to J Balvin in a video: "The genre did not begin when you arrived," he told him.
"It already existed and we were already tied," he pointed out when reminding him that urban music was promoted by artists such as Tego Calderón, V Coci or his own ex-band, Orishas.
Said a "powerful urban artist" is the one who creates a song that carries "a town for the street".
"The day you talk about Colombia in a song, that you put yourself in the shoes of the Colombian people in a song, and stop thinking about numbers and visits, then you and I are talking about urban movement," he said.
J Balvin limited himself to writing a short answer: "Respect, gentleman."


eltiempolatino.com