Net zero promises from a host of companies have come ahead of this year's United Nations climate conference, but a new report has found many of these promises to be greenwash disguised as climate action.
Questioning the claims is essential in the run-up to COP26, say the report's authors. Still a major downside: how big polluters are using "net zero" to block meaningful action at COP26, published on October 26 by Corporate Accountability, Corporate Europe Observatory, Global Forest Coalition, and Friends of the Earth International.
It's a worrying trend, say the authors, who found that COP26 sponsor Microsoft continues to contract with Exxon, while representatives from BP and Shell have met with UK officials more than 50 times before the conference. . BlackRock, a company with significant investments in coal, is actively lobbying for the European Union to engage in areas such as sustainable finance while advising its leaders on climate finance, according to the report. At the same time, all companies have submitted "net zero" plans.
The report reviews the gaps in the net zero deployments of six large corporate companies, noting that many of them will promote their plans at COP26 without being held accountable for their fossil fuel investments. Some companies, such as BP and Shell, which together have allocated more than $ 17 billion to oil and gas production this year alone, will not attend the climate conference but remain influential players, according to the report.
The conference, also known as COP, short for Conference of the Parties, has brought the world together since 1995 to strike agreements to reduce global warming. The talks bring together legislators, scientists, environmental activists, climate experts and the media from the 197 member countries of the United Nations Framework Convention on Climate Change (UNFCCC) to set and work towards global climate change goals. This year, COP26 will take place at the Scottish Event Campus in Glasgow, Scotland, from October 31 to November 12.
The report describes common ways that companies Form plans in which they argue that they can reach zero emissions while continuing to pollute. Among the prominent tactics are bioenergy (burning trees to produce energy, a process that emits greenhouse gases); carbon offsets (investing in projects that store or reduce carbon to cancel their own emissions); and nature-based solutions (conservation projects that aim to offset emissions). Those ideas come with additional concerns, the report said, such as the controversy surrounding nature-based solutions. violating human rights.
What people are reading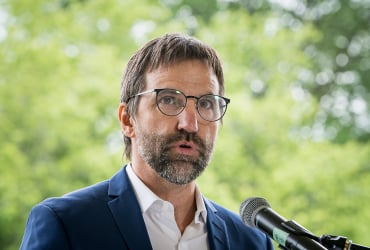 The idea is that if companies offset the same amount of emissions that they are producing, including those from fossil fuels, they can reach "net zero".
"The big polluters have done everything they can to promote their 'net-zero' plans on the road to COP26, from chatting with decision makers and sponsoring conferences to rubbing shoulders with the Queen of England," says Pascoe Sabido, researcher at Corporate Europe Observatory.
But look behind your vague ambitions and you will see a chilling future of climate chaos and continuing planetary destruction. These weather criminals shouldn't have a seat at the table while they continue to try to burn it down. Why hasn't the UNFCCC already kicked them out? "
Giving companies like Microsoft, which Greenpeace calls the largest technology partner For the fossil fuel industry, a lead partner position at COP26 is more than a bad message, the authors say, it empowers the company within a space that should be reserved for the non-polluters.
From Microsoft climate commitment The report describes it as a "leap to the moon," noting that its goal of becoming a carbon-negative company by 2030 is not feasible and does not address emissions at source. Rather, it is based on the purchase of carbon offsets, such as forest conservation projects. (some of which were hit by wildfires in the US this year) to reach their goal.
Giving companies like Microsoft, which is the industry's largest technology partner #FossilFuel, a senior partner position at # COP26 is more than a bad message, the authors say, it gives them a space that should be reserved for non-polluters.
The company could see an increase in emissions of more than 20 percent through an existing contract it has with Exxon to develop artificial intelligence for oil and gas extraction, according to a 2020 Greenpeace report. report.
With COP26 already plagued by concerns about many low-income countries unable to attend due to inequality in vaccines and travel costs, it is vital that those hardest hit by the climate crisis take priority over big business, Aderonke Ige said. , Associate Director of Corporate Responsibility and Public Participation Africa.
"Africans are clear: we must set the agenda for African policymaking, not corporate accomplices," Ige said.
"We are the ones experiencing the apartheid of vaccines and the climate disaster. 'Net-zero' is a death sentence for Africans. COVID-19 remains a deadly threat. We not only demand life, we demand to be leaders in real solutions to address these crises. "
Although other companies in the report did not qualify to be sponsors at COP26, the authors found indirect ways in which they plan to stay involved in climate policy and the conference. Shell, for example, met with ministers from the UK Department for Business, Energy and Industrial Strategy 57 times between July 2019 and March 2021; spent more than € 4.25 million lobbying European Union decision-makers in 2020, and has been actively promoting its net zero strategy to Frans Timmermans, Vice President of the European Commission, and others.
At COP26, although Shell will not be present, its lobbyists International Emissions Trading Association and World Business Association will, as well as an organization with which it is associated, Sustainable Energy for All, which will have a pavilion at the space event. BP is in a similar boat: a company executive is speaking at a side event organized by SSE Renewables, a senior partner of COP26, called "Net Zero Generation and Distribution."
UN climate change Race to Zero campaign It was also mentioned in the report, which describes how COP26-affiliated net zero initiatives include fossil fuel companies. The initiative is a global campaign that aims to garner climate leadership and support from companies, cities, regions and investors.
"Members include COP26 sponsors SSE Power and National Grid, as well as Europe's third largest polluter, Drax Power Station," the report says.
"The UN-led Race to Zero remains another voluntary industry-focused initiative with no responsibility and no consequence for those who do not meet their self-established goals, while promoting non-existent technology solutions and other bogus solutions such as carbon offsetting."
At a press conference held on October 26 in Zoom, the group offered a suggestion: Take a page from the World Health Organization's Framework Convention on Tobacco Control (WHO FCTC), because "negotiating international policies without industry interference can save lives, "said the organizers.
Introduced in the early 2000s, the treaty targets tobacco pricing, advertising, illicit trade and other aspects of the industry, said Dr. Adriana Blanco Marquizo, head of the WHO FCTC secretariat.
"(The framework) provides tools that can protect policymaking from interference by the tobacco industry, which prioritizes gains over the health of the public and the planet," he said.
"Some features of the WHO FCTC that make it a strong protector of public health, such as articles on liability and conflicts with commercial and other vested interests, can also help protect climate policy from industries that pose a danger to people. people and the planet. "
Reference-www.nationalobserver.com