The 7-foot-1 center hails from the same hometown that produced Pascal Siakam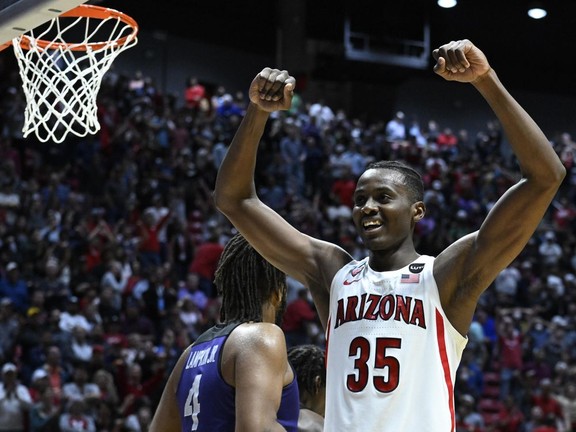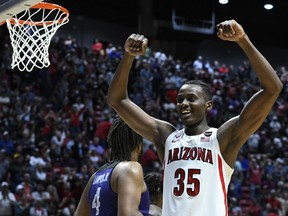 Article content
The Raptors have to be hoping their second ever draft pick out of Douaala, Cameroon turns out like the first.
Article content
Christian Koloko, a 7-foot-1 centre, hails from the same hometown that produced Pascal Siakam and we all know how that pick played out.
Koloko was taken 33dr overall by the Raptors, the third pick of the second round.
Douala has a population of 3,927,000, so it's not unexpected that a city that size would produce two NBA players — until you consider that the region is far more known for its soccer than basketball.
Article content
Koloko, like Siakam, was a late convert to basketball, although his start at 11 years of age was significantly earlier than Siakam's.
Koloko came to the US for high school and made up for lost development time.
Article content
Raptors head coach Nick Nurse said the Raptors scouts have been on Koloko for quite a while. He considers him a good shot-blocker, pointed out that he had good defensive numbers at Arizona, and is a pretty decent pick-and-roll player.
He's not a three-point threat yet, by any means, but that doesn't mean the Raptors won't turn him into one.
Perhaps best of all, he fills a void in the current roster as a rim-protecting center with good feet, which will allow him to blend in well with his new teammates.
"He's a five man, but not maybe a typical five, "Nurse said. "He's a more modern lob-threat, rim-protector type of center. He's not like a banging, post-up type of guy, which is good. We're going to want to open the floor, the way we always like to do.
Article content
"It is a little different than any of the traditional centers we've had and certainly what we've had most recently."
Article content
There's no denying the Raptors, this past season, had to scheme a little harder defensively without that prototypical big guy to defend the rim and match up against a few of the other remaining traditional bigs in the league.
Okoko should answer that and perhaps even sooner than some might expect.
"I think that there's probably, positionally, a chance for him to fight his way in there and get some time," Nurse said. "You never know on Day 1 what things look like when the whole roster shows up there fresh and healthy. As we've seen, there's always a lot of movement. I would imagine that there would be a chance at some point. It's just a matter of when you eat."
Siakam's presence and his status on the team as one of the Raptors' leaders should ease the transition to the NBA ranks for Koloko.
Article content
"I think it should certainly help Koloko feel comfortable, right?" Nurse said. "I did talk to him (Koloko) and he's super, super-excited to be here, really, really happy that we selected him and I certainly think that having Pascal here will maybe save him a few weeks. You know what I mean?
"He won't have to quite wander around nearly as much and — I know that sounds kind of silly — but just finding your way around and getting into places and knowing: Hey, there's the strength coach and there's the chef and there's where you park and all that stuff. You can get to work and he is a hard worker," Nurse said.
Koloko spent three seasons in Arizona and finished off his college career with a slew of awards and honors.
He was named the 2021-22 Pac-12 Defensive Player of the Year, Most Improved Player, and was an all-Pac 12 first-team choice.
Article content
Koloko led the Pac-12 — and ranked 14th nationally — in blocks per game and tied the school single-season record for total blocks (102). He was named a 2021-22 Lefty Driesell Defensive All-American, a Lute Olsen All-American and was one of 10 semifinalists for the Naismith Defensive Player of the Year Award.
CAN-CON
Canadians didn't have to wait long to hear the first national go off the board. That would be Bennedict Mathurin, the Montreal native, also out of Arizona, who went No. 6 to the Indiana Pacers.
The wait was even shorter for the second Canadian off the board as Shaedon Sharpe, the London, Ont., native who is ostensibly the first player to go straight from high school to the NBA since the league changed that rule, went No. 7 to the Portland Trail Blazers.
Sharpe was technically at the University of Kentucky but never played before entering the draft.
Canadians also went back-to-back in the second round with Andrew Nembhard, the 22-year-old point guard from Aurora, Ont., that turned heads at Gonzaga, joining the Pacers with the first pick of the second round and Caleb Houstan of Mississauga going right behind him at 32 to the Orlando Magic.
The Raptors' only pick of the draft followed the two Canadians being drafted in that second round.