Querétaro, Qro. Local products, made by micro, small and medium-sized companies (MSMEs) of the state, seek to enter the Asian market, particularly in Chinese.
With this premise, eight Queretaro MSMEs will be part of the Mexican representation that will participate in the China International Import Expo (CIIE) 2021, to be held from November 5 to 10 in Shanghai.
Although the commercial exchange of Querétaro with China It is incipient, the objective is to promote the internationalization of local MSMEs and their foray into this market, explained the Secretary for Sustainable Development (Sedesu), Marco Antonio del Prete Tercero.
Currently Queretaro contributes with only 3% of exports to China, being Chihuahua the largest exporter to the Asian country.
"We are beginning to open a gap, there is no conclusive report on the volume of exports in this balance. Querétaro participates with around 3% of exports to China, the one that exports the most is Chihuahua, really our relationship with the Asian country is marginal, that is why efforts are being increased to increase the volume of exports ", he explained.
Although state participation is still low, there are expectations that the trend will advance upward and the incursion of local companies will be achieved.
"Our imports with China, which were few in themselves, were lower before, compared to last year they grew 83.8%, our exports to China, so it is an opportunity. If you have nothing and start exporting, growth will be very high; those who most participate are the manufacturing industries, that is why agri-food products have a great growth opportunity in terms of export volume ", he commented.
The Queretaro brands that will attend the CIIE 2021 son Alif (seasonings and supplements), Gavilanes (sauces), Magical Taste of Mexicoo (artisan food products), Nari (salsas), Nature Selekt (food export and agriculture), Naturelo (flours), Teocäo (cocoa-based products) and Tucson Spiced (species).
By participating in the CIIE 2021, local companies will have the possibility of establishing relationships with other Asian markets, said Agustín García Rechy, director of the Asia and Oceania section of the Mexican Business Council for Foreign Trade, Investment and Technology (Comce).
"The current times give us the best conditions to promote this type of activity abroad, which is a model of that proactivity that we want to transmit to position Mexican and Queretaro products abroad and this time in China. There will not only be Chinese importers, but also the presence of importers from the region, from Korea, from Southeast Asia, the main consumer markets in the region ", he declared.
The Comce – which acts as coordinator of the Mexican delegation – has identified that of the letters of intent that are generated during the exhibition, around 40% manage to materialize.
Food industry
At food industry is one of the business opportunities to place national products in China; High potential is observed in the sale of products such as table grapes, pork, blueberries, dairy, beef, raspberry, banana, tobacco, avocado (from Michoacán), blackberry, corn, banana, chia, sesame , walnut, among others.
CIIE is the most important commercial event to market products in China, being the official platform to sell in that country.
It looks potential to be China the world's largest population and the world's second largest economy, as well as the second largest importer and consumer.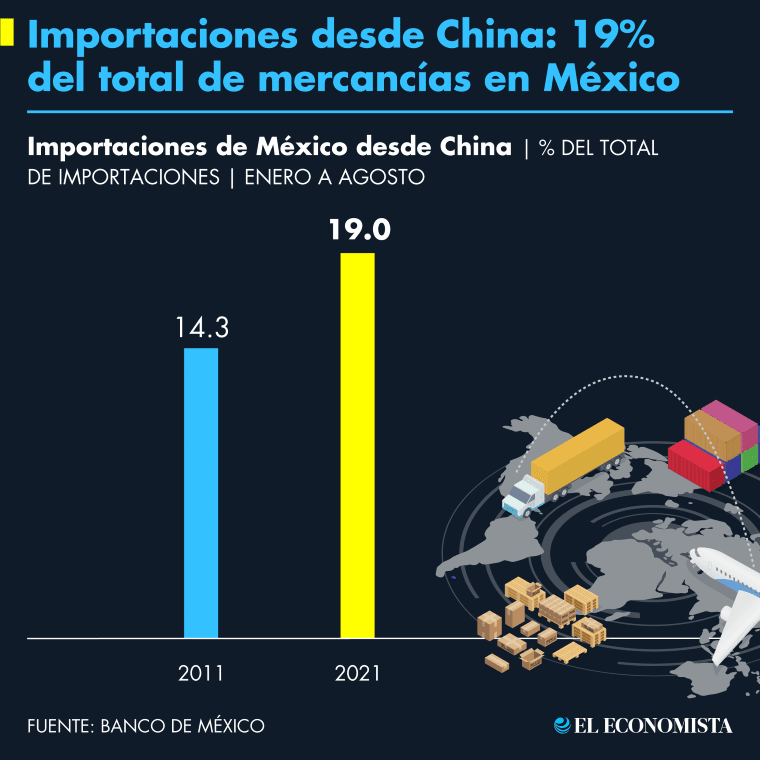 kg


Reference-www.eleconomista.com.mx