More than one in five patients now wait beyond the medically acceptable delay of 57 days.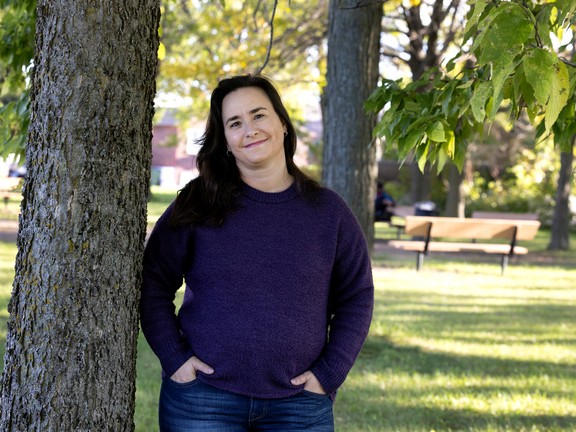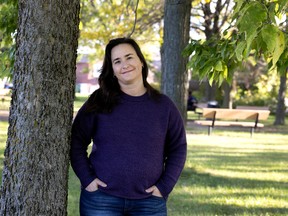 .
The number of cancer patients on surgical waiting lists in Quebec has risen 41 percent in the last year and a half, with more than one in five patients now waiting beyond the medically acceptable delay of 57 days, it has found. know the Montreal Gazette.
.
Despite prioritizing cancer operations among other types of surgery during the pandemic, the Ministry of Health is facing a growing backlog. As of September 10, the latest date for which complete statistics are available, a total of 4,444 patients were on the waiting list for cancer surgery across Quebec. On February 2, 2021, that number was 3,152.
.
The government is also failing to meet its stated goal of ensuring that "90 percent of requests (for cancer surgery) must be completed within four weeks." Currently, 51 percent of Quebec cancer patients are waiting more than four weeks.
The most serious delays last at least two months. As of mid-July 2020, one in 10 surgical cancer patients in Quebec was waiting beyond the medical benchmark of 57 days. But that ratio is now more than one in five, and in some parts of the province it is much worse. In Sherbrooke and Outaouais, for example, 40 percent of these patients wait beyond that benchmark. In Gaspésie, Îles-de-la-Madeleine, it is 62 percent.
.
In contrast, in the vote-rich region of the Capitale-Nationale, it is just one percent.
Long waiting lists for cancer surgery were a problem long before the pandemic. But the decision to proceed with a policy known in French as délestage — deliberately cutting clinical services to free up hospital beds for COVID-19 patients — has only inflated the backlog. Experts, including researchers from McGill University in a recent study, predict that the consequence of délestage will be a higher death rate from cancer in the coming years.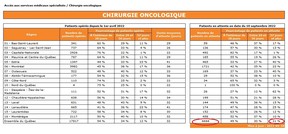 "We are surprised to see an increase in waiting times and the volume of patients… for oncological surgery since 2021, given that dozens of agreements were established with private clinics to attend to the delays caused by the pandemic delay," said Eva Villalba, executive director. of the Priorité Cancer au Québec Coalition.
.
"The great variability across regions also concerns us in terms of equity for all Quebecers, reflecting that a zip code still determines health outcomes. This further demonstrates how important it is to have up-to-date and transparent data and targets, but also a greater responsibility for our health care system to provide high-quality, accessible care in all regions."
Despite posting regular updates on wait times on its website, the Ministry of Health has not provided a breakdown of the types of cancer that have caused the longest delays.
Karine Iseult-Ippersiel, president and CEO of the Quebec Breast Cancer Foundation, expressed concern that the cancer in some patients may progress to stage 3 or 4 while they await surgery.
.
"I think the impact of the first and second waves of the pandemic will only be seen in the next few years," he said. "Any delay makes the situation worse. When you can't start care or a healing path, well, you don't get better as fast or have more consequences for your cancer. And if you just treat emergencies, looking for Stage 4 and Stage 3 cancers instead of Stage 1 right away, well, your Stage 1 will turn into 2 and 3 and a day 4. So I think you're in the middle and In the long term we are going to see the massive impact of the pandemic."
At the last McGill University Health Center board meeting on September 21, CEO Pierre Gfeller sounded the alarm about delays in all types of surgery, not just cancer.
.
"We are particularly concerned about waiting lists for surgery, especially orthopedics, joint replacements," Gfeller said. "We are also concerned about cancer waiting lists where we have a lot of people waiting on our lists because we don't have access to a bed if they require hospitalization after surgery."
At the MUHC, at least 459 adult patients are awaiting cancer surgery. Of that number, 42 were waiting more than 57 days as of last week.
Gilda Salomone, a spokeswoman for the MUHC, attributed the delays to staff shortages at Montreal General and Royal Victoria hospitals.
"The backlog at MGH is a result of a lack of beds due to a nursing shortage," Salomone explained. "The RVH has been operating with fewer operating rooms due to staffing issues."
.
The Ministry of Health is aware that the shortage of personnel is making things worse, but has not proposed any measures to face the crisis beyond the commitment to "review and share the best practices implemented by the establishments that manage to operate their cancer cases on time".
Robert Maranda, a Ministry of Health official, suggested that some cancer patients who need surgery can wait more than two months without consequences to their health.
"It should be noted that for certain types of cancer, the (medical) literature, combined with clinical experience, tends to show that for certain indolent tumors, no harm is done to patient survival, treatment, and recovery, when the delay … is longer than the current goals of 28 and (57) days," Maranda said by email last Friday.
.
"This is the case for most thyroid and prostate cancers. However, the prioritization of patients must be done according to the situation of each patient".
Still, Villalba accused the Health Ministry of thinking short-term about cancer treatment.
"If we had a long-term view with a 10-year cancer plan like in Europe or Australia, we could be more proactive with strategies to ensure optimal access to surgery and other cancer treatments," he said. "We are still building the plane as we go, and we need to make cancer a priority as soon as possible or we will soon face a flood of more advanced cancer cases."
The cancer clock is ticking. How many in Quebec go undiagnosed?

Analysis: Quebec faces a 'disaster' in cancer care, experts warn