Gabriel Nadeau-Dubois of Québec Solidaire called on undecided voters Saturday to consider the future when they go to the polls on Monday.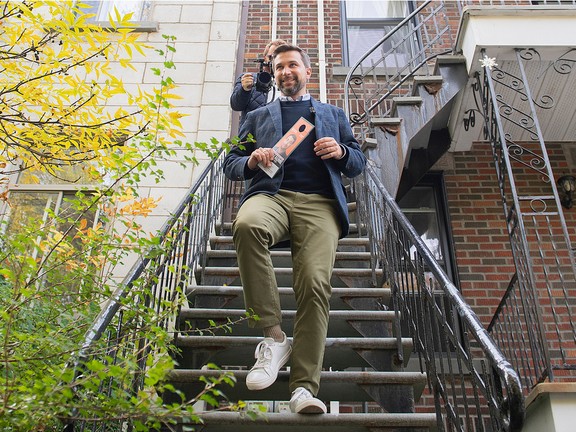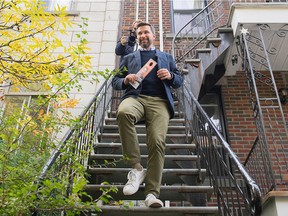 .
Gabriel Nadeau-Dubois, from Québec Solidaire, was in Montreal on Saturday to participate in a series of local events where QS candidates are seen as having a chance of winning Monday's election.
.
Beginning in Montreal's Sud-Ouest district, where polls have suggested that immigration attorney Guillaume Cliche-Rivard is hot on the heels of liberal leader Dominique Anglade as he tours Saint-Henri-Sainte-Anne, Nadeau-Dubois also made a call to undecided voters. to give his party a chance.
.
Nadeau-Dubois and Cliche-Rivard marched briskly through the Ville-Émard neighborhood, up and down the many outside stairs to hang reminder cards on the doorknobs of certain voters who had already indicated to party volunteers that they were likely to vote. QS.
As some passersby looked puzzled at Nadeau-Dubois and his entourage, others shouted "Salut Gabriel!" and "I'm going to vote for you!"
.
"Yes sir!" Nadeau-Dubois responded enthusiastically. "We need you! Don't forget to vote on Monday!"
In a statement on Saturday, Nadeau-Dubois once again appealed to Quebecers to have a "great talk between generations" about the future and to consider climate change and care for the elderly.
"In Quebec right now, there are two generations that are worried about the future. There is the climate generation worried about what is coming and the generation that built Quebec who is afraid of ending up in a CHSLD (long-term care facility). We need to talk about how we can work together to make an intergenerational alliance to build a Quebec where no one is afraid of aging and where everyone has confidence in the future. This is the Québec solidaire project," she said.
.
Cliche-Rivard said that those who are concerned about the rights of minority languages ​​or the rights of minorities in general have no reason to fear Québec solidaire. On the contrary, she said.
"I am an immigration attorney, so I have fought for inclusion my whole life, and that is what I will continue to do," Cliche-Rivard told the Montreal Gazette on Saturday. "I defend the rights of all. I think we have the most inclusive proposals possible. I want everyone to feel welcome in the Québec Solidaire project and I will work hard to make it so."
Nadeau-Dubois goes on to say that she is in this race to win, but hints that she accepts what the polls have been saying all along, that her party's best hope is official opposition status. On Saturday he told voters that they don't have to agree with every board on the QS platform to vote for their party, but ask themselves: "Who would be the best team to stop François Legault? Who is the best team to harass François Legault on the issues that are his greatest weaknesses; housing and environment? I think Quebecers know who that team is; is Québec solidaire."
The QS campaign headed to the Montreal-area races of Maurice-Richard and Viau on Saturday afternoon.
This story will be updated.
Liberal leader Dominique Anglade faces a tight race at her home in Saint-Henri–Sainte-Anne

Gabriel Nadeau-Dubois says young and old should vote with their future in mind

Québec Solidaire pushes for higher levels of immigration to bolster regions understaffing

Complete coverage of the Quebec election campaign