The almost 25 years of street exhibition of the floral sculpture by Jeff Koons have taken their toll on the piece, which has just been restored and opens a luxury irrigation system

The piece is not only the most beloved work of the Guggenheim in Bilbao, it is also the most pampered: it has at its disposal an army of gardeners who look after its 40,000 flowers
A Jeff Koons a non -odia is a non -ama. 'Puppy' is simply adored. The first wears the scepter of world's most sought-after living artist. There is your 'Rabbit', a stainless steel rabbit for which, in 2019, a whopping 91 million dollars. Exaggerated? The maxim in the art world is that a work is worth what someone is willing to pay for it. This is not an obstacle to the antithesis of feelings that the American artist arouses (Pennsylvania, 1955): the favor that the rich collectors render him – from Eli and Edythe Broad to François Pinault they have pieces of his – is preceded by the contempt that he shows great part of the criticism that labels, at best, his work as banal, kitsch, vulgar and tacky, and to him as pure marketing. More unanimously, one of his creative children, the aforementioned Puppy, who wears the form of an immense floral sculpture (12.4 meters) with the appearance of West Highland white terrier dog in front of Bilbao's Guggenheim.
There it settled in 1997, when the museum opened its doors, and it is still there to the delight of locals and foreigners: "It is so iconic and emblematic, that it has almost transcended the work of art that is to be a kind of mascot that represents not only the museum, but also the city of Bilbao. "Word of Begoña Martínez, deputy director of Communication of the Biscayan center. But the almost 25 years of street exhibitions have taken their toll on floral sculpture. "It is not true, as has been said, that 'Puppy' was dying, not at all. Puppy is very well cared for, but it is true that he had certain ailments", says the deputy director. In fact, it is so careful that has a gardener at your service which acts every Monday and when inclement weather or the curiosity of certain fauna – especially cats and birds – damage its flowers.
Winter clothing
There is no pruning, as it is a living work of art that grows of its own free will by express indications of Koons; but there is replacement of plants, when it is necessary and in each spring and fall. And a peat change every two or three years. Then an army of 20 gardeners sheds the puppy's coat according to the pattern of shapes and colors dictated by the artist. Nothing is done – not even putting on a mask in times of confinement – without the authorization of its author. Orange tagete and begoñas of various colors for the summer and blue and purple pansies and violas to pass the cold. Although a couple of years ago he had to change his usual winter clothes because of a severe fungal attack on thoughts. These have been replaced by lobularia, primula, alyssum, dimorfoteca and antirrino to fight against the plague, the most serious that 'Puppy' has suffered since he was born.
Although the restoration that took place now is related to the entrails of the sculpture: a stainless steel skeleton passable, with five floors of scaffolding that support the entire irrigation system: more than 100 water outlet points and 4,500 meters of pipes, that irrigate lthe flowers that shape it: between 38,000 and 40,000 copies. All grown in a nursery in Navarra and planted one by one. There is nothing, but it is that all the figures that surround 'Puppy' are titanic. There is more: 16 tons of weight and between 70,000 and 100,000 euros per year of maintenance. One hundred thousand euros (53,000 collected in a process of 'crowdfunding' that is still open) is what the current restoration that has gone through modernize its irrigation to rationalize water use and have the sculpture monitored.
After the scandal
Thus, it is possible that, from now on, in times of rain it is not necessary to turn on the sprinklers daily (at 10:30 p.m.) and it is also possible that the snout did not run every morning due to an excess of water that was poorly distributed. . However, the most spectacular figure is its revaluation. The purchase cost reached 1.2 million dollars, but its possible current price is incalculable, some voices place it at 54 million dollars, but conservative Lucia Agirre frowns: "Even more so because the market values ​​are incredible, and this is probably Koons' most iconic piece."
If it is not the most emblematic, it is the one that reconciled him with the world after the controversial series 'Made in heaven', in which Koons was shown in explicit sexual positions with his then wife, the porn actress Cicciolina. Not in vain Puppy drinks from other sources: the classic European gardens of the 18th century. And it is, according to Koons, the consolidation of everything he "collected and experienced from the Baroque and Rococo". As it is.
---
OTHER ORGANIC WORKS OF ART: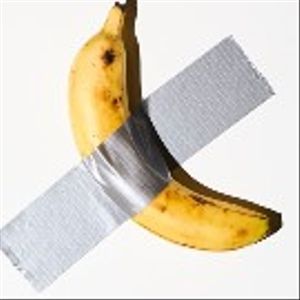 Maurizio Cattelan shook up the 2019 edition of Basel Miami with the concept piece 'Comedian', a banana taped to the wall. The piece, now in the Guugenheim in New York, cost 120,000 dollars, but the certificate of authenticity and the concept were bought: 14 pages with instructions on its assembly, from when when to change the fruit (every seven or 10 days) and even to how high it should be placed (1.75 meters from the ground).
Related news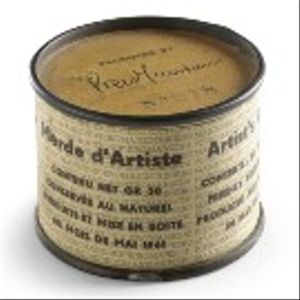 In 1961, Piero Manzoni shocked creation with the piece 'Merda d'artista', a critique of the art world. The work consists of 90 closed cans, five centimeters high and six and a half centimeters in diameter, which supposedly contain what the label indicates. In fact, no one has ever opened any because this would mean losing the value of the work, which on some occasion has reached the price of 275,000 euros.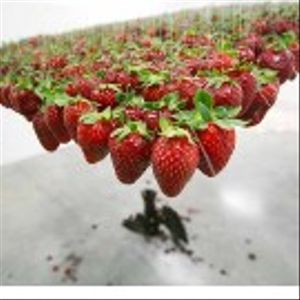 In her poetic installations, Belfast artist Claire Morgan uses stuffed animals alongside other natural and organic materials such as feathers, leaves, seeds, waste & mldr; Some pieces, like 'Fluid', made with freshly picked strawberries and a taxidermist's crow, disappear when the used elements decompose.
Reference-www.elperiodico.com