While some presenters urged council to rein in public spending and tax increases, others used their allotted five minutes to request additional funding for various causes.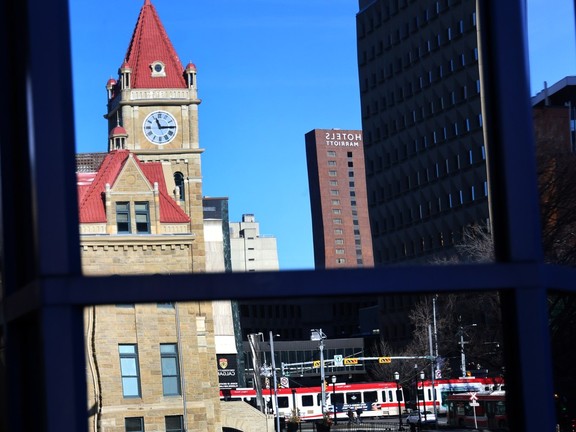 Article content
Calgarians had their say on city spending Monday, as council's 2024 budget deliberation week kicked off with dozens of public submissions.
While some presenters urged council to rein in public spending and tax increases, others used their allotted five minutes to request additional funding for various causes. Addressing council in panels of five, presenters pitched everything from building more public washrooms downtown to improving cycling and transit infrastructure, and implementing a new citywide growth strategy.
Article content
Up for approval as council deliberates 2024 budget adjustments this week are property tax increases for residents and businesses, a one per cent shift of the residential/non-residential tax distribution and a list of 28 recommended investment items.
As currently presented, administration's budget adjustments would result in a roughly five per cent tax increase for the average Calgary household (worth $610,000) in 2024. This could climb as high as 7.8 per cent — approximately $16 a month more — if council also approves increasing the residential tax share by one per cent.
For business operators with an average assessed property value of $5.2 million, the city's proposed adjustments would amount to a 3.5 per cent tax increase, or approximately $277 more monthly.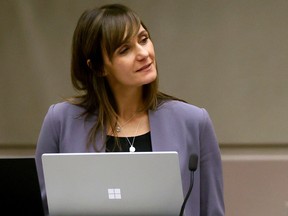 'I'm not comfortable with 7.8%,' says Coun. Sonya Sharp
Ward 1 Coun. Sonya Sharp has been a vocal opponent of the adjustments, saying she wants the city to hold the line on the 3.4 per cent tax increase council originally approved last November. She maintained that stance Monday, stating she and another councillor intend to introduce an amendment later this week pertaining to the proposed tax redistribution.
Article content
"I think some members of council see 7.8 (per cent) as a fine number," she told reporters. "Nothing will actually be completed until budget finalization in the spring, but I'm not comfortable with 7.8. I've been very vocal about that and hopefully my amendment will bring some clarity on what I'm proposing."
As part of budget deliberations, council will decide this week whether to increase how much of the city's tax burden is shouldered by residential properties. Under the city's current formula, households are responsible for 52 per cent of the property tax burden, while non-residential properties pay 48 per cent.
Earlier this month, administration pitched shifting this balance by one per cent a year for the next three years, meaning residences would take on 53 per cent of the tax burden in 2024 and 55 per cent by 2026.
Representatives from Calgary's business community took issue with this strategy on Monday. While acknowledging one per cent is "a step in the right direction," Calgary Chamber of Commerce president and CEO Deborah Yedlin advocated for a two-per-cent shift to take more tax strain off businesses.
Article content
Yedlin said a smaller tax burden for business owners mean they would be more financially equipped to provide wage increases, hire more workers or otherwise invest in their business.
Yedlin argued that inflation, supply chain issues, a labour shortage and other rising costs have all hampered businesses' bottom lines.
"All those things have come together to elevate the cost of doing business in Calgary," she said. "When you look at the property tax side from a business standpoint, that also adds to the burden. When businesses are seeing a $1,000-a-month property tax increase over the last five years, that's something we have to pay attention to."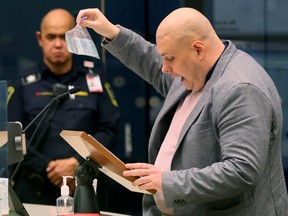 Resident urges city to make living in Calgary for affordable
One of the more passionate speakers on Monday was Arthur Gallant. He moved to Calgary in 2021 from Hamilton, saying he made the move as Calgary was considered a more affordable city and "checked a lot of boxes" for him.
But less than three years later, despite making $10 an hour more than Alberta's $15 minimum wage, he said Calgary has become less affordable than Hamilton, where he was making just $1 an hour more than minimum wage.
Article content
He said his monthly rent since moving to Calgary has gone up nearly 40 per cent. During his presentation, Gallant held up a baggie with $6.16 inside of it — the amount of money he said is left over per day after spending his income on rent, groceries and other monthly fixed expenses.
"I understand things like rent control are outside of the city's purview, but they do have levers they can pull — they operate public transit and set how much transit fare is," he told Postmedia. "They own and operate rec facilities. They can decide how much those memberships cost. If they want to make this a more affordable and livable city, help us out a bit."
While many presenters on Monday urged council to fund certain initiatives, others took a more fiscally conservative stance. Jim Williams brought forward the city's audited financial statements, arguing the city is "flush" with cash and should not have to resort to a tax increase.
Williams said the city's audited financial statements show large operating surpluses over the past five years. He cited a $259-million operating surplus in 2022, a $143 million surplus in 2021, $164 million in 2020, $110 million in 2019 and $39 million in 2018.
Article content
That amounts to a cumulative operating surplus of $715 million in five years, Williams said.
"I think any way you look at this, you'll see the city is generating large amounts of excess cash . . . and here we are again talking about the need for more taxes," he said, calling such a recommendation "absurd."
"We see record numbers of people going to the food bank, yet administration is calling for even more tax dollars. I suggest to you the correct increase for next year is zero."
Budget deliberations will resume Tuesday, featuring a question-and-answer session between council and various administration representatives by service category.
Related Stories
What's a mill rate, again? Explaining the jargon of council's upcoming tax discussions

Gondek, Yedlin say property tax ratio needs to change to help business community