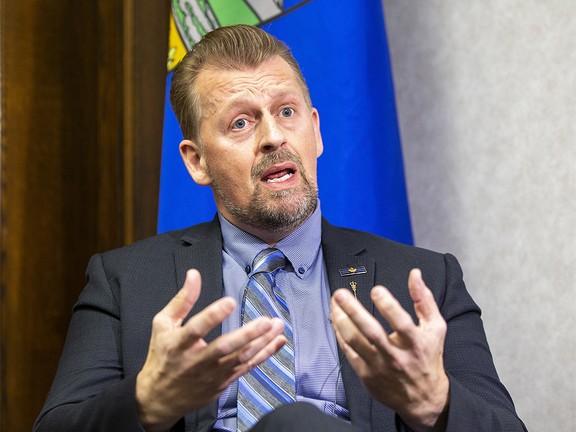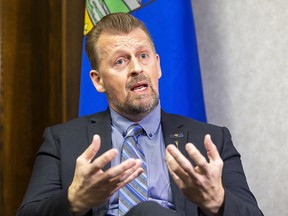 .
Addiction recovery programs and mental health supports are getting a boost of more than $5 million from the province.
.
That money will be distributed among 27 community organizations, with $3 million going to support addictions and mental health recovery, while another $1.5 million will be invested in youth programs.
The province says $500,000 will go toward support services to First Nations and Metis.
"The Alberta government is passionate and I am passionate about helping people in their quest to recover from these challenges," said Mike Ellis, associate minister of health and addictions.
"Over the last three years, we have focused on building a comprehensive recovery-oriented care system. Recovery is a powerful pursuit, encompassing every part of a person's life by improving social connections, family, housing, education, employment, physical health and emotional well-being."
.
Receiving $300,000 is the Terminator Foundation, which uses triathlon training in its addiction recovery programs.
"This funding is literally transformational — it's the first kind of money we've ever received," said Terminator CEO Vanisha Breault, whose daughter struggled for five years to overcome addiction to fentanyl and methamphetamine.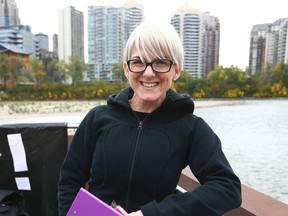 The announcement comes as the province continues to struggle with an opioid crisis that the UCP government however cautiously hopes has stalled or even begun to regress.
alberta recorded 118 deaths from drug poisoning in May as the numbers remain well above pre-pandemic levels, the latest provincial data shows.
According to the province's Substance Use Surveillance System, which tracks drug poisoning deaths, 116 of the 118 deaths in May were apparent. opioid-related deaths. The mortality rate for the province was 30.9 per 100,000 inhabitants.
.
By comparison, 118 people died from drug poisoning in April, an increase of three since the figures were first reported. Of these, 115 were apparent opioid-related deaths.
However, there was a roughly 16% decrease in drug intoxication deaths compared to May 2021, although the numbers are still much higher than pre-pandemic levels.
There was a 57 percent increase in deaths compared to May 2019, when 75 deaths were recorded.
Critics of the government's approach to the crisis say it has weakened its harm-reduction approach that uses supervised drinking sites as the first line of defense against overdoses.
Ellis said Friday's announcement did not engage that side of tackling the opioid epidemic.
.
"This is specifically about helping people on the road to recovery — there is a gap in the system that needs to be filled," he said.
Consultations with the Calgary Drop-In Center to expand its overdose prevention services to help replace the Safeworks site at the Sheldon Chumir Center in the city's Beltine, Ellis said, are in their second round.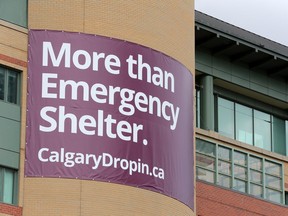 He also acknowledged the perception that $5 million spread across 27 organizations is a scattershot approach that could dilute its effectiveness.
"I would say it's up for debate whether to give it to smaller or larger organizations," Ellis said, adding that the agencies were selected for their track record of success and compassion.
One of them, the Oxford House Foundation, which receives $200,000 of the new funding, provides pre-treatment care so clients aren't in limbo waiting for a treatment bed.
.
"Pretreatment housing is vital when people begin their journey: For most people, when they finish detox, they're either back in the same environment they came from or back on the streets," said CEO Earl Thiessen.
"The financing allows people to come without worries, they can concentrate on their trip."
That money goes to groups that do "incredible work" but is undermined by government cuts to things like affordable housing, rental assistance and income support, said Lori Sigurdson, a mental health and addiction critic for the NDP.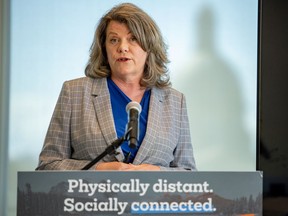 And he said the UCP government is still not doing enough to mitigate the opioid crisis.
"The UCP government has reduced access to harm reduction services, preventing vulnerable Albertans from receiving vital care and further increasing pressure on emergency and other frontline services," Sigurdson said in a statement.
-with Anna Junker files
Twitter: @BillKaufmannjrn