Voters in five different states will head to the polling place to decide on candidates for November's midterm elections.
Notable races include New York's gubernatorial race, where Democratic Governor Kathy Hochul is seeking to become the states first elected female governor. The Republican primary includes Andrew Giuliani, son of former New York City Mayor Rudy Giuliani, and Rep. Lee Zeldin, R-NY. 
In Oklahoma, more than ten Republican candidates are running to serve the remainder of Sen. Jim Inhofe's six-year term after announcing his retirement.
And in Illinois, redistricting has pitted incumbents against each other. In the state's new Sixth Congressional District, Rep. Marie Newman and Rep. Sean Casten will be vying for the Democratic nomination. In the 15th Congressional District, Rep. Rodney Davis and Rep. Mary Miller will be facing off for the seat's Republican nomination.
Roundup:Races to watch in Tuesday's primaries: NY governor, Illinois U.S. House, Colorado secretary of state
Illinois Gov. J.B. Pritzker easily defeated activist Beverly Miles, a Chicago nurse and military veteran, in Tuesday's Democratic primary.
For much of the race the billionaire incumbent spent his attention on the Republican primary, where he and the Democratic Governor's Association have spent millions attacking Aurora Mayor Richard Irving.
Pritzker has cast the November election as a fight against right-wing extremism, saying he is a "pro-choice, pro-voting rights, pro-civil rights" Democrat.
– Phillip M. Bailey
One of former President Donald Trump's favorite governors cruised to victory in one of the many Republican primary races on Tuesday.
Oklahoma Gov. Kevin Stitt was the projected winner in the race for the GOP nomination in his bid to seek reelection.
Since being elevated to the governor's office in 2018, Stitt has been on the frontlines of many conservative causes. He has signed measures into law that allow residents to carry a firearm without a permit, restarted capitol punishment and banned all abortions beginning at fertilization.
In March, Trump, who endorsed Stitt in 2018, citing the incumbent governor as a "fearless defender" of gun rights.
– Phillip M. Bailey
The GOP gubernatorial contest for the right to challenge likely Democratic nominee – and incumbent governor – Kathy Hochul is coming down to two candidates.
GOP Congressman Lee Zeldin of Long Island leads the pack, with Andrew Giuliani, son of former New York City mayor and Republican politician Rudy Giuliani, his most well-known challenger.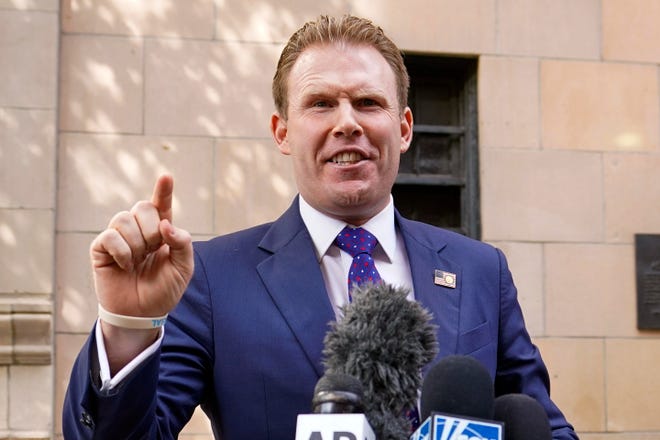 Former Westchester County Executive Rob Astorino and businessman Harry Wilson round out the Republican primary slate. 
– Sarah Taddeo, New York State Team
Whoever wins in the Republican primary for Illinois governor, a feature of the contest has been how three billionaires – including Democratic incumbent J.B. Pritzker – are spending big bucks to influence the outcome.
Pritzker, joined by national Democrats, poured roughly $35 million in attack ads against Republican Richard Irvin, the mayor of Aurora, signaling they would prefer to face his GOP rival, state Rep. Darren Bailey, in the fall.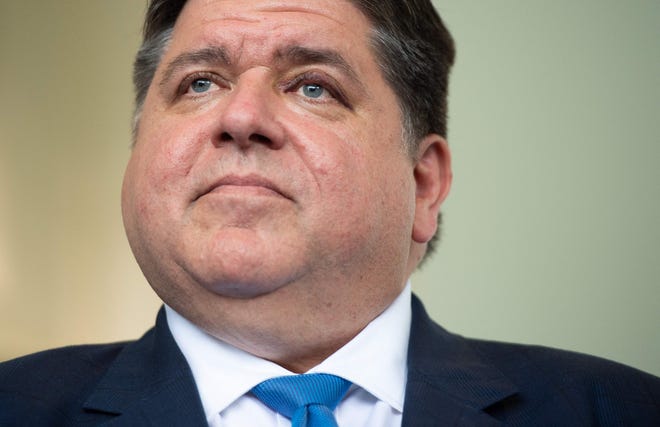 Irvin, meanwhile, was helped by a $50 million contribution from billionaire hedge-fund manager Kenneth Griffin.
Not to be left out, Bailey had support from a billionaire too. He was helped by a $9 million donation by Richard Uihlein, a shipping company owner, to a political action committee attacking Irvin.
– Phillip M. Bailey
As expected, incumbent James Lankford of Oklahoma easily won re-nomination in one of his state's two Republican primaries for the U.S. Senate.
Lankford turned back Tulsa pastor Jackson Lahmeyer, who had attacked the senator for refusing to endorse Donald Trump's false claims of election fraud.
Most political professionals are paying attention to Oklahoma's other primary, a special election to replace retiring U.S. Sen. Jim Inhofe.
More than a dozen candidates are involved in that contest. There will be a runoff if none of the candidates win more than 50% in tonight's primary.
– David Jackson
Democratic Gov. Kathy Hochul will aim to hold onto the role she took in August, when she replaced former Gov. Andrew Cuomo after he resigned following a swirl of sexual harassment allegations. 
Hochul has painted herself as a steady, experienced hand in government, pointing to her ability to understand what everyday New Yorkers want and need, and vowing to bring transparency to Albany. In recent weeks, she championed her actions in the last days of the state Legislature's session to pass stricter gun laws in the wake of a racially motivated shooting that left 10 Black people dead in a Buffalo grocery store. 
Her primary challengers include Long Island Rep. Tom Suozzi, a vocal centrist who has accused Hochul of being corrupt and soft on crime; and Jumaane Williams, New York City's Public Advocate who has carried the torch for the party's progressive wing and championed tenant and housing rights, education and mental health support. 
– Sarah Taddeo, New York State Team
Voting has ended in the primary battles for public office in Illinois and Oklahoma on Tuesday.
In Oklahoma, Republican Kevin Stitt, who was a political outsider when he won the governorship in 2018, is expected to cruise to victory. Stitt has been endorsed by former President Donald Trump, and has been an ardent crime-and-punishment conservative. He backs permitless carry of firearms and reinstating the death penalty.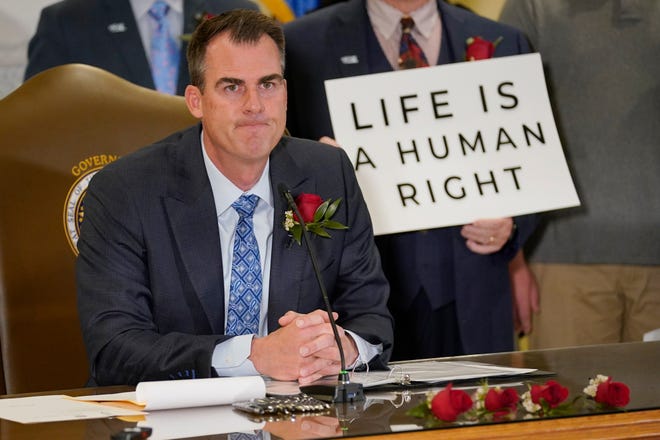 Illinois' main event is the GOP gubernatorial primary, where the winner will face Democratic incumbent J.B. Pritzker.
Darren Bailey, a state lawmaker who has resisted COVID-19 restrictions, is facing Richard Irving, a former prosecutor who was previously elected as the first Black mayor of Chicago's largest suburb.
– Phillip M. Bailey
 In Colorado, Republican Rep. Lauren Boebert, one of the most polarizing members of Congress, is trying to beat back a challenge from a more mainstream Republican in her primary Tuesday.
Boebert, a first-term firebrand, saw her GOP-leaning 3rd Congressional District in western Colorado become even more Republican after redistricting. She faces moderate state Rep. Don Coram, a rancher and hemp farmer, who slams what he calls Boebert's extremism.
Coram argues that the incumbent's fealty to Trump has meant neglect of her sprawling territory's all-important agriculture issues as she seeks social and conservative media celebrity. Boebert has railed against the "Biden regime" and "socialist" Democrats. She also trumpets her gun-toting Second Amendment credentials and opposition to COVID-19 restrictions that briefly shuttered her "Shooters" restaurant.
Boebert criticizes Coram for working with legislative Democrats. Her opponent is betting voters alienated by Boebert's provocations will choose someone more in the tradition of centrists that have played well in the area, including five-term Republican Rep. Scott Tipton, who lost to Boebert in an upset last cycle.
— Associated Press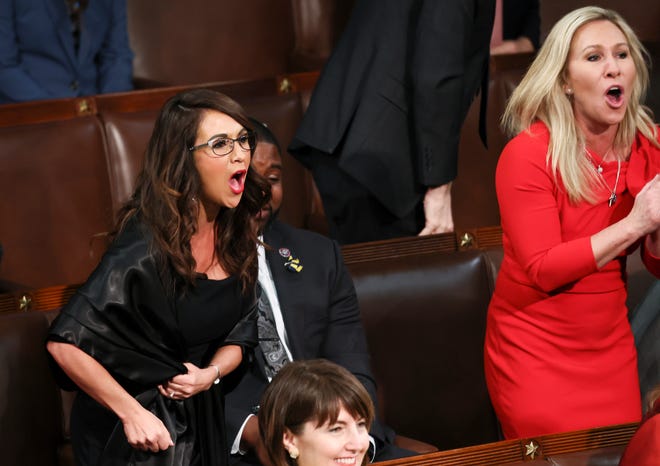 In Utah, the night's headline race is for the U.S. Senate, with Republican Mike Lee trying to fend off two challengers in his bid for a third term.
Much like that race, several Republican primaries for U.S. House seats pit Trump-aligned populists against Republicans disillusioned with the direction he's taken the party who've lightly criticized him.
In Utah's four congressional races, first-term Congressman Blake Moore is facing two challengers and Chris Stewart, John Curtis and Burgess Owens each face one. At the state GOP's April convention, party delegates, known for leaning further right than the party's overall electorate, backed Moore and Curtis' opponents, forcing the two to gather signatures to quality for the primary ballot.
The Republican primary winners will be favorites in the general elections in an overwhelmingly red state where none of the state's congressional districts post-redistricting were rated as battlegrounds.
— Associated Press
Read the whole story here:Utah's GOP congressional delegation faces 2022 primary challengers. Here's a breakdown
Tonight's primaries in New York, Illinois, Colorado, Utah and Oklahoma take place in the wake of momentous events that will affect politics for years to come.
Voters headed to the polls the same day that former White House aide Cassidy Hutchinson gave chilling testimony about former President Donald Trump and the Jan. 6, 2021, insurrection. She said Trump knew that his supporters could get violent after they marched to the Capitol to protest his election loss to President Joe Biden.
Miss Day 6 of the Jan. 6 hearing?:Trump knew mob was armed and dangerous, bombshell witness says
After Trump attacked Vice President Mike Pence for refusing to help him overturn the election, Hutchinson told the Jan. 6 congressional investigating committee: "As an American, I was disgusted. It was un-patriotic. It was un-American. We were watching the Capitol defaced based on a lie."
Investigations into Trump's actions on Jan. 6 could affect elections in the fall and beyond.
This is also the first primary day since the Supreme Court's decision Friday to strike down the 1973 Roe v. Wade decision, basically allowing states to ban abortions and making the issue a prime political topic.
Democrats have vowed to make re-establishing abortion rights a major issue in future elections.
– David Jackson
Former Congressman Fortenberry gets two years of probation as Nebraskans vote to replace him
Nebraskans in the 1st District headed to the polls for a special election to replace a vacancy left open by long-time Congressman Jeff Fortenberry, who resigned in March following conviction in an investigation that he lied to the FBI over an illegal, foreign donation. 
More:Former Nebraska Rep. Jeff Fortenberry avoids prison time after lying to feds in campaign finance inquiry
In the Republican-leaning 1st Congressional District race to replace Fortenberry, Republican State Sen. Mike Flood is expected to win Tuesday's special election over Democrat State Sen. Patty Pansing Brooks. Regardless of who wins Tuesday, both candidates also will face each other in November's general election for a full term starting in January.
Flood is the former speaker of the Nebraska Legislature and has been endorsed by Ricketts and former GOP Gov. Dave Heineman.
Fortenberry's resignation went into effect on June 1. The new representative will be in office through January 2023. 
Fortenberry received a $30,000 contribution in a 2016 Los Angeles fundraiser from Lebanese-Nigerian billionaire Gilbert Chagoury. Fortenberry didn't disclose the contribution, and when asked in two separate interviews about the contribution, said he had no knowledge. 
A Los Angeles federal judge sentenced him on Tuesday morning to two years probation, 320 hours community service and a fine of $25,000, but he faced a maximum fifteen years in prison.
— Katherine Swartz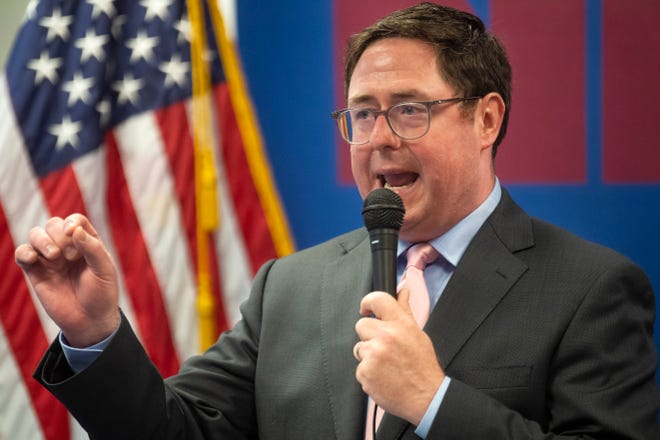 Mesa County Clerk Tina Peters continues to outraise her opponents in Colorado's GOP secretary of state primary despite being indicted on seven felony charges related to election fraud, called on by her own party to suspend her campaign and barred by a judge from overseeing her county's elections this year.
Peters' main opponent in Tuesday's primary is moderate Republican Pam Anderson, a longtime election official and former Jefferson County clerk who rejects former President Donald Trump's false claims of a stolen election that Peters embraces. Anderson has raised nearly $107,000 since October, compared with $166,000 Peters raised since entering the race in February, according to financial disclosure reports from May 31.
This primary represents the latest chapter of a new fracturing within the GOP, a party torn between adherence to Trump-perpetuated claims of widespread voter fraud and those who reject those baseless claims. What's left is a tug-of-war between  pro-Trump, far-right loyalists candidates  and more traditional Republicans for GOP nominations in the primaries.
— Allison Novelo, Julia Mueller and Zoya Mirza, Medill News Service
Read the whole story here:Indicted and rebuked, Colorado secretary of state candidate pushes Trump's false election fraud claims
Five-term incumbent Rep. Rodney Davis is facing off against freshman Rep. Mary Miller in a race that has pitted the two incumbents against each other after redistricting. Trump has endorsed Miller and held a rally last Saturday to build support for her in advance of tonight's election.
At that same rally, Miller called the overturning of Roe v. Wade a "victory for white life." Her campaign team claims she misspoke, meaning to say "right to life." Davis criticized Miller, saying in a statement, she "has demonstrated she is not fit for public office."
The race will be another test of Trump's political sway against establishment Republicans who have held office before Trump's rise to power. 
Despite not being endorsed by Trump, Davis' campaign site says he "was proud to work with President Trump." He served as a co-chairman of Trump's re-election campaign.
Who is Rodney Davis:An Illinois Republican facing off against the Trump factor
Reps. Marie Newman and Sean Casten – both elected in 2018 – are competing for the same congressional seat in the 6th district Democratic primary. 
It's the only race in Illinois where two incumbent Democrats are running against each other, and the district is expected to be one of the closest races in the general election. 
Newman represented the 3rd District, but her residence was moved into the 4th after redistricting. Instead of running in the 4th – a heavily Hispanic district represented by Democrat Jesús "Chuy" García – Newman instead decided to run in the 6th District, where 41% of her constituents now live. 
Casten represents the 6th District, but only 23% of his constituents now live within its borders. 
While the two are alike on most Democratic issues, Newman is more progressive and supports policies like the Green New Deal and Medicare for All. Casten has voted with Pres. Joe Biden 97% of the time.
– Katherine Swartz 
Who is Marie Newman:Illinois congresswoman moved districts and now faces fellow Democratic congressman
Who is Sean Casten:Illinois congressman will go against another Democratic incumbent in redrawn district
Like a Broadway musical – or an absurdist play – the state of New York is conducting primary elections in two acts this year: gubernatorial and certain state elections on Tuesday, congressional and other legislative races in late August.
Party disputes over redistricting led to the two-part primary setup that could reduce turnout, increase friction between the parties and confuse large numbers of voters, political analysts said.
"It's a total mess," said Grant Reeher, director of the Campbell Public Affairs Institute at Syracuse University's Maxwell School. "It was an embarrassment to the state. …  It doesn't serve the interests of the voters."
Voters in the know will decide some state elections Tuesday, including State Assembly races and spirited Democratic and Republican primaries for the governor's office.
— David Jackson
Read the rest here:New York starts two-part primary Tuesday, including Gov. Kathy Hochul
Illinois and Oklahoma will close their polls at 8 p.m. ET. 
An hour later, polls close in New York and Colorado at 9 p.m. ET. 
Utah will close their polls last at 10 p.m. ET. 
– Kenneth Tran


Reference-www.usatoday.com