Niki Sharma, Katrine Conroy and Ravi Kahlon given key posts as B.C.'s new premier prioritizes housing and climate change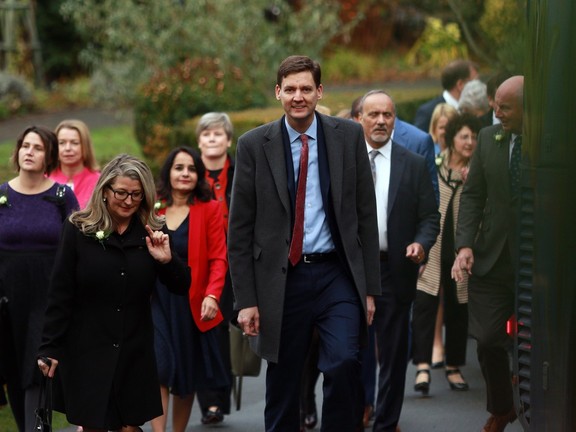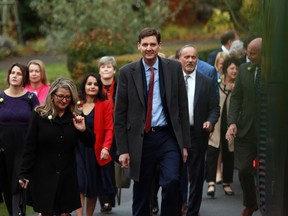 Article content
Premier David Eby unveiled a new cabinet Wednesday that places women and people of colour in high-profile roles and promotes rising stars to two new ministries for housing and emergency preparedness.
Article content
Katrine Conroy will hold the province's purse strings as finance minister, bumping Selina Robinson from the portfolio.
Article content
Niki Sharma is the new attorney general, making her the first South Asian woman to serve as the province's top lawyer. Sharma, elected MLA for Vancouver–Hastings in 2020, has experience representing Indigenous people and residential school survivors and said she will tap into that background as she looks for solutions to the public safety issues in urban communities.
The B.C. Liberals and B.C. Greens say Eby is maintaining the status quo by keeping key ministries unchanged. That includes the decision to keep Adrian Dix as health minister despite the crumbling health care system and Mitzi Dean as minister for children and family development despite her repeated defence of a deeply unpopular and now-reversed plan to remove individualized funding for kids with autism.
Article content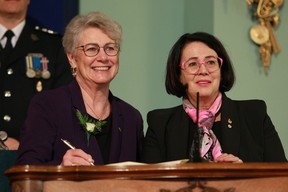 Katrine Conroy is B.C.'s new finance minister. One political pundit, however, said Eby has put his mark on government with a younger, more diverse cabinet.
"David Eby is giving this cabinet an identity very much of his own making," said David Black, a political communications expert for Royal Roads University. "This is his cabinet, not John Horgan's cabinet."
Eby's 27 cabinet picks, which include 15 women and seven people of colour, prioritizes housing and climate change with a new ministry for emergency management and climate readiness headed by rising star Bowinn Ma. The stand-alone ministry, Eby said, is a reflection that the province must be ready to deal with climate emergencies following the historic floods, fires and heat that have plagued the province in the past two years.
Article content
Ravi Kahlon will head the new housing ministry, created by Eby to ensure housing development is a key plank of his government. Housing was previously formerly lumped into the attorney general's ministry and Eby juggled both until he stepped down to run for the NDP leadership.
In picking Kahlon as housing minister, Eby rewarded a trusted ally with the task of boosting B.C.'s housing stock, a key plank of Eby's campaign.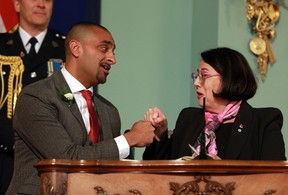 Kahlon decided not to run for the B.C. NDP leadership and instead threw his support behind Eby by co-chairing his campaign.
Kahlon is also the new government house leader, taking over from Mike Farnworth, who maintains his position as public safety minister and deputy premier.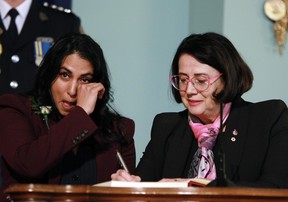 The 23 ministers and four ministers of state swore the oath of office Wednesday before Lt.-Gov. Janet Austin during a ceremony at Government House, a ceremony which was at times punctuated by chants from anti-fracking protesters outside.
Article content
Eby attempted to improve regional representation with more ministers from the Fraser Valley, Black said. However, the cabinet, including Eby, is still dominated by MLAs from the Lower Mainland including four from the City of Vancouver, 12 from the rest of Metro Vancouver, two from the Fraser Valley, five from Vancouver Island and only two from the rest of B.C.
In explaining his choice for finance minister, Eby called Conroy, the MLA for West Kootenays since 2005, "rural tough" saying she brings considerable experience and a "rural lens" to the role.
Conroy, who lives on a cattle ranch in Pass Creek outside of Castlegar, has four kids and nine grandchildren. 
Conroy's promotion from forestry serves a demotion for Robinson, who is now minister of post-secondary education and future skills.
Article content
Robinson said she's thrilled about the new role, saying there needs to be a stronger focus in ensuring post-secondary institutions have the tools to train B.C.'s future workforce.
Eby denied Robinson's new job is a demotion saying she's in a "critical role" and can use her experience working with small business leaders and the non-profit sector to ensure training seats fill the desperate need created by the labour shortage.
Robinson and Eby have been at odds over several issues. Eby was removed from the Treasury Board after Robinson became finance minister and Eby recently dismissed the entire B.C. Housing board of directors installed by Robinson when she was housing minister in 2017.
Both B.C. Liberal house leader Todd Stone and B.C. Green Leader Sonia Furstenau said they're surprised to see Conroy lead the Finance Ministry. Stone said Conroy lacks the financial experience to steer the province's fiscal ship and Furstenau said Conroy's lack of transparency when questioned about forestry issues frustrated opposition members.
Article content
Conroy told reporters Wednesday she had asked to stay in the forestry portfolio, despite the vitriol and online hate she received over the province's old growth policy, but Eby tapped her to hold the province's purse strings.
Conroy takes over as the province's books are in a healthy position with a $5.7 billion surplus but economists warned the province should brace for harder times with just 0.5 per cent growth forecast for 2023.
Several veteran ministers have kept their jobs including Labour Minister Harry Bains, Indigenous Relations Minister Murray Rankin, Transportation Minister Rob Fleming, Environment Minister George Heyman and Citizens' Services Minister Lisa Beare.
Stone said he's shocked Dean kept her position given she was the architect of the much-decried policy to overhaul autism funding which created major anxiety for parents.
Article content
That will lead families to wonder "can the government really be trusted when the trust was so badly broken with the existing minister who's retained responsibility for this?" Stone said.
Eight backbenchers have been promoted to cabinet, including Sharma, Rachna Singh as education minister, Grace Lore as minister of state for child care, Pam Alexis as agriculture minister, Brenda Bailey as jobs minister, Jagrup Brar as minister of state for trade, Dan Coulter as minister of state for infrastructure, and Andrew Mercier leading the new ministry of state for workforce development.
Jennifer Whiteside has been moved from education to the Ministry of Mental Health and Addictions. As education minister, she was praised for avoiding a teachers' strike, so it's likely Eby will tap her experience in improving B.C.'s mental health and addictions system, which has been criticized for major gaps amid the toxic drug crisis.
Article content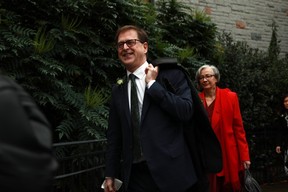 Anne Kang will be in charge of maintaining the province's relationship with municipalities in her new role as municipal affairs minister, previously held by Nathan Cullen. This could be a difficult feat, as one of Eby's first pieces of legislation was a bill that would allow the province to overrule local governments if they fail to meet housing targets.
The Ministry of Tourism, Arts, Culture and Sport will be led by Lana Popham, formerly the agriculture minister. Melanie Mark, who stepped down as tourism minister in September to deal with personal matters, remains a minister without a portfolio.
Cullen replaces Josie Osborne as minister for water, land and resource stewardship. Osborne now heads the Ministry of Energy, Mines and Low Carbon Innovation.
Article content
Bruce Ralston has moved from the Energy Ministry to Forestry.
George Chow and Nicholas Simons have been dropped from cabinet. Chow was minister of state for trade, a position now filled by Brar. Simons was minister of social development and poverty reduction, a post now headed by Sheila Malcolmson.
Katrina Chen, who previously spearheaded the province's affordable child care roll out as minister of state for child care, asked not to be included in the new cabinet.
In a deeply personal statement Monday, Chen said she's a survivor of gender-based violence, the trauma of which continues to impact her life. Chen, who co-chaired Eby's campaign and was heading for a promotion, said she told the premier she wants to focus on her and her son.
Article content
Vaughn Palmer: Ravi Kahlon moving into key B.C. housing ministry

Speculation grows in B.C. over snap provincial election

Premier David Eby creates new ministry to make sure B.C. is 'ready to go' for next disaster
---
More news, fewer ads: Our in-depth journalism is possible thanks to the support of our subscribers. For just $3.50 per week, you can get unlimited, ad-lite access to The Vancouver Sun, The Province, National Post and 13 other Canadian news sites. Support us by subscribing today: The Vancouver Sun | The Province.
---
B.C. premier David Eby's cabinet
Here is a list of B.C. Premier David Eby's ministers following his first major cabinet shuffle since taking over as leader:
• Agriculture and Food: Pam Alexis (new to cabinet)
• Attorney General: Niki Sharma (new to cabinet)
• Children and Family Development: Mitzi Dean (unchanged)
• Citizens' Services: Lisa Beare
• Education and Child Care: Rachna Singh (new to cabinet)
• Minister of state for child care: Grace Lore (new to cabinet)
• Emergency Management and Climate Readiness: Bowinn Ma
• Energy, Mines and Low Carbon Innovation: Josie Osborne
• Environment and Climate Change Strategy: George Heyman (unchanged)
• Finance (includes Columbia River Treaty): Katrine Conroy
• Forests and minister responsible for consular corp: Bruce Ralston
• Health and minister responsible for francophone affairs: Adrian Dix (unchanged)
• Housing and government house leader: Ravi Kahlon
• Indigenous Relations and Reconciliation: Murray Rankin
• Jobs, Economic Development and Innovation: Brenda Bailey (new to cabinet)
• Minister of state for trade: Jagrup Brar (new to cabinet)
• Labour: Harry Bains (unchanged)
• Mental Health and Addictions: Jennifer Whiteside
• Municipal Affairs: Anne Kang
• Post-Secondary Education and Future Skills (includes immigration/foreign credentials): Selina Robinson
• Minister of state for workforce development: Andrew Mercier (new to cabinet)
• Public Safety and Solicitor General (ICBC): Mike Farnworth (unchanged)
• Social Development and Poverty Reduction: Sheila Malcolmson
• Tourism, Arts, Culture and Sport: Lana Popham
• Transportation and Infrastructure (B.C. Transit and TransLink): Rob Fleming (unchanged)
• Minister of state for infrastructure and transit: Dan Coulter (new to cabinet)
• Water, Land and Resource Stewardship: Nathan Cullen
— The Canadian Press