The Popocatépetl volcano had two explosions with a column of steam, gases and low ash content of 3 thousand meters high at dawn this Thursday
The warning traffic light remains Yellow Phase 2
The authorities recommended not to approach the volcano
At dawn this Thursday, there was an explosion in the Popocatepetl volcano, in which the fiery colossus threw incandescent fragments on its slopes; Likewise, rays were observed in the eruptive column, the El Universal news agency reported.
Related
As reported by SkyAlert on social networks, the explosion is considered between moderate and strong and happened at 10:07 p.m. this Thursday. Based on information from Cenapred, the volcanic activity of Popocatépetl is considered within the phase 2 yellow traffic light alert level.
Popocatepetl volcano registers moderate explosion
Similarly, SkyAlert specified that the recorded event is considered a Vulcan explosion or eruption, and not an eruption as such. Vulcan explosions or eruptions, such as the one on Thursday night, are characterized by low-magnitude but short-lived explosions.
For its part, Civil Protection Mexico reported that the explosion generated a column of steam, gases and low ash content three thousand meters high. In the same way, it was reported that the column of smoke and ash is dispersing towards the northwest, and the population was urged not to approach the volcano, according to El Universal.
Authorities ask not to approach the volcano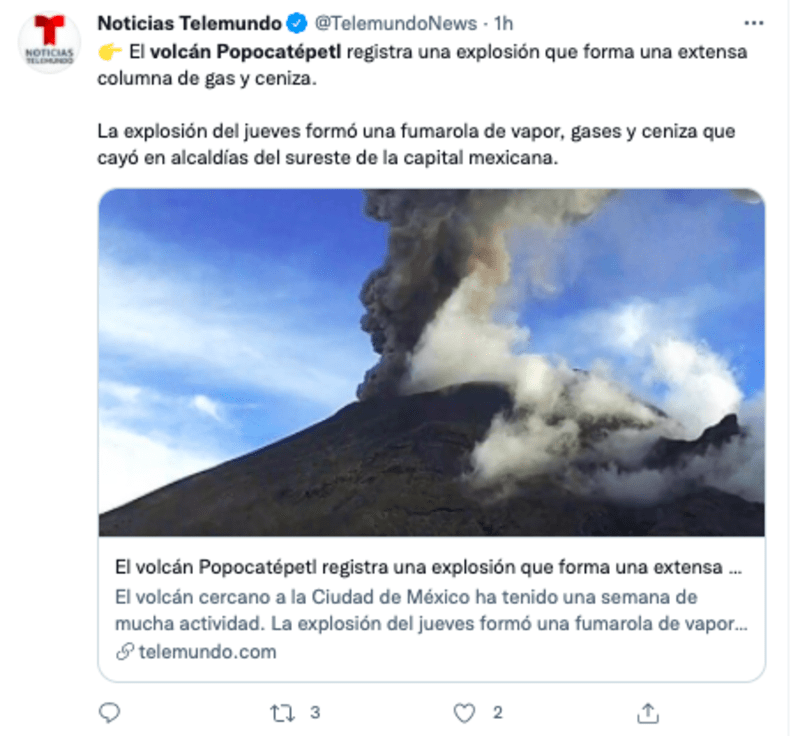 It should be noted that in a monitoring of the last 24 hours, the authorities reported that until before noon on September 16, the volcano had emitted 103 exhalations accompanied by water, steam and ash. The volcano also recorded 83 minutes of low to medium amplitude shaking and a volcano-tectonic earthquake of a magnitude calculated at 1.9 at 12:10.
Later, at 3:35 p.m., an exhalation of water vapor and ash was detected; at 18:04 an explosion that generated a column of steam, gases and ash of 1,800 meters high. To see the videos of the explosion click HERE and HERE.


mundohispanico.com