"Citizens are being asked to adapt to developers, when developers should adapt to citizens," says candidate Tim Thomas.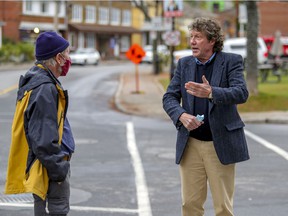 Article content
When John Belvedere was elected mayor in 2017, his campaign slogan "Citizens First" signaled a refreshing approach to municipal politics in the West Island suburb. One in which the voices of the citizens mattered above the bureaucracy in the city hall.
Commercial
This ad has not been uploaded yet, but your article continues below.
Article content
Four years later, after the city approved a series of controversial residential projects, from a luxury condominium complex on the site of the former Pioneer bar in Pointe-Claire Village to the future Place Frontenac project, east of the Fairview Mall That slogan sounds empty to some residents who supported Belvedere as the upstart candidate in 2017.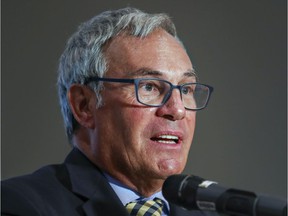 With construction sites now dotting the city's landscape, Pointe-Claire is a city on steroids and Belvedere is widely viewed as the candidate for development at a time when issues like preserving the Fairview forest have become paramount for voters seeking to prioritize the environment. .
Other approved or proposed developments – Brivia, Walton, Pioneer, Coptic Church – have also pitted the city council against local residents who want to preserve the character of their respective neighborhoods. The David vs. Goliath conflicts have not only led to voter cynicism, they have also created small armies of activists from the ranks of suburban taxpayers.
Commercial
This ad has not been uploaded yet, but your article continues below.
Article content
Mayoral candidates Tim Thomas and Lois Butler have seized on that dissent to fuel their campaigns and unseat Belvedere after one term, a rarity in Pointe-Claire politics where the incumbent often enjoys an advantage.
Thomas, an antique store owner in town who finished third in the last election, says his message of stopping big developments has been well received at the doorstep of voters who have grown weary of the traffic woes in St. Jean. Boulevard. and beyond.
"John Belvedere said it was about 'Citizens First,' but it was really about putting developers first," said Thomas, who once served on the Privy Council of Canada under then-Prime Minister Jean Chretien.
"Citizens are asked to adapt to developers, when it should be developers who adapt to citizens."
Commercial
This ad has not been uploaded yet, but your article continues below.
Article content
Regarding the need for more housing, Thomas said that many of the new residential developments are out of reach for middle-class families. "The problem is not the availability of housing, it is affordability. How many young couples can afford a million dollar condo or townhome? "
Butler, a village store owner who resides in the Valois neighborhood, says she is not against development, but added that some projects have no place in the residential suburbs.
"As far as I'm concerned, a project like Brivia should never have come out of the planning department. There are so many people in the vicinity of that project, their lives will be hell. "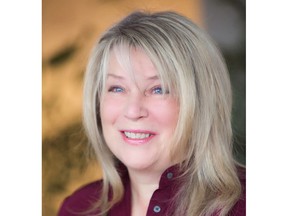 It was Brent Cowan, the only councilman to publicly break ranks with the city council and the administration headed by city manager Robert Weemaes, who launched the first signal that all was not well with the city's rampant densification in pursuit of becoming In the city center". West Island ".
Commercial
This ad has not been uploaded yet, but your article continues below.
Article content
Cowan, himself a candidate for councilman in District 8, has openly questioned the competence of both Belvedere and Weemaes in recent months, while noting that the city lacks vision and leadership, devastating blows aimed at Belvedere.
If that sounded mutinous to the mayor, Belvedere brushed it off, saying some councilors see things differently.
Andrew Swidzinski, director of the Pointe-Claire Heritage Society, is openly supportive of Thomas. He says Thomas is the only candidate with a chance of defeating Belvedere on November 7.
Swidzinski worries that Butler's candidacy could lead to a vote-splitting scenario in which Belvedere is re-elected.
But Butler resists that suggestion. "I am not dividing the votes. You choose the mayor you want to represent your city ".
Commercial
This ad has not been uploaded yet, but your article continues below.
Article content
He said he ran because he could not endorse the other two candidates. "The people I have spoken to are looking for a third alternative; they were not sold on the other two candidates. "
"I'm a listener," Butler added. "And I hear a lot of anger, a feeling of betrayal and a loss of confidence in the city council. I receive it from all sectors of the city. "
Belvedere says he deserves another term, noting that many of the projects the city approved were already in the pipeline when he became mayor. He said that the city has an obligation to densify its urban center with the arrival of REM.
But many questioned his campaign strategy which focused on the role of the city during the pandemic. Bob Birnie Arena was one of several vaccination sites used by the West Island CIUSSS, along with the Dollard Civic Center, the Gerry Robertson Community Center in Pierrefonds-Roxboro and Dollard-St. Laurent Arena at LaSalle.
Cowan was dumbfounded by that approach, but says it only reaffirms his belief that the current administration is adrift.
Cowan doesn't say who he supports for mayor, but he's interested in seeing if voters turn out on Election Day.
"People may be unhappy at Pointe-Claire, but will they vote for change? We'll see."
Thomas makes a bid for mayor of Pointe-Claire in 2021

The citizens of Pointe-Claire challenge the vision of the "center" of the suburbs
Reference-montrealgazette.com