Opinion: If mental health services were integrated with 911, dispatchers could route the call to the right help instead of the police, who aren't equipped to handle this type of crisis.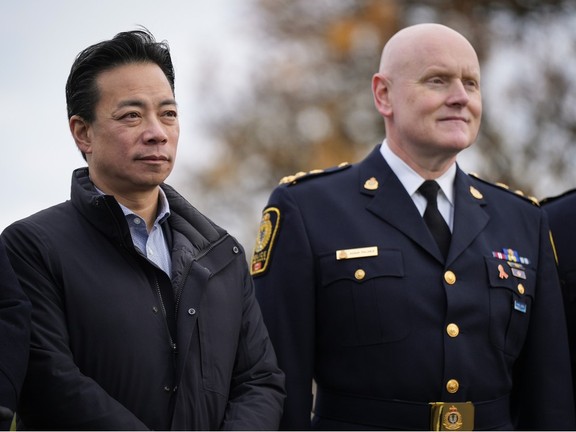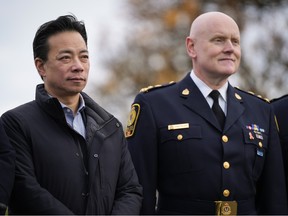 Article content
Only in politics can "change" and "new" be defined as "more of the same".
Article content
Witness the Comments by Kareem Allam, chief of staff to the new Vancouver mayor, Ken Sim: "Yes, there is resistance. It is a change, it is new and when it is new people you have uncertainty ".
Article content
And what exactly is the change Allam was referring to? It was none other than the fulfillment of Sim's main election promise: hire 100 police officers and 100 nurses, all ostensibly in the interest of tackling the city's twin crises of drug addiction and mental health.
On Tuesday, the Vancouver city council approved the plan with a 6-3 vote. Sim, who also subscribes to a strange definition of "new," later tweeted that the investment "will set a new standard for surveillance in North America."
The hires will reportedly help with the Vancouver Police Service's Car 87 program, which pairs a police officer with a registered nurse to screen and manage mental health calls. So the "change" Allam referred to involves strengthening the police response to addiction and mental health crises; in other words, exactly what we've been doing for years.
Article content
And exactly what has also been condemned for years, as the police are ill-equipped to handle this type of crisis. We often hear stories of police encounters that quickly go wrong, resulting in injuries and deaths for both police officers and people in crisis.
But often it is those in crisis who bear the greatest burden. People in crisis can be further traumatized by contact with the police, especially if they have had previous negative experiences with law enforcement. Y according to the BC Forensic Service70 percent of the 127 police contact-related deaths between 2013 and 2017 involved a mental health issue.
This suggests that the change we need involves decreasing, rather than increasing, the role that the police play in crisis calls. This can be accomplished by deploying civilian-led non-police teams to respond to incidents that do not pose a threat to public safety.
Article content
Although that would represent a change, and a much-needed one, it is not a new idea. In 1989, the White Bird Clinic in Eugene, Oregon, started the CAHOOTS (Crisis Assistance Helping Out on the Streets) program, which pairs a doctor with a crisis intervention worker to respond to calls related to addiction, mental illness, and people homeless.
In addition to providing a better and less traumatizing response for people in crisis, analyzes have found that CAHOOTS diverts five to eight percent of police calls. Since its budget is only 2.3 percent of the Eugene Police Department, it saves the city about $8.5 million a year.
Given the success, cities around the world They have since started similar programs, and interest in CAHOOTS increased substantially after the death of George Floyd in Minneapoli, Minnesota, in 2020.
Article content
Several Canadian cities have followed suit, including in the Vancouver area. Together with community mental health groups, the British Columbia chapter of the Canadian Mental Health Association launched the North Shore Peer Assisted Care Teams in November 2021.
Similar to CAHOOTS, teams include a trained peer with lived experience of mental illness or addiction, and a mental health professional. The program was expanded this year. and now includes pilot teams in Victoria and New Westminster.
However, as the BC Crisis Center explains, such programs should ideally be part of a broader crisis care continuum, one that offers a variety of responses depending on the needs of the individual in crisis. In fact, the creation of such a continuity was recommended by this year's report of the Special Committee for the Reform of the British Columbia Police Law.
Article content
The continuum must start at the beginning, which is when people in crisis first seek help: with 911. Currently, if you call 911, you will be asked if you need fire, ambulance, or police services, but there is no option for health mental. . Given these limited options, operators often have no choice but to send in the police.
The police then have limited options, often resulting in people being taken to hospital. But since many people do not meet the admission criteria, they are eventually released, only to experience another crisis. And through the revolving door they go.
If, on the other hand, mental health services were integrated with 911, dispatchers could direct the call to crisis lines and other appropriate services. In many cases, mental health workers can defuse the situation, but if more help is needed, they, too, may have no choice but to be hospitalized.
Article content
By contrast, a crisis care continuum includes crisis stabilization care, which provides facilities, beds, and other necessary support for people in crisis. According to the crisis center, stabilization care has proven successful: In areas where it has been implemented, 68 percent of people "are discharged back into the community and 85 percent remain stable in care." community".
It goes without saying that building this continuum requires funding commitments from all levels of government, not just city hall. But since police and hospital services are among the costly responses to crises, it is ultimately a cost-saving measure that saves lives. Now that, instead of more police intervention, is the change we need.
Peter McKnight's column appears weekly in The Vancouver Sun. You can reach him at [email protected]
---
Letters to the editor should be sent to [email protected]. The editor of the editorial pages is Hardip Johal, who can be reached at [email protected].

CLICK HERE to report a typo.
Is there more to this story? We'd like to hear from you about this or any other story you think we should know about. Email [email protected].