[ad_1]

As Premier Doug Ford prepares to unveil his new cabinet, there are renewed calls for the government to raise Ontario Disability Support Program (ODSP) rates higher than what had been promised during the election campaign.
Currently a single person with disabilities on ODSP receives $1,169 per month, which is supposed to cover food, rent and all essentials. That's about 30 per cent below the poverty line.
Darrell MacDonald, an ODSP recipient, tells CityNews the only way he's been able to survive is through the use of food banks.
During the last election campaignthe Green Party and the NDP promised to double the rates while the Liberals said they would increase it by 20 per cent.
In April, Ford said he had been there to support those unable to work for the last four years.
"For the people who are unable to work for any reason, mentally or physically I will always be there for them," he said. "The best way to help someone who can work is to get them a job."
Initially, the Conservatives were not going to raise ODSP rates but then promised a five per cent increase which amounts to $58 a month extra. The payment includes just under $500 a month for rent. Ford also promised to introduce legislation that would tie annual increases to inflation.
When asked by CityNews when the five per cent increase would take effect, a spokesperson for the premier said that information would be amended in the budget, but gave no additional timeline.
---
RELATED: ODSP recipients urge Ford government to increase payments, say it's impossible to live on
---
"It's just not possible for people on ODSP to live and find shelter for $497 a month that the government provides," said Chris Glover, NDP MPP for Spadina Fort York. "Because of this, 45 percent of the people in this province who are homeless people are on ODSP."
When inflation is factored in – and even with the promised increase – people with disabilities on ODSP receive less today than when Mike Harris was premier 20 years ago.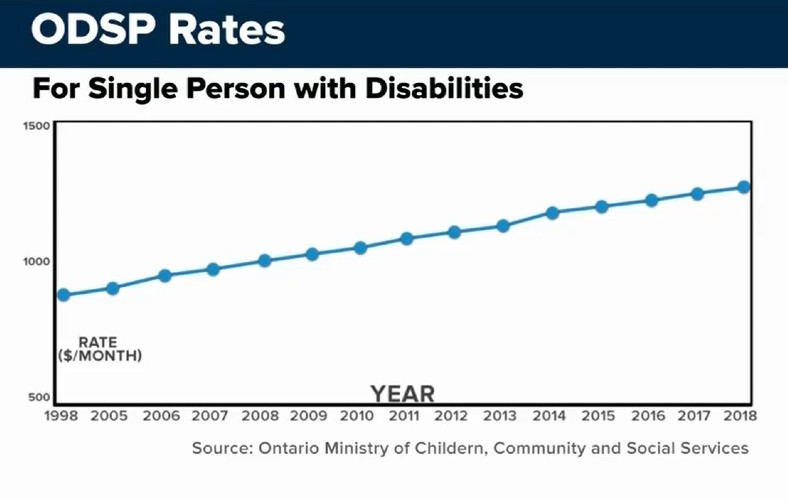 In 1995, Harris cut ODSP payments by 21 per cent. In 1998, a person with disabilities could receive up to $930 a month. Twenty-four years later, in 2020, that amount had gone up just $239.
Just before the 2016 election, Liberal leader Kathleen Wynne promised to raise ODSP by three per cent a year for three consecutive years. The Ford government canceled those increases. Instead, the Ontario Conservatives increased payments once by 1.5 per cent.
Several ODSP recipients have previously told CityNews they are considering for applying medical assistance in death (MAID) because it's becoming too hard to live.
Rita De Biasi has been a PSW for 33 years but is unable to work due to her disability.
"All I need to tell Doug Ford is please raise the rates, people are suffering."
Merrillee Fullerton was the Minister of Children, Community and Social Service overseeing ODSP and its speculated she will remain in that role when the new cabinet is officially sworn in on Friday morning.
[ad_2]