"To protect this special place, Banff National Park, we ask everyone to take responsibility for their food and trash, even if it feels inconvenient."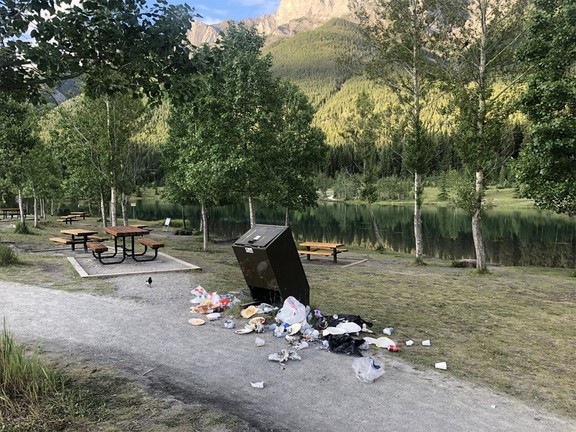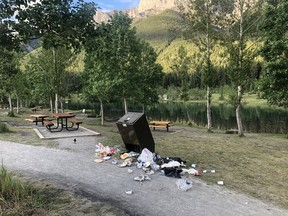 .
Visitors head to Alberta's parks and green spaces in droves, and some leave a mess behind.
.
In Banff National Park, there has been an influx of traffic to day use areas during the first weekends of August.
"This increase in visitation also brought overwhelming amounts of trash into the area's daily-use trash and recycling bins," said Kimberly Fisher, Banff National Park interpretation coordinator.
"To protect this special place, Banff National Park, we ask everyone to take responsibility for their food and trash, even if it feels inconvenient."
That means disposing of trash in wildlife-proof containers in parks, or taking trash out of parks if those containers are full or inaccessible.
There has been a poor buffalo berry crop in Alberta this year, Fisher said, an important food source for bears.
.
That means human food sources and other wildlife attractions are especially attractive to bears right now, something that poses a risk to both the animals and park visitors.
"Human food kills wildlife, and across the country, Parks Canada staff have responded to hundreds of human-wildlife incidents each year," Fisher said. "Those involve unsafe items like food and garbage, and we definitely all have a role to play in ensuring wildlife doesn't get access to human food."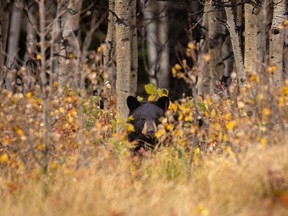 Devon Earl, a conservation specialist with the Alberta Wilderness Association, said his group is increasingly concerned about litter in high-use areas such as Kananaskis Country and Ghost Lake.
She said there is a lack of enforcement to deter people from leaving waste behind.
.
"An example would be in the McLean Creek area in Kananaskis. There is an area that is very popular for random campers. If you check it, you will see that sometimes there can be garbage, sometimes human waste, sometimes campfires that have not been put out properly. And it just makes the area less desirable to go to," Earl said.
"We definitely need to see an increase in enforcement. We need more officers on the ground to make sure people are following regulations and just talking to people."
Earl added that bears that become habituated to human food sometimes have to be euthanized.
"The loss of any bear can have a huge impact on the population," he said. He added that the use of ATVs on public land can also have negative impacts on wildlife.
.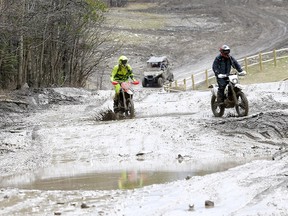 Alberta Parks said they are not aware of any significant trash or litter-related issues in Kananaskis Country this season.
Within Calgary, Fish Creek Provincial Park is also leaving behind debris this season.
"In general, the park is very clean. There are certain areas where garbage accumulates. Last year in Sikome there were a lot of masks, those disposable masks. The area was full of those," said Chris Lalonde, a spokesman for Friends of Fish Creek.
"For us, the biggest problems are people who collect their dog's waste in a garbage bag, but then leave it on the side of a road or throw it into a tree. We get a lot of reports of that."
Lalonde said his group has heard from park users who want more trash cans around the park, but said there is a balance that needs to be considered with the cost of the labor required to service those extra receptacles.
Fisher said charges can be brought against those who feed, attract or disturb wildlife in a national park, and that littering or leaving trash behind can be related to that. That charge can carry a court date and fines of up to $25,000.
"We can really be proactive about it and make sure we properly secure our wildlife attractants and put our trash and attractants in the right place to avoid fines," he said.
Twitter: @jasonfherring