More planes are being allowed to take off or land overnight amid staffing shortages, affecting sleep for people living below flight paths.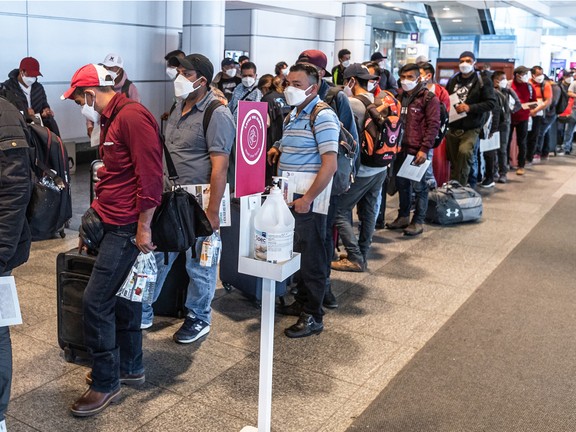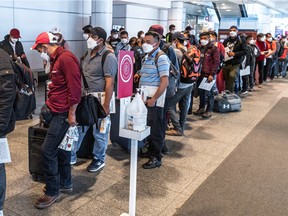 .
Montrealers don't have to buy a plane ticket to feel the impact of travel delays at Trudeau Airport. The ripple effect of airline industry staffing shortages on plane schedules here and around the world is also affecting the sleep of people living below airport flight paths.
.
Large jets are prohibited from taking off or landing overnight at Dorval airport unless granted an exception by Aéroports de Montréal, however the number of large jet departures and arrivals during restricted hours in recent weeks has been double, triple and even quadruple what they were in the summer before the pandemic, one resident learned by analyzing flight tracking data from the airport authority.
"This is a public nuisance issue," said retired researcher Duncan Sanderson. The resident of the Villeray-St-Michel-Parc-Extension district lives a dozen kilometers from Montreal-Trudeau International Airport, but apparently under a flight path. The disturbance from planes prompted him to start examining airport noise and flight tracker data before the pandemic.
.
"My house is quite far from the airport, but I can assure you that the jets, when they are flying, are noisy."
ADM allows aircraft weighing less than 45,000 kilograms to be operated at all times. However, aircraft with a maximum takeoff weight greater than 45,000 kilograms cannot take off from Trudeau Airport between midnight and 7 a.m., and cannot land at the airport between 1 and 7 a.m.
But ADM's policy also states that it has "the right and authority to make exceptions to these restrictions for medical emergencies, delays beyond a carrier's control, and adverse weather conditions."
Noticing more noise last month, Sanderson used WebTrak, a flight tracking tool on the ADM website, to verify the number of large aircraft that were able to take off and land during the restricted hours during the weeks of June 13 and 20.
.
On Friday June 17, 27 planes weighing more than 45,000 kilograms took off from Trudeau after midnight and in one case they landed before 7 in the morning. All were exceptions to landing and takeoff restrictions.
The following night, a Saturday, 24 large jets took off or landed during the restricted period. And the next night, a Sunday, 18 large planes took off or landed during the restricted period.
Flight information in WebTrak can only be viewed retroactively for 30 days. But Sanderson kept a copy of the data he tracked in 2019 for the week of July 22, when he says he felt the airport authority was already allowing too many exceptions. Exceptions to the no-fly rule never exceeded 12 in a single night that week, he discovered.
For example, on Friday, July 26, 2019, eight large aircraft took off or landed during the restricted overnight period. There were 12 takeoffs or landings overnight on Saturday and five on Sunday night. Three to five large planes were exceptions to the no-fly rule Tuesday through Thursday, and nine on Monday.
.
The airport authority "can confirm that the majority of waivers at this time are due to (the) exceptional situation we are currently in," Eric Forest, a spokesman for ADM, said in an emailed response.
"Currently, our partners (airlines) are carrying out massive recruitment campaigns and are reducing their flight offer. We are optimistic that in the coming weeks the situation should improve. Until then, we will have to continue dealing with delays."
With air travel quickly resuming, airlines are short on staff to manage ground services, dock planes and unload bags at the terminal, Forest said. That's why there are flight delays, he said. Many flights are being canceled to avoid operations during restricted hours, Forest added.
.
"Our partners are working hard to minimize these types of situations, but given this extraordinary situation, certain exemptions must be granted for departures or arrivals during restricted hours of operation," he said.
Weekends are a busy time for travel, but numerous takeoffs and landings are occurring during restricted hours at Trudeau every night lately, Sanderson's research shows.
For example, 21 large planes took off or landed during restricted hours on Monday, June 20, it found. On Tuesday and Wednesday of that week, 17 large planes took off or landed during the restricted period.
Pierre Lachapelle, president of Les Pollués de Montréal-Trudeau, said his citizens' group has received more noise complaints since air travel resumed following the pandemic-induced pause. The group is also getting more complaints about late-night flights, he said.
.
"I myself have been woken up twice in the last month in the middle of the night," Lachapelle said. "That hadn't happened in a long time."
Les Pollués de Montréal-Trudeau has an authorized class action lawsuit against ADM, Nav Canada and Transport Canada for excessive noise affecting citizens living under airport flight paths.
Montreal Public Health Inquiry into Environmental Noise, prompted several years ago by complaints about aircraft noise at Trudeau Airport, found that nearly two-thirds of Montrealers live in neighborhoods where outside noise levels exceed World Health Organization guidelines and they are high enough to have long-term impacts on your health. One in five Montreal adults also reported sleep disturbances caused by ambient noise, the main sources of which were road traffic, airplanes and trains.
.
Planes make more noise taking off than landing, said Bill Mavridis, an Ahuntsic-Cartierville resident who is launching a citizen-based observatory to track plane noise around Trudeau. One solution to mitigating noise, he said, would be to require planes taking off from Trudeau to climb to 5,000 feet before they start to turn, a maneuver that involves revving the engine. Jets are required to climb to a minimum altitude of 3,000 feet.
Sanderson said he also doesn't understand why ADM doesn't have overnight restrictions on planes weighing less than 100,000 pounds.
"For people who wake up at night," he said, "I'm not sure they can tell the difference between the smaller jets and the larger ones."
Delays and cancellations ease at Trudeau airport, but turbulence persists

The REM TBM has arrived at Trudeau Airport

Josh Freed: Fear of Flying Survival Guide in Canada