Opinion: If post-fire logging is to promote fire-resistant forests and wildlife populations, it must be done under several constraints. Large burned trees and surviving green trees must be left in place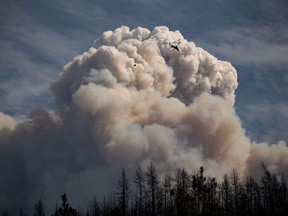 Article content
As fall rains douse the last of this summer's fires, the final accounting for a brutal wildfire season in British Columbia is becoming clear. Almost a million hectares of forest have been burned and more than 500 million dollars have been spent trying to contain the damage.
Commercial
This ad has not been uploaded yet, but your article continues below.
Article content
That doesn't begin to include the human cost, as British Columbia residents, our friends and neighbors, were forced from their homes, tourism was reduced, and agriculture was disrupted. Add to that, human exposure to airborne pollutants was up to 40 times worse than the maximum recommended levels, a blanket that engulfed parts of the province with the worst air quality in the world.
How we manage our forests in the next five to 15 years will determine whether we can secure a future with healthy forests, healthy wildlife, and safe communities.
If the effects of wildfires on fish, wildlife, habitat, the economy, the provincial budget and our health are not of sufficient concern, here comes salvage logging to harvest burnt wood before it is "useless." ". Due to the degrading quality of standing wood, there is a rush to harvest, posing a real threat to fish, wildlife, habitat, and the future resilience of our forests and communities.
Commercial
This ad has not been uploaded yet, but your article continues below.
Article content
The recovered recorded cutting blocks look like a lunar landscape. They bring roads, brush, and compacted soil, which destroy and fragment wildlife habitat. Salvage logging can degrade the soil's ability to retain moisture and regulate temperature, limiting regrowth and promoting erosion, sedimentation, and even landslides. The impact on streams with fish can be catastrophic. If left undisturbed, regrowth after a fire can provide exceptional habitat for wildlife, but to take advantage of those natural processes we have to change the way we record.
If we want to make our forests more fire resistant and focus on restoring wildlife populations, logging can play a key role. If post-fire logging is to promote fire-resistant forests and wildlife populations, it must be done under several limitations. Large burned trees and surviving green trees should be left in place as wildlife trees for woodpeckers and cavity nesters. Standing timber also regulates soil temperature and moisture, minimizing erosion and sedimentation as the forest regenerates.
Commercial
This ad has not been uploaded yet, but your article continues below.
Article content
Road densities should be managed up to a maximum of 600 meters of road per square kilometer of habitat. Many areas of the province already far exceed these thresholds.
Road construction and logging in wildfire areas should only occur during winter to minimize soil compaction. Fine fuels like tree limbs and small trees that exceed the needs of the ecosystem must be removed to ensure that we do not turn our forests to tinder waiting for a spark. Areas with a historically high frequency of fires will require controlled burns within a decade so that they do not become too big of a matchbox again. Most importantly, we can't go back to the old playbook of planting coniferous trees and treating deciduous trees like weeds, which got us into this mess in the first place.
Commercial
This ad has not been uploaded yet, but your article continues below.
Article content
The provincial government has recognized that we are at a critical point and that it is time for a paradigm shift in forest management. The practices that got us to this point will not provide a sustainable future. BC needs a new log playbook, something we call a restore log. First, that means investing in our forests, air, water, and wildlife.
BC needs to invest $ 250 million per year in fuel reduction, ecosystem restoration, and controlled burning rather than burning taxpayers' money trying to suppress wildfires. BC needs to set targets for hectares of land treated with controlled burning, including wildlife-friendly cultural burning by First Nations. We must reduce road density, manage weeds, care for our watersheds, and permanently get rid of salvage logging.
Commercial
This ad has not been uploaded yet, but your article continues below.
Article content
By investing in our renewable resources and changing logging practices, we can restore our wildlife, help our fish, and make our forests more resilient. It will also help our health, protect our communities and the economy, but it requires a long-term vision of what this province should look like 50 years from now.
Is BC up to the challenge?
Tim Burkhart is with the Yellowstone to Yukon Conservation Initiative; Scott Ellis is a member of the BC Guide Providers Association; Kathy McRae is a member of the Bear Watching Trade Association; Jesse Zeman belongs to the BC Wildlife Federation. They wrote this opinion column on behalf of the BC Fish, Wildlife and Habitat Coalition.
Reference-vancouversun.com