[ad_1]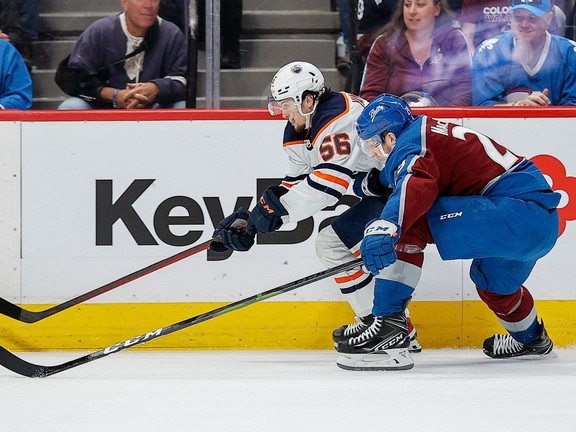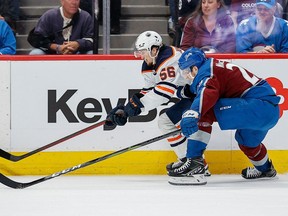 Article content
2021-22 Edmonton Oilers in review
Kailer Yamamoto
Article content
It's now 5 years since the Edmonton Oilers drafted right winger Kailer Yamamoto in the first round of the 2017 NHL Draft, and a clear picture of the player is emerging.
The Oilers took a major risk on their draft day. At 153 pounds, Yamamoto is the lightest first round draft pick ever to subsequently play in the league, but play in the league he has.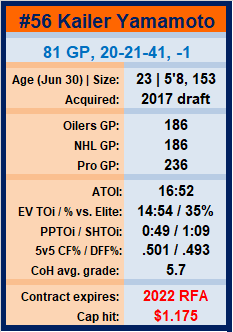 It took about 2½ of those 5 years for Yamamoto to make his breakthrough, even as he got cups of coffee of 9, then 17 NHL games in his first 2 post-draft seasons. Both times he was deemed "not quite ready" and shipped out, back to major junior in the first of those years, then down to AHL in the second.
In Year 3, the organization finally got the order of things figured out, and Yamamoto started the season on Jay Woodcroft's club in Bakersfield. Right after the Christmas break he got called up and immediately found chemistry on a high-powered line with Leon Draisaitl and Ryan Nugent-Hopkins. He's been a regular ever since, a good support player at a good price.
Article content
The pint-sized winger seems to have found his offensive level, scoring at a rate of 1 point every 2 games. Exactly so over the course of his career (186 GP, 93 points); very nearly so in 2021-22, when he produced 41 points in 81 games; exactly so again in the playoffs, when he chipped in 7 more in 14 contests before leaving the Colorado series halfway through Game 2 with a Gabriel Landeskog-induced concussion.
Focusing here on regular season results, over 80% of those points have come at 5v5, where Yamamoto has become a fixture in the Oilers' top 6. Consider these linemate splits in the season just past: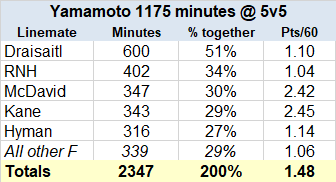 Yamamoto played 1175 minutes at 5v5, which is just shy of 20 hours. That included 5-10 hours with each of the club's top 5 forwards, and just 5 hours combined with all the others. It stands to reason that he barely played at all with other right wingers, but of the other depth forwards he got 89 minutes with Ryan McLeod80 with Warren Foegeleand trace amounts with the rest.
Article content
Of the 5 main linemates, the points-per-60 column shows he was by far the most productive with Connor McDavid and Evander Kane. In 193 minutes together as a trio, they clicked for 17 goals for, 9 against. Yamamoto was definitely the third wheel, but his tenacious puck pursuit and his skill in tight quarters served him well.
How tenacious? In his recent post featuring teammate and fellow RFA Jesse Puljujarvimy colleague David Staples published the results of our own work here at the Cult of Hockey quantifying "hard plays on Grade A shots". Along with skill plays like passing and shooting, we evaluate players' contributions to a dangerous offensive thrust via old fashioned elbow grease. Many of these involve crashing the net, be it goalie screens, deflections, jam shots, or hard charges to the net front. We also rate won battles that often lead to the initial possession or keep the play alive. KY is not quite in JP's league in these areas, but he's not exactly a shrinking violet either. Especially impressive considering he is the lightest player in the entire NHL.
Article content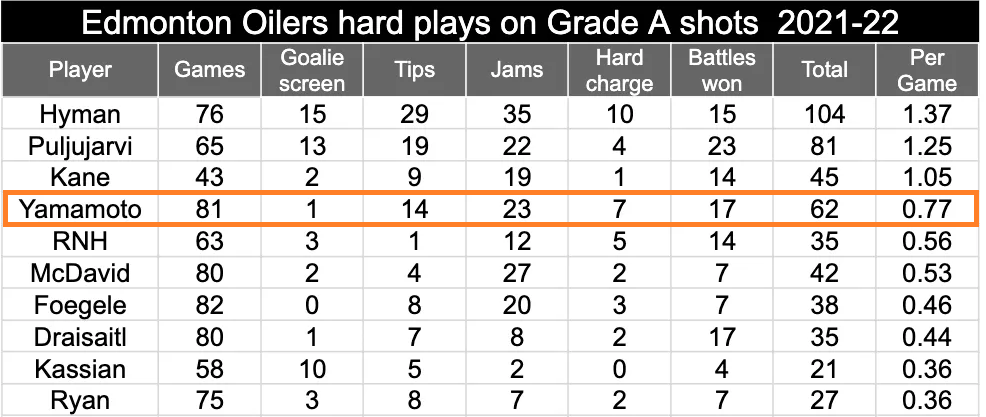 Circumstances tell us that time spent with Kane was largely confined to the second half of the season. That explains some, not all, of Yamamoto's improved performance after his old AHL coach Jay Woodcroft took over the bench on Feb 10. Indeed, the player's performance took a significant leap after the coaching change, by whatever measurement one chooses to apply.
As with most of the full-season Oilers, Yamamoto played more games under Tippett than Woodcroft, so after the obligatory GP line we will largely use per-game or per-60 metrics to tease out the differences, which were significant.

Starting with deployment, the winger saw his ice time bumped by just over 1 minute per game which included a bigger role on the powerplay and a slight increase on the other units. But an uptick in every category under Woodcroft, a pattern that will repeat pretty much across the board.
Article content

Major rises across the board in the production categories, with a 45% increase in 5v5 scoring rates being the main takeaway. The per-game totals all nearly doubled, with that extra powerplay time playing a role. 5 of KY's 6 PP points came after Mar 01, with the last 3 of those coming on a second unit with McLeod that became more of a threat as the season progressed.

Yamamoto's shot rates took a nice jump under Woodcroft, and so did his already-splendid shooting percentage, which averaged out at 17.5% over the full season. His career from him Sh% of 15.2% might be his single most unexpected stat from him; indeed, that number stands at 17.2% since he became a full-time player at the turn of the decade. He doesn't have a particularly strong shot, nor is he a volume shooter, but he is adept at cleaning up the garbage around the blue paint and scores a significant percentage of his goals from close range.
Article content
The lower 4 categories attempt to capture, however imperfectly, some of the competitive aspects of the game: hitting, shot blocking, taking and drawing penalties. They're mostly up in the second half, though the one area showing a decrease was in penalties drawn, normally a strength for this player. Whether it was the stripes getting wise to his ways from him or simply pocketing their whistles as they readied for the playoffs, who knows.

Finally we turn to flow-of-play metrics at 5v5. In 6 of 6 chosen categories — shot attempts, shots on goal, scoring chances, high danger chances, expected goals, and finally the all-important real goals — we see that with Yamamoto on the ice the Oilers were floundering well below break-even during the Dave Tippett portion of the season, and well above that 50% mark in all categories under Jay Woodcroft. (We're showing splits rather than full-season numbers, which can be found in bold font at the source. They are frankly pretty middling, shading just below 50% in all categories save high danger chances.)
Article content
Indeed, with the singular exception of penalties drawn, Yamamoto's results took a hard turn north in the Woodcroft part of the season. Up, up, up in every category shown from deployment to individual production to on-ice team results. Of course the squad as a whole was vastly improved, and as the old saying goes, a rising tide floats all boats.
Woodcroft deserves his share of the credit, as do Kane and McDavid who clicked nicely with the pint-sized winger. But when doling out the plaudits for the strong finish, let's save the lion's share of them for Kailer Yamamoto himself.
looking ahead
Coming out of his Entry Level Contract last summer, Yamamoto signed a cheap one-year extension at $1.175 million and delivered value with a 20-goal season. He has not only earned a raise but also arbitration rights that he didn't have a year ago.
Article content
The obvious play is a bridge contract. Despite having been a pro for 4 years he has another 4 to go before he reaches unrestricted status in 2026. A 2-year extension seems obvious middle ground for both sides. The trick will be to find an appropriate price point that doesn't overvalue the player, who did after all receive a pretty strong push from 2 linemates in particular. Ken Holland's focus will need to be on properly evaluating the platform season as a whole, without falling prey to recency bias by over-valuing that strong second half.
Still, Kailer Yamamoto is of the player type the Oilers need, a meat-and-potatoes sort grown internally and developed over time into a positive-outcomes NHLer. He was a first round draft pick but a late one at #22, and his AHL pedigree speaks to his having arrived via the overland route. His prior connections from him with Jay Woodcroft over parts of 3 different seasons in 2 different leagues seem to have borne instant fruit in the new regime, given how he raised his game after the coaching change. Yamamoto is now a battle-hardened NHLer of over 200 games including playoffs, even as he remains in the "value contract" stage of his career. At least that's the theory.
Over to you, Ken Holland.
Recently at the Cult of Hockey
STAPLES: True grit — this Oilers forward has it but rarely gets due credit
McCURDY: "Jay delivered" — GM Holland, head coach Woodcroft discuss next steps
McCURDY: It's official, Jay Woodcroft retained as head coach
STAPLES: Tyson Barrie might be a luxury Oilers can't afford
McCURDY: What can you do about Mike Smith?
LEAVINS: Ken Holland's next steps — 9 Things
[ad_2]