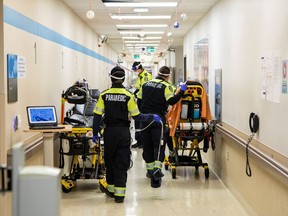 .
Emergency departments will almost certainly continue to struggle this fall, but COVID patients won't be the reason, said an emergency physician speaking on an Ontario Medical Association panel Wednesday.
.
"A straightforward prediction is that there is a 99 percent chance that emergency departments in Ontario will be worse. I want to say I'm 100 percent, but I want to give myself a little hope," said Dr. Andrew Petrosoniak, an emergency room physician and trauma team leader at St. Michael's Hospital in Toronto.
Emergency departments can still provide care for people in life-threatening situations. But Petrosoniak, who was a member of a panel that discussed living with COVID as Ontario heads into fall, said he is concerned about patients who are not initially very sick.
"They will be missed," he said. "It could happen in a waiting room because patients wait so long. It can happen in a hallway because they are sitting for hours to get to a place where they can really get proper care. It may be due to staffing issues or simply systemic inefficiencies. I don't know where it will happen. I suspect it's developing right now."
.
Petrosoniak said he typically only sees a handful of COVID patients in a shift. He is concerned about patients who come to an emergency room because they need care and don't have a family doctor or other treatment option.
"These are patients who have conditions that we've managed for a long time, but things are getting worse," Petrosoniak said.
There is also a need for outpatient mental health programs that can be accessed in a timely manner, he said.
"We are seeing patients admitted to the emergency department because they have nowhere to go."
Panel member Dr. Sloane Freeman, a pediatrician at St. Michael's Hospital, said family physicians and pediatricians have noted that many children are behind in their routine vaccinations.
.
Some children are unvaccinated or unvaccinated, which could lead to a resurgence of vaccine-preventable diseases, Freeman said, noting that the polio virus has been detected in sewage in New York City, London and Jerusalem.
There is also low coverage of immunization programs in schools due to disruptions in the education system. Before the pandemic, 60 percent to 80 percent of seventh graders received vaccinations, Freeman said.
"These rates have plummeted below 20 percent," he said. "That's really a concern for the teenage population. We really have to make sure they catch up."
While the general population of Ontario has high vaccination coverage against COVID-19, that is not the case for children, he said. Among children ages 5 to 11, only 40 percent have completed the recommended two-dose series. For children and adolescents 12 years and older, only 20 percent have received two doses plus a booster, as recommended.
.
Meanwhile, Ontario is finally seeing a decline in the seventh wave of COVID, said infectious disease specialist Dr. Zain Chagla, another member of the panel. This summer's unexpected wave has introduced more immunity into the population than was predicted in previous models, he said.
There may be a silver lining to the upcoming flu season.
Based on data from Australia, which is often seen as a predictor of flu season in the Northern Hemisphere because it enters the season six months earlier, this year's flu wave looks different than previous years, Chagla said. .
In Australia, there was a steep incline in flu cases for four to six weeks in the fall. This peaked rapidly, then rapidly decreased. But what was missing from the Australian flu season was the appearance of Influenza B, a strain of flu that usually shows up in Canada after December and lasts until early spring.
"What's really interesting to see around the world is that influenza B is not going to come back after the pandemic," Chagla said.
It's hard to predict what this will mean for Ontario. But with the return of global travel, influenza season will be back on the table, emphasizing the need to get a flu shot, she said. It will continue to be important to keep people out of the hospital.