Liverpool travelled to Newcastle United looking for a win to keep up their title charge, and that's exactly what they got.
The Reds returned to the top of the table, having played a game more than Manchester City, thanks to a 1-0 victory secured through a first-half goal from Naby Keita.
Manager Jurgen Klopp made a number of changes, including James Milner in midfield and Joe Gomez at right-back, and the visitors looked a little uncertain early on as the Magpies caused problems with their pressing, and their numbers in attack.
Liverpool began to grow into the game, though, finding the time and space to slow things down and get into their rhythm, and it didn't take long for them to reap rewards.
Their goal was controversial, with Newcastle wanting a foul for a late challenge by Milner on Fabian Schar, who stayed down, but referee Andre Marriner was unmoved. The Reds still had work to do when Jordan Henderson swept the ball out wide: Keita combined well with Diogo Jota before running at goal from the right, kept his cool to sidestep the onrushing Martin Dubravka, before finishing well past two defenders on the line.
From then on, it was fairly professional by Liverpool, even if Newcastle caused them problems at times with their direct approach and energetic pressing. Allan Saint-Maximin started in a central role, with freedom to drift, but he failed to really impact the game, despite some eye-catching moments.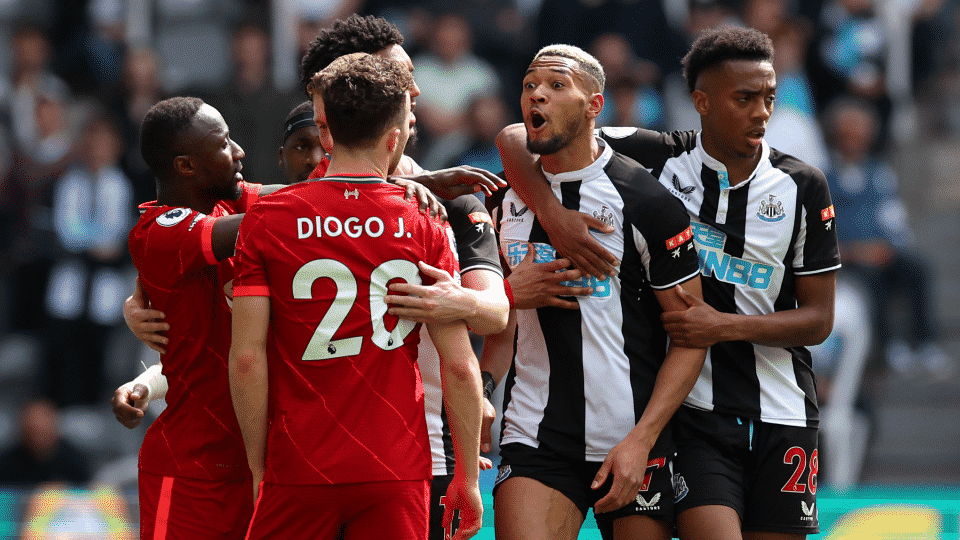 The Magpies started the second half as they did the first, with Joe Willock more involved, but they still failed to really trouble Alisson. It felt like a question of when, rather than if, Liverpool's second would come, and Dubravka more than earned his wages as he made a number of saves throughout the game. As the clock continued to tick, Liverpool continued to make chances, but they couldn't put any of them away.
On another day, perhaps there would have been a sting in the tail, but Newcastle didn't create enough throughout the game, and even late on they failed to apply much meaningful pressure on the away side. It finished 1-0, and Liverpool top the table, with Man City to face Leeds United later on.
MORE: Jurgen Klopp contract with Liverpool: Salary, length, bonuses & options for Reds manager
Newcastle vs. Liverpool final score
| | | | |
| --- | --- | --- | --- |
|   | 1H | 2H | Final |
| Newcastle  | 0 | 0 | 0 |
| Liverpool  | 1 | 1 | 1 |
Goals:
LIV — Keita (Jota) — 19th min.
Newcastle vs. Liverpool live updates and highlights
Final: Newcastle 0, Liverpool 1
Fulltime! Liverpool win! A professional, if profligate, performance from the new league leaders. Newcastle just didn't have enough on the table to trouble them.
⬆️ @LFC go two points ahead of Man City, before their trip to Leeds#NEWLIV pic.twitter.com/Z6NAvQpJF2

— Premier League (@premierleague) April 30, 2022
94th min: Jota and Robertson are both down, after a series of challenges in the closing stages. Both are back up on their feet, the challenge on Jota winning Liverpool a free kick outside the area, dead centre, with second left.
91st min: Newcastle are trying to pile on the pressure in the closing stages, but Liverpool are holding firm. With Newcastle's defenders still up, Diaz lifts the ball in behind Targett for Salah to run on to. He gets clear of Targett, but opts against shooting on his right. He tries to wrap his left foot around it, but can't get the contact he wants, and Dubravka is out to collect the ball. Four minutes added on.
88th min: The ball comes to Saint-Maximin on the edge of the area. He passes right to Bruno Guimaraes, just right of centre. He fires a bouncing shot towards goal, but it's too central to really test Alisson, who holds onto it comfortably.
86th min: Jacob Murphy is on for Emil Krafth. It looks like he's in at right back, but he should offer more going forward.
84′ – Keita's pass finds Diaz, who drifts past Krafth and sees his effort touched behind and into the side-netting.

[0-1]#NEWLIV

— Liverpool FC (@LFC) April 30, 2022
83rd min: Jota drove inside Burn to get a shot away a few minutes ago, and this time he almost spins past Lascelles in the area to get a shot away, Dan Burn covering well to deny him.
79th min: Fabinho is completely bamboozled by the ball in midfield, and it rolls through for Saint-Maximin to pick up. He runs at the Liverpool defence, before playing in Chris Wood on his left. Alisson is out quickly, and Wood has to shoot early, his left footed shot doesn't beat Alisson, but the flag is up regardless. Thiago is on for Milner.
76th min: Newcastle manage a rare foray upfield. It ends with a Shelvey left footed cross from the right. He's looking for Wood, but he finds Alisson's gloves.
74th min: In the first half, Liverpool slowed things down when Newcastle were putting on the pressure. In this half, they're playing at a tempo that Newcastle can't live with, and the hosts will be concerned with how many chances the away side are creating.
72nd min: Liverpool are looking comfortable at the moment, Salah looking sharp after his introduction. Jurgen Klopp will want a second goal here though.
69th min: Sadio Mane is booked for a late challenge on Dubravka. He's brought off, along with Henderson, for Salah and Fabinho.
67′ Our second change.

Let's go, @officialcwood!

[0-1]#NEWLIV // #NUFC // @eToro pic.twitter.com/DMD8XDm3ZR

— Newcastle United FC (@NUFC) April 30, 2022
63rd min: Sadio Mane will be frustrated. Gomez finds him in line with the near post, inside the penalty area. Mane opens his foot up and tries to place the ball, but it's just the wrong side of the post. A really big chance for Liverpool.
61st min: Liverpool turn the ball over in midfield and Milner lifts the ball into the path of Jota, running into the area. Dubravka is out and gets the ball away cleanly, taking Jota with it. The ball is out to Robertson on the left, and Dubravka backpedals. He's in no man's land, but Robertson, who could try and chip the 'keeper, or pick out a teammate, lifts the ball into the 'keeper's hands. Schar, was who limping in the aftermath of the first goal, is off injured. Lascelles is on in his place.
56th min: Shelvey's shot piece shot was headed away by Milner on the end of the wall. Milner stays lying face down in the penalty area, and the referee stops play. The frustration of the Newcastle fans grows. Milner is back up after a couple of minutes.
54th min: Joe Willock has been involved more often in the second half. He wins a free kick outside the area from Joel Matip. Meanwhile, Fabinho and Salah have been warming up considerably.
51′ Joe Gomez receives a yellow card for a trip on Willock.

— Newcastle United FC (@NUFC) April 30, 2022
50th min: Matip is forced into a defensive header as Almiron lifts the ball into the area from the right. It's been a good start to the second half. When Newcastle press, Liverpool are generally able to play through the press and exploit the gaps left in behind.
Kickoff! The second half is underway.
Halftime: Liverpool go into halftime on top in Newcastle, and on top of the league table too. Eddie Howe's side have had their moments, but it's been comfortable enough for the Merseysiders.
HALF-TIME Newcastle 0-1 Liverpool

Naby Keita's well-taken goal is the difference at the break#NEWLIV pic.twitter.com/08MmcHfJmq

— Premier League (@premierleague) April 30, 2022
45th min: Diogo Jota pushes Joelinton after a challenge. Joelinton then pushes Jota. Naby Keita arrives on the scene to play peacemaker, and he's then pushed too. Jota and Joelinton are both booked. Joelinton has looked in a combative mood all game, having scrapped with James Milner earlier on.
42nd min: Henderson crosses from deep, and Jota manages a really good header from distance, getting power and direction on the ball as he strains to flick it towards goal. It's close enough for Dubravka to tip it over with an acrobatic save. Milner volleys wide from the edge of the area after the following corner.
40th min: Almiron's disallowed goal comes after a long goal kick. Newcastle win the second ball, but Liverpool's back line step up as one, and Almiron is offside when Guimarees plays him on. Alisson comes out and gets a hand on the ball as Almiron looks to knock it past him, but the attacker is able to stop and divert the loose ball towards goal. That comes after Henderson fired a free kick off target at the other end, the former Sunderland man not popular with the Magpies faithful.
39′ Almirón has the ball in the back of the net but he's flagged for offside.

— Newcastle United FC (@NUFC) April 30, 2022
37th min: Liverpool are still having the better of things at St. James' Park. Jurgen Klopp will be happy with him the first half has gone so far.
34′ – Great break. Diaz sprints away with support from Jota and Mane. He picks out the latter, his side-footed effort is saved by Dúbravka.

[0-1]#NEWLIV

— Liverpool FC (@LFC) April 30, 2022
33rd min: Newcastle have their first spell of sustained possession in the game, but the ball doesn't stick when it's played towards Joelinton and Willock. Newcastle have a lot of players looking to attack when they have the ball, but they've struggled to hold onto it long enough to trouble their visitors.
28th min: The home crowd aren't pleased with Andre Marriner, and several decisions that they think should have been given their way. Newcastle have responded to the atmosphere well in the last couple of minutes. Saint-Maximin has a shot from outside the area, before the hosts win a free kick on the right. Liverpool don't look too troubled, however.
— Liverpool FC (@LFC) April 30, 2022
25th min: Liverpool's lead is deserved, in truth. The hosts made a bright start, and they've made Liverpool uncomfortable at times, but they've not created much of not in the twenty five minutes. The visitors have managed to play the game at the tempo they want.
Only available in Australia:
Liverpool 𝙘𝙤𝙣𝙩𝙧𝙤𝙫𝙚𝙧𝙨𝙞𝙖𝙡𝙡𝙮 lead against Newcastle 👀

Was Fabian Schär fouled in the build up here?

Stream LIVE now, or on demand after, here 📺 https://t.co/HATHenHBCI#OptusSport #PL #NEWLIVE pic.twitter.com/eyjWchi4TR

— Optus Sport (@OptusSport) April 30, 2022
Only available in Canada:
Cool and calm from Keita. 😎

A big goal for Liverpool. 🎯 pic.twitter.com/5c0cghwnjI

— DAZN Canada (@DAZN_CA) April 30, 2022
Only available in UK:
Wonderful feet from Naby Keita 😍

Liverpool take the lead and the Newcastle fans aren't happy, but it looks like James Milner got his challenge just right… pic.twitter.com/1gdngbRXmb

— Football on BT Sport (@btsportfootball) April 30, 2022
Only available in USA:
The composure by Keita!

Liverpool take a 1-0 lead at St James' Park and are the current Premier League leaders.

📺: @USA_Network & @NBCUniverso #NEWLIV | #MyPLMorning pic.twitter.com/Nl2CsrLMsW

— NBC Sports Soccer (@NBCSportsSoccer) April 30, 2022
19th min: GOAL!
Liverpool take the lead! Newcastle don't like it, but Keita has the ball in the back of the net. Milner slides in to win the ball in midfield, he catches Schar, who stays down, but the referee doesn't see a foul. He won the ball first, which Henderson picks up. He passes out wide to Keita. He plays a 1-2 with Jota, bearing down on goal from the right as he receives the return pass. He keeps his cool, sidestepping the onrushing Dubravka, and firing home past a crowd of Newcastle bodies on the line. VAR  doesn't overturn it.
19′ Liverpool lead. Keita.

— Newcastle United FC (@NUFC) April 30, 2022
17th min: Gomez fires a low cross towards Mane, arriving at the far post. Krafth manages to divert the ball away, a crucial intervention, before the flag goes up. Mane was offside.
15th min: A spell of controlled possession from Liverpool has taken a little tempo out of the game, as they pass the ball amongst themselves on the halfway line.
11th min: A Liverpool corner finds Van Dijk near the penalty spot. He volleys the ball way over the bar.
9th min: Saint-Maximin has been the main outlet for Newcastle so far. The hosts are committing quite a few forward when they attack, and they're looking to press too. They've done a good job of making Liverpool uncomfortable when playing out the back, but Liverpool have shown the ability to in behind the press already. A Naby Keita shot is wide of the post, after Liverpool go long. It's deflected, but the referee gives a goal kick.
5th min: Jota wins a free kick on the left, his change of direction too quick for Fabian Schar. The ball falls to Jota, after a couple of wayward defensive headers, but his shot is off target.
3rd min: James Milner has to clear a loose ball in his own penalty area early on, and it's Newcastle who have the better of the opening couple of minutes. A misplaced pass gives Newcastle a throw in, and that's followed by an Alisson pass straight to Jonjo Shelvey.
Kickoff!
1 min to KO: The teams are out on the pitch. The atmosphere is excellent. The stage is set.
5 mins to KO: The stadium is filling up quickly now, with the last empty seats being taken. Black and white flags are flying in the sunlight. Teams out shortly.
15 mins to KO: It looks a great day for football. Not long till kickoff now, as the teams go through their final preparations.
🔜 #NEWLIV pic.twitter.com/lmOKXjN9GU

— Liverpool FC (@LFC) April 30, 2022
30 mins to KO: St. James' Park is looking good in the late April sunshine. Let's hope we have a game to match the weather.
— Newcastle United FC (@NUFC) April 30, 2022
45 mins to KO: It's an interesting lineup from both teams. Joelinton has done well in midfield for the Magpies. He may continue there, with Almiron and Saint-Maximin as a makeshift front two, or he may be pushed through the middle. Liverpool are still able to put out a very strong team, despite their rotation, but Eddie Howe will be pleased to see neither Alexander-Arnold nor Thiago starting the game.
60 mins to KO: The hosts have announced their lineup.
🚨 HOWAY THE LADS! #NEWLIV pic.twitter.com/cDKETnS7ik

— Newcastle United FC (@NUFC) April 30, 2022
The team news is out for the visitors.
⚫ TEAM NEWS 🔴

Our line-up for today's meeting with @NUFC! #NEWLIV

— Liverpool FC (@LFC) April 30, 2022
80 mins to KO: It's all smiles for the hosts as they arrive at the stadium.
— Newcastle United FC (@NUFC) April 30, 2022
100 mins to KO: Guimaraes looks to be the future of the Magpies' midfield, and Eddie Howe has integrated the former OL man well so far. He's provided real moments of quality, and the St. James' faithful will be hoping for more of the same today.
What a start Bruno Guimarães has had at St James' Park! 🇧🇷

⚫️⚪️ He's already found the net more for #NUFC than he ever did for Lyon.#NEWLIV pic.twitter.com/Sjp5H3lKjD

— 𝐓𝐡𝐞 𝐒𝐩𝐨𝐫𝐭𝐢𝐧𝐠 𝐍𝐞𝐰𝐬 UK 🇬🇧 (@sportingnewsuk) April 30, 2022
2 hours to KO: Liverpool are in place for Saturday's early kick off, and so are we. The Sporting News is here to bring you live updates from Newcastle vs. Liverpool.
📍 St. James' Park

Let's do this! #NEWLIV pic.twitter.com/RjWJdzcxVg

— Liverpool FC (@LFC) April 30, 2022
Newcastle vs. Liverpool lineups
Trippier, Fraser, and Wilson all miss the game, as expected. Eddie Howe continues with a relatively unchanged team. Shelvey and Guimaraes both start, with Willock the third man in midfield. Joelinton also starts, perhaps leading the line with Wood on the bench.
Newcastle line-up (4-3-3): Dubravka (GK) — Krafth, Schar, Burn, Targett — Guimaraes, Shelvey, Willock — Almiron, Joelinton, Saint-Maximin
Newcastle substitutes (9): Darlow, Dummett, Lascelles, Ritchie, Manquillo, Wood, Murphy, Gayle, Longstaff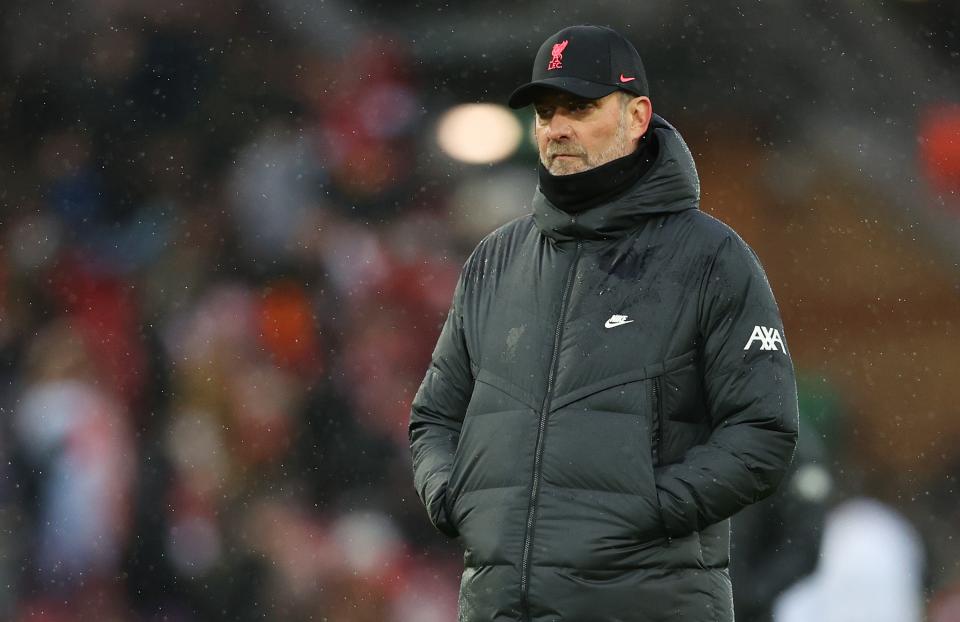 Roberto Firmino isn't in the squad. Jota, who is making his 50th league appearance for the Reds, joins Mane and Diaz in the front three. Milner starts in midfield, while Joe Gomez deputises at right back, with Alexander-Arnold on the bench if needed.
Liverpool starting lineup (4-3-3): Alisson (GK) — Gomez, Matip, Van Dijk, Robertson — Henderson, Milner, Keita — Diaz, Mane, Jota
Liverpool substitutes (9): Kelleher, Fabinho, Konate, Thiago, Salah, Jones, Tsimikas, Alexander-Arnold, Elliott
MORE: Mohamed Salah no longer Liverpool's Champions League leader but still key for Jurgen Klopp
How to watch Newcastle vs. Liverpool
| | | | | |
| --- | --- | --- | --- | --- |
|   | UK | USA | Canada | Australia |
| Date | April 30 | April 30 | April 30 | April 30 |
| Time | 12.30 p.m. BST | 7:30 a.m. ET | 7.30 a.m. ET | 9:30 p.m. AEST |
| TV channel | BT Sport 1 | USA Network | – | – |
| Streaming | NOW TV | fuboTV | DAZN | Optus Sport |
In the US, televised Premier League games are available on fuboTV, which also offers a free trial to new subscribers.
In Canada, every Premier League game streams live on DAZN. 



Reference-www.sportingnews.com