The sale of costumes and props from the Opera is a welcome sign of a shift to a new normal and the return of performances, staff say.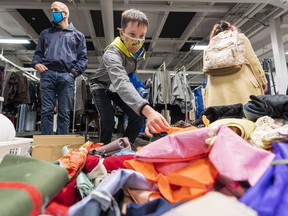 Article content
Old and new came out this weekend at the Vancouver Opera Costume and Props Sale.
Commercial
This ad has not been uploaded yet, but your article continues below.
Article content
For locals eager to celebrate Halloween after last year's COVID-induced hiatus, yes, there will be trick or treating this year, the sale was an opportunity to get creative with corsets, feather boas, and red velvet robes.
For Alec Hughes, 12, it was an opportunity to dive into a sea of ​​fabrics to select a blue chambray to make Halloween bags with his sewing club.
For treasure hunters there were chandeliers, fake foods, taxidermy, a barber's chair, and shoes, from ruby ​​slippers to pointy boots that were once worn in a La Bohème production.
"There were thousands of shoes," said volunteer Oriana Camporese, who was responsible for checking out the Opera's crowded costume hall to find out what was ready for a new life offstage.
Commercial
This ad has not been uploaded yet, but your article continues below.
Article content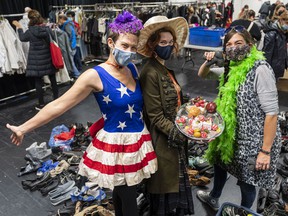 New life, new growth, new hope were the themes of the day for Vancouver Opera's technical director Autumn Coppaway.
"COVID was really tough on our industry," Coppaway said. The Opera stages went dark in March 2020 when public health orders banned indoor gatherings to prevent the spread of the virus. Dozens of technicians, costume designers and artists were out of work.
"We find that sometimes the show doesn't go on," Coppaway said. But somehow, the show went on. "The community came together to support each other."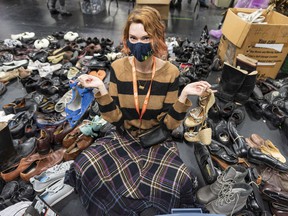 While the theaters were dark, the Vancouver Opera turned to digital productions and turned its costume shop into a mask factory, using fabrics from its workshops to produce triple-layer masks that were donated to front-line workers.
Commercial
This ad has not been uploaded yet, but your article continues below.
Article content
This year's costume and accessory sale wasn't just a fundraiser, Coppaway said.
Cleaning the closets is part of the company's commitment to the climate, through "recycling," Coppaway said, and will have the added benefit of making room in its facilities for new community programs, all part of a long-awaited return to a new normal.
"There is another life for our stuff and another life for our company," Coppaway said.
The Opera will perform live again in December at the Queen Elizabeth Theater with Orpheus and Eurydice by Christoph Willibald Gluck, a premiere in collaboration with Ne. Sans Opera and The Dance Center.
Vancouver Opera director of artistic planning Adrianne Wurz, who was on hand to help treasure hunters examine the items, said she hopes community and school programs will start again once the restrictions are completely lifted.
"We see that children come in to be part of a choir and they may seem depressed or out of place. Then we take them on stage in costume and they completely transform. When you put on a costume, you can become who you want to be, "Wurz said.
Reference-vancouversun.com