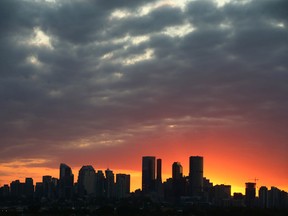 .
Calgarians better watch out. We're close to getting caught between the rock and that hard place.
.
This threat comes courtesy of the increasingly antagonistic stance provincial politics is becoming, a sad state of affairs that shows little prospect of reversal in the short term.
.
Indeed, whatever happens later today with the announcement of the United Conservative Party leadership vote, marking the start of Alberta's 19th premier, it seems certain that both the rhetoric and the stakes will rise even higher.
And that's not necessarily what's best for our city right now, not when we finally see some light at the end of a long, sad tunnel.
Because no matter who becomes the new prime minister, one thing is for sure, they will come from outside of Calgary. (Yes, the new boss won't be from Edmonton either, but we'll get to that in a bit.)
.
Danielle Smith, the leading successful candidate in the race, hails from High River and while she doesn't have an actual seat in the legislature, she's looking to quickly parachute into a cozy country walk for a quick by-election, if it really comes. to the top of leadership. lot.
Meanwhile, the two candidates with any realistic hope of stopping her, Travis Toews and Brian Jean, hail from Grande Prairie and Fort McMurray, respectively.
So it's not surprising that issues resonating in rural areas were in the spotlight during this race, which is likely why Smith is seeking a seat outside of the two major cities. His controversial Sovereignty Act proposal plays to a much angrier and more appreciative gallery beyond Edmonton or Calgary. (Heck, if he had the guts to run in the capital, it could become the shortest reign of an Alberta prime minister in history.)
.
But while it won't have much clout with the new UCP regime, at least Edmonton remains a real stronghold for the only other political group with a chance of forming the next government when provincial elections are held next May.
Yes, while the UCP has torn itself apart over the past year, Rachel Notley's NDP has faced no such distractions; fundraising and organizing in their spare time while waiting for the upcoming elections. It is not the same match that he won by accident in 2015.
So where does this leave Calgary? Well, not in the most favorable position, admittedly.
We are up against two ideologically opposed political blocs forming in Alberta, neither of which is in the mood for compromise. One is a rural-based loco collective, whose main goal is to rip out whatever federal stake remains in our province. The other is an elite cabal, convinced they know how to spend your money better than you do, and if those funds eventually run out, they'll just borrow it from someone, somewhere.
.
Hey, it's not like most Calgarians swoon when Justin Trudeau's name is mentioned. far from there But most of us don't want to carry a baseball bat into the bathtub just to drain temporary dirty water.
Because we understand that what is needed is resolute attention to our economy and extreme vigilance whenever the feds try to get their greedy hands on our resources.
Get that right, and serious issues like our stressed health care system and the effect of the pandemic on both education and our collective social well-being can be calmly addressed. We don't need Theo Fleury's health advice or an explosion in public sector hiring and the elevation of the Alberta Teachers Association to judge and jury on what's right for our children.
But don't expect either of these two groups to agree. No, they now exist in the comfort of their respective echo chambers, where questioning anything of dubious orthodoxy is akin to blasphemy.
So maybe Calgarians could reuse that old argument from Albertans when it comes to Ottawa: Look, we're tired of being the constant economic engine, providing more than our share of taxes, but seeing our concerns get ignored. and our contribution is taken for granted.
Hey, call it Calgary Sovereignty Act. Come on, isn't there a ring on that?
Chris Nelson is a regular columnist for the Calgary Herald.