Official spokespersons for Québec solidaire met Monday to call on young people to vote in large numbers and with the weather in mind.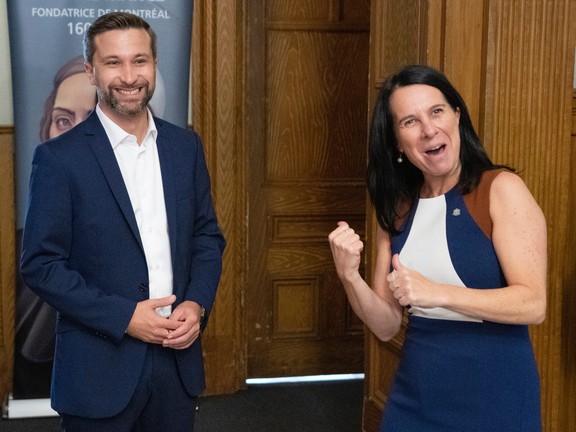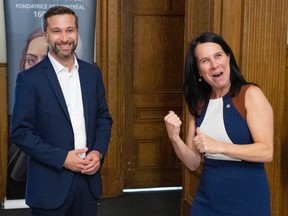 .
Québec Solidaire's aspiring prime minister, Gabriel Nadeau-Dubois, called Monday for "the climate generation" to turn out en masse in what he calls the last-chance election on climate change.
.
"That's not a reason to despair, it's a reason to mobilize," Nadeau-Dubois said at a morning news conference in downtown Montreal, where she was joined by QS co-spokesperson Manon Massé and a dozen other candidates. party youth. .
.
Nadeau-Dubois spoke clearly to first-time voters, noting that people ages 18 to 39 make up about a third of those eligible to vote in Quebec.
He also reminded students that early voting will be open at 170 Cegep and at university campuses and adult education centers throughout the province on Tuesday, Wednesday and Thursday of this week. Students can vote on campus for candidates running in the districts where their permanent home is located, or they can apply to change their permanent residence to the district in which they are studying.
.
"This time they have real voting power and it's easier than ever to exercise it," he said.
Massé, who has focused on touring the CEGEP and the province's university campuses for much of the campaign, said climate change is the number one issue young people on campus talk to him about. QS has the most ambitious climate program, promising a massive overhaul of the province's public transport system and a new tax on highly polluting vehicles, for example.
But she said young people have other reasons to vote for QS, such as: the promise to create a $30 million program to provide all forms of contraception free of charge and make period products available for free in schools and some other public buildings, the promise to end "abusive" rent increases and ensure that college internship programs pay students for their work.
.
Nadeau-Dubois admitted that historically young people have been the least likely to vote, but added that this is partly because older parties have not listened to what young people want. Furthermore, younger voters have the highest stake in this election, as they will be present for the worst impacts of climate change if governments do not act now.
"When the same people win elections every time, it is normal to feel powerless, but we are not doomed to powerlessness. This is my message to the youth of Quebec… the climate generation can change Quebec."
Nadeau-Dubois acknowledged that she needs to persuade middle-aged and older voters to support her party if she wants to stand a chance at power, or even official opposition status on Oct. 3.
.
"Young people have to get out and vote because it is their future that is at stake in this election, but yes, we have to build bridges between generations," he said, adding that he always tells young people who attend QS events they need to talk to their parents, grandparents, aunts and uncles.
QS's ambitious promises on healthcare and home care should appeal to older voters, he said. He noted that the party has attracted a number of health professionals to run as candidates, including Dr. Yv Bonnier Viger in Gaspé, Dr. Mélissa Généreux in Saint-François, and Dr. Isabelle Leblanc in Mont-Royal-Outremont, whoever of which "could become Minister of Health of Quebec.
Asked what he would tell young people if François Legault's Coalition Avenir Québec is re-elected, Nadeau-Dubois said he would assure them that the fight to save the climate will continue. But he admitted that opposition parties have little power under the current system.
.
He called Quebec's political system "sick" and "broken," and again vowed to change the "first to pass" system if his party is elected.
"Is it normal in a democracy that a party that gets 35 or 40 percent of the vote can have 70 or 80 percent of its seats in the legislature and thus take 100 percent of the power? I do not think."
Nadeau-Dubois met with Montreal Mayor Valérie Plante on Monday afternoon and then headed to the Saint-Henri-Sainte-Anne equestrian where QS candidate and immigration attorney Guillaume Cliche- Rivard is giving Liberal leader Dominique Anglade a chance. money.
Gabriel Nadeau-Dubois refuses to speak only to older voters, despite historically low levels of voting among young people

Quebec solidaire says Quebec regions need more immigrants to address labor shortages

This election is the last chance for Quebec to take crucial steps toward a greener future, says QS premier hopeful