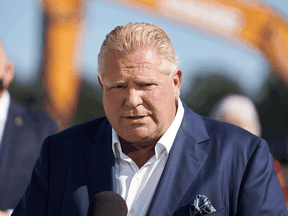 Article content
On Monday, Ontario Prime Minister Doug Ford resurfaced after federal elections and managed to launch a disparaging comment on immigrants following an unrelated funding announcement in Windsor-Essex.
Commercial
This ad has not been uploaded yet, but your article continues below.
Article content
After a request for more skilled workers to fill vacancies in the province, he accused some immigrants of "collecting the subsidy" once they arrived in the country instead of working hard and paying taxes.
I think these comments were steeped in troubling tropes about immigrants.
A quick summary of the facts: The Canadian immigration system favors highly educated economy class immigrants, but it doesn't always make it easy for many to work in this country with the same credentials that allowed them to move here.
This means that many of these same people will never work in their trained fields in Canada again, instead spending their careers in unstable roles for which they are overqualified and often remain underpaid.
Research has shown time and again how immigrants in this country face systemic barriers in their jobs, finding housing, accessing public services, including social services, and accessing those services at lower rates. It should also be noted that they are often ineligible for many services shortly after immigrating.
Commercial
This ad has not been uploaded yet, but your article continues below.
Article content
I feel it is a shame that the prime minister casually uses a derogatory term to refer to well-being, a much-needed safety net for some of the most vulnerable in our communities.
The thing is, I think the prime minister knows all this.
None of this is new information: These barriers have been well documented for years, and the pandemic sharply magnified them.
Two of the three migrant farm workers who died from COVID-19 in the province last year were in this region, also pointing to the often unsafe and exploitative working conditions these workers have worked for for years. while helping to put food on our tables. .
The prime minister referred to a term often used by xenophobes in a region with the highest unemployment in the country and just as Stellantis has just announced the end of his second of the two remaining shifts. This is also a community in which approximately one in 10 voters (depending on the leadership) voted for the PPC in the last federal election.
Commercial
This ad has not been uploaded yet, but your article continues below.
Article content
He continued to later refuse to apologize for their use.
So it's pretty clear to me that the prime minister, frankly, cares less about immigrants than appeasing a certain segment of his voter base.
I believe that these supposedly disposable comments try to reassure a segment of our society that immigrants, often of non-white color, are not going to take away their jobs.
It is also about recognizing how leadership rhetoric can be powerful and dangerous at a time when anti-immigrant sentiments have been stoked, when hate crimes have risen, and when an immigrant family was intentionally murdered in London just four months ago.
Instead, the prime minister should recognize those most likely to perform essential high-risk functions, such as transit operators, taxi drivers, PSWs, truck drivers, and migrant farm workers who are most likely to work jobs. precarious without paid sick leave, adequate workplace protections, and higher rates of COVID-19 infections than other segments of the population.
Commercial
This ad has not been uploaded yet, but your article continues below.
Article content
At this point I don't expect an apology. It would probably be false.
But in his power as prime minister of Ontario, there are ways to improve the labor system for everyone.
Improve our labor market by: increasing the minimum wage; toughen workplace safety laws and oversight; legislate permanent paid sick days; improve protections of labor standards; advocate for a path to status in Canada for temporary foreign workers; provide protections for freelancers and gigs; Foster inclusive and welcoming environments in sectors that require skilled workers and fund pathways for foreign-educated professionals to transfer credentials to work in the same field in Ontario.
At the end of the day, it shouldn't be necessary to remind the prime minister that the very people he despised with his comments are some of the most hard-working people in the province.
They deserve better.
And this province deserves more from its leader who seems willing to disparage people perceived to be of low social status to make those threatened by immigrants feel a little better.
Sarah Mushtaq is a millennial who writes about race, gender, and life in today's changing world.
Reference-windsorstar.com