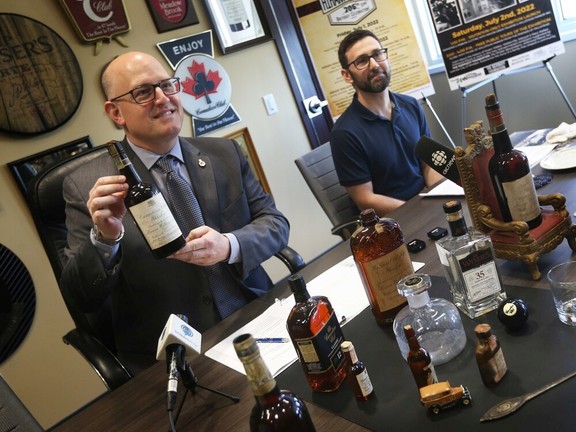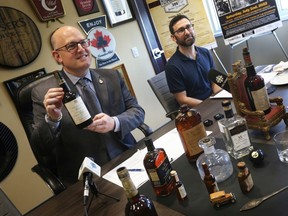 Article content
Do you have hundred-year-old stuff gathering dust in the basement? Museum Windsor wants you to clear out the cobwebs and contribute to an upcoming exhibit.
Article content
In partnership with Windsor Mayor Drew Dilkens, the museum on Friday launched a public call for memorabilia — photos, artifacts, clothing, accessories, and other items — connected to the city's prohibition-era (1920s and 1930s), Canadian Club, Hiram Walker and Sons Ltd., company founder Hiram Walker and his legacy, and all things rum-running.
Exhibitions co-ordinator Craig Capacchione said the museum is planning a temporary exhibition titled Windsor's Prohibition History for the summer of 2024.
"We're always working to capture, preserve, and share our history through the artifacts and stories that make it come alive — but we need the community's help to do that," Capacchione said. "That's why, as we did with our Riverside 100 exhibition, we're using this call-out to the public in partnership with the mayor to try to get some great artifacts."
Article content
Dilkens, whose personal collection of more than 100 local distillery items, including old whiskey bottles and signage, fills a boardroom at city hall, said he will loan his memorabilia to the exhibit.
When thousands of foundations flooded during historic rainfalls in 2016 and 2017, the mayor said he couldn't help but think about what artifacts might have been destroyed and thrown away.
"It was troubling to me because we have such a rich history and we don't want to lose it," Dilkens said.
"This is a plea to the community to help us grow our museum collection with respect to the legacy Hiram Walker has left in the community.
"The items that would be donated would be maintained in perpetuity as part of our collection. They would be cared for, and you'd have certainty that they are going to last for many generations to come."
Article content
The city is days away from Hiram Walker's 206th birthday celebration, a two-day festival in Walkerville that includes the unveiling of a commemorative bronze statue of Hiram Walker; the grand opening of a new and permanent history exhibit in the Willistead Manor coach house that traces the Walker family's history and legacy; a memorial gathering at the graves of Edward and Mary Walker; the Walkerville Art Walk; a Roaring '20s fundraiser dinner at Willistead Manor, and more.
PHOTOS: Hiram Walker statue installed

Plans for two-day Hiram Walker birthday bash unveiled

Monthly tours at historic Duff-Baby Mansion scheduled following long-awaited key handover
Museum Windsor has displays at the Chimczuk Museum, the nearby Francois Baby House, as well as at satellite locations: the Duff-Baby House, Willistead Manor and its coach house, Mackenzie Hall, and the Ojibway Nature Centre. All told, it has about 15,000 artifacts in its collection.
To arrange for an appointment to donate to the museum's upcoming exhibit, reach out to Museum Windsor by calling 519-253-1812 or emailing [email protected] Individuals interested in loaning items should also contact the museum as soon as possible to make arrangements.
"The important thing is to look soon and to reach out right away," Capacchione said. "That's how we put together an exhibit like this."
A complete list of festivities planned for Friday and Saturday is available at the city's website, citywindsor.ca.