'Crime didn't take a vacation' during pandemic, says former veteran officer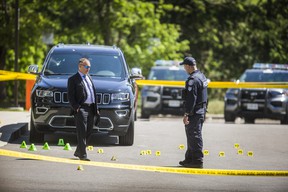 Article content
Murders in Toronto were up 15% compared to the same point in 2020, according to statistics compiled by the Toronto Police.
Article content
As of September 26, 62 people had been killed in the city. That compares with 54 in the same period last year.
Those same police figures also show Toronto's shooting-related incidents so far this year are 19% below what the city experienced to the same point in 2020.
There have been 306 shootings and firearms discharges as of September 26. That compares with 377 at the same time in 2020.
Police service data shows that July was the most dangerous month for both shootings and murders.
On Monday, the FBI revealed that the number of murders in the US increased 30% in the last year.
Veteran police officer Sean Sparling – a retired deputy chief of police in Sault Ste. Marie – noted the stark differences between the two countries.
"Although Toronto has its share of gun violence, Canada is not as much an 'gun nation' as the United States," said Sparling, president of Investigative Solutions Network, a private investigations firm.
Article content
In late July, a report from Statistics Canada and the Canadian Center for Community Justice and Safety provided a snapshot of crimes reported by police in 2020.
"The volume of crimes reported by the police in the first months of the pandemic was much lower compared to the previous year," the agency reported.
But the study noted that there were 743 homicides nationwide, 56 more than in 2019.
"It will be interesting to see what our murder rates are. My feeling is that it has not risen the same as the United States, "said Sparling.
But the retired deputy director pointed to other problems that officials are encountering more frequently since the pandemic began.
HUNTER: Bad, old and bloody days return to the streets of America

EDITORIAL: Trudeau shoots blanks on gun violence

Most of Toronto's Criminal Weapons Banned Firearms – TPS Reports
"Although the homicide rate has been relatively stable in recent years, what is increasing disproportionately are calls for service related to mental health and addictions," he added.
Sparling said an increase in mental health calls, addiction calls and bail changes that facilitate "catch and release" from the courts, in part due to pandemic restrictions, is a "perfect storm" with the that officers must deal with on a daily basis.
"Crime did not take a vacation," he said.
Reference-torontosun.com